John Krasinski admits he was  ''very nervous'' directing his wife Emily Blunt in A Quiet Place.
The 38-year-old actor, who directed the recently acclaimed post-apocalyptic science fiction horror, revealed he was most anxious about working with the 35-year-old star because he didn't want her to think he was rubbish at his day job.
Speaking to Heat magazine, Krasinski said: ''It was a terrifying prospect at first.
''I was very nervous about directing her because you want to look confident and be able to impress the person you love with your work.
''You don't want to let that person down or make them feel that maybe you're not as talented as they might have hoped!''
We need your consent to load this YouTube contentWe use YouTube to manage extra content that can set cookies on your device and collect data about your activity. Please review their details and accept them to load the content.Manage Preferences
The Office star, who has four-year-old Hazel and two-year-old Violet with Blunt, says he didn't realise just how ''incredibly talented'' his partner was until they worked together.
''I don't think I knew how incredibly talented Emily was until I started directing and acting with her in the movie.
''I remember one day when I was looking for editing space and I bumped into [director] Rob Marshall, who was in the process of editing my little indie movie - Mary Poppins Returns ... I told Rob that I was going to be directing Emily and he told me, 'You won't know how good she is until you're on the set with her and watching her reactions and acting with her.
''That's when you're going to discover how great she is!'
"And he was right. Every day on the set with her was an extraordinary experience for me. She's amazing.''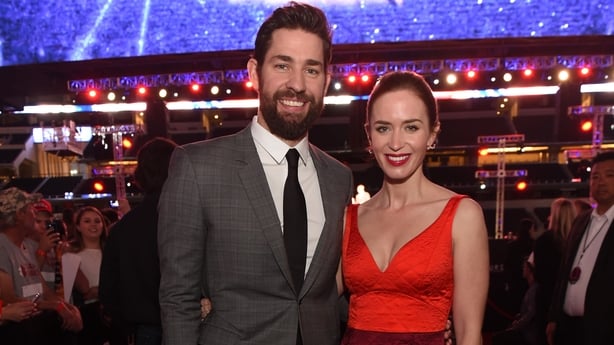 Krasinski explained how it's a ''real joy'' to be able to share his family and career with his spouse, adding: ''My life is such a joy, being a father and being able to share my success with Emily and building our family together.
''There's nothing better than making pancakes on a Sunday morning and then going for a walk in the park with Emily and the kids.
''I've very grateful for the opportunities I've had, and the real challenge for me is to continue exceeding my own expectations," he said.
A Quiet Place is Krasinski's third directorial credit, following 2009's Brief Interviews with Hideous Men and 2016's The Hollars.