The Rider is in the parlance 'a small film' but given the mesmeric performance from Brady Jandreau as Brady Blackburn, we are talking a contender for film of the year.
Brady Blackburn (Brady Jandreau) is the horse trainer and legend of the rodeo circuit who we first meet taking stitches out of his own head with a knife. He has checked himself out of hospital and is back in the family's trailer park home on Pine Ridge Indian Reservation, in the grasslands of South Dakota.
Brady suffered a serious brain injury in a fall from a bucking horse and lay in a coma for three days. However, he is determined to get back to bronco riding, despite unequivocal medical advice that he rest and recuperate, if not give up bronco riding altogether.
Brady shares the trailer-park home with his gambler father Tim Blackburn (Tim Jandreau) and his sister Lilly, who has Asperger's Syndrome and is played by Lilly Jandreau. Casting-wise, The Rider is very much a family affair, close to actual realities in this isolated corner of South Dakota. All the horse-training scenes featuring Brady are genuine which lends verisimilitude to the movie. The movie is in part a document on Lakota life nowadays for these Indian cowboys.
Both Brady's father and his late mother were horse trainers and showed Brady everything he knows. He has, however, a touchy relationship with dad, who brought him up to be a horseman, with frequent exhortations to "cowboy up" and "grit your teeth."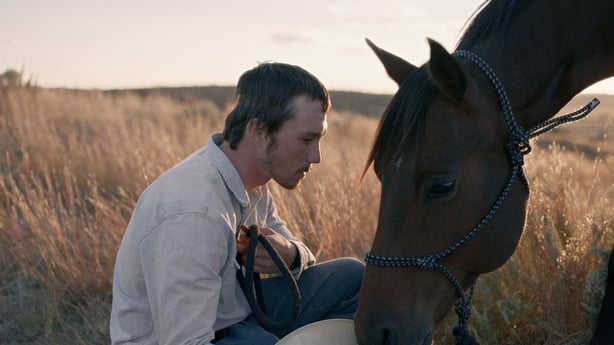 Now that the instructions are to rest and recuperate, Brady is frustrated and in a kind of limbo land. He is still getting invitations to break in horses, and he is, after all, a rodeo hero, though with absolutely no swagger about that. He finds himself at odds with his father who has no option but to conform with the medical advice and tell Brady to lay off horses until he is right again.
All of this is played brilliantly in dialogue that you may strain to hear, given the accents and enunciations, but the secret is not in the actual lines, which are sometimes barely uttered, barely strung together. It's more in the facial expressions, the demeanour, the way characters sidle up to each other or walk away. 
In 2015, while visiting a ranch on Pine Ridge Reservation, director Chloé Zhao met the then twenty-year old Lakota cowboy Brady Jandreau. Brady is a member of the Lower Brule Sioux Tribe and is a horse trainer in real life who hunts and fishes. He has been training horses since he was eight years old. Most significantly, the injury depicted in the movie actually happened to him.
Young Jandreau gives a towering performance, broody, watchful, charismatic. We seem to learn everything about him, even though he is a quiet character, things like his compassion and concern on his visits to a paralysed young bull-rider in a rehabilitation centre.
In the screenplay, Brady Blackburn is the one everybody looks to, his garrulous friends respect him and watch his reactions when he speaks or acts. Ultimately, Chinese director Chloé Zhao makes sure that we too watch, absorbed by how Jandreau inhabits the role with such a sense of magnitude and breadth. It is without doubt one of the performances of the year. The film can be seen at the IFI from Friday.
We need your consent to load this YouTube contentWe use YouTube to manage extra content that can set cookies on your device and collect data about your activity. Please review their details and accept them to load the content.Manage Preferences