Colin Farrell has said he "miscalculated" his Killing of a Sacred Deer co-star Barry Keoghan when they first met.
The 42-year-old actor has admitted that his first impression of the 25-year-old Dunkirk star was that he "seemed young" but soon came to realise that Keoghan, who lost his mother at as a young child, was wise beyond his years.
Speaking to The Guardian newspaper, Farrell said: "My first impression of him was that he was a pure burst of Irish energy.
"He seemed young - but that was a miscalculation on my part. Before too long I got to know a little more about him and rather than younger than his years, he's older, wiser, more experienced than them.
"He's stepped between the pillars of tragic loss way more often than most twice his age and he's done so with his head unbowed."
Farrell was generous in his praise of the younger actor, adding: "I love Barry. I think all the experiences he's had in life would bury most of us.
"Certainly, I believe such struggle would place me in anger and destructiveness that is counter to what I've seen in him. He's about creating.
"Just look up his CV and see who he's worked with already, and the depth and mystery he's brought to each role. He's focused, driven and grateful, all alongside the natural talent he has."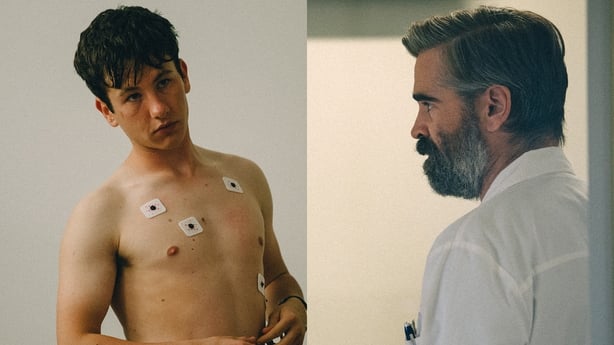 Meanwhile, Keoghan was equally effusive about his fellow Dublin star, saying Farrell is "looking out for him".
"He's had his battles," Keoghan said in reference to Farrell's past struggles with addiction, "and that's why I really look up to him.
"He gave me a lot of advice. When you're chatting with him, he's genuine. It's a hard thing to find in people. To sit and just be present with someone, even for two minutes. Colin has that."
He added with a laugh: "I can't believe I'm sitting here talking about how much Colin is a good friend. That stuff hits you. It's just hit me now."
Keoghan recently landed the leading role in an upcoming pilot from cable channel FX based on the acclaimed comic book series Y: The Last Man.