The iconic soul singer Aretha Franklin has died at her home in Detroit, Michigan on Thursday. She was 76.
Her publicist confirmed the news to Associated Press.
BREAKING: Publicist for Aretha Franklin says the Queen of Soul died Thursday at her home in Detroit.

— The Associated Press (@AP) August 16, 2018
It had been reported earlier this week that the soul singer was "gravely ill".
The 76-year-old battled ill health in recent years but continued to tour and record.
Last year she announced plans to retire after releasing one more album.
Universally acclaimed as the Queen of Soul, Franklin followed a typical path as she crossed over from singing gospel as a child before embarking on career in showbiz.
What was untypical about Franklin was a powerful voice that sweetly married her gospel style with a pop sensibility, as she reinterpreted other artists' hit songs and made them uniquely her own.
MORE: How Aretha Franklin inspired the civil rights movement
The daughter of a church minister, Franklin sang gospel at New Bethel Baptist Church in Detroit. Although she initially struggled to get a foothold in the music business, she found her natural home when she signed to Atlantic Records in 1967.
Commercial and critical success followed with a cover of Otis Redding's Respect - which she turned into a feminist anthem - Carole King's (You Make Me Feel Like) A Natural Woman, Ben E King's Spanish Harlem and Think, which Franklin co-wrote with her then husband Ted White.
Following a slump in the late 1970s, her career was revived in the 1980s when she signed to Arista records and enjoyed hits such as Jump to It and Who's Zoomin' Who?
She also featured in the 1980 film The Blues Brothers, where she performed a rousing version of Think.
MORE: A night out with the Queen of Soul
In 1987 she recorded a duet with George Michael (which was a dream come true for him), and I Knew You Were Waiting became a number one hit on both sides of the Atlantic. It was her first and only time to top the UK singles chart.
In total she won 18 Grammy Awards and is one of the most successful musical artists of all time, with over 75 million records sold worldwide.
In 1987 Aretha Franklin became the first woman to be inducted into the Rock & Roll Hall of Fame.
Her most recent performance in a career that spanned nearly 60 years was in November 2017 at Elton John's AIDS Foundation's 25th anniversary gala in New York.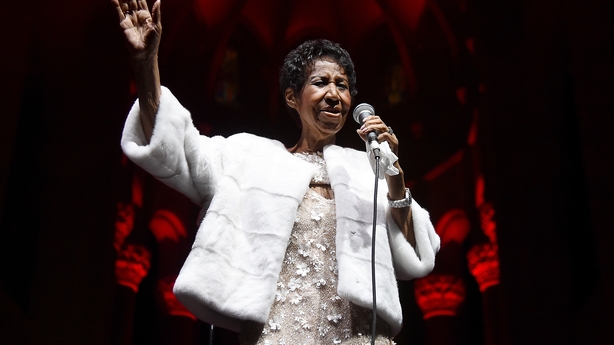 Take a look at a gallery of Aretha Franklin's Life in Pictures here.