Jonathan Rhys Meyers deserves a better script and so does everybody else in this creaky vehicle, based on a Howard Kaplan novel from 1977 that trundles along passably but somehow unsatisfactorily too.
Looking like a man who would not say no to a Bond role or two sometime in the near future, Jonathan Rhys Meyers acquits himself as well as he can in this lumbering piece of work. It's a movie that tries to marry the sinister solemnities of John Le Carré with the jumpy, pumped-up derring-do of, well, your standard Bond movie. Is there such an entity as a 'standard Bond movie?' Discuss.
Rhys Meyers plays Ari-Ben Zion who is pretending to be Hans Hoffman, a German business-man interested in buying carpets in Damascus, during the reign of Assad senior. The Wall is falling in Berlin which we keep being reminded of, though this is avowedly not relevant to the movie's plot-line at all. However, it does afford some very limp lines about how such an event could never have seemed possible. So, wow, anything is possible, even in far Damascus.
Berlin and the Wall was shoved in for some odd reason into Berk's screenplay, though it certainly could not have featured in the original novel, which, as mentioned above, was first published in 1977 and not published too much afterwards, one suspects. The words 'enduring literary classic' do not seem appropriate, although for all we know Mr Kaplan may have retired to Hawaii on the proceeds and may not have had to worry about filthy lucre for the rest of his days.
We need your consent to load this YouTube contentWe use YouTube to manage extra content that can set cookies on your device and collect data about your activity. Please review their details and accept them to load the content.Manage Preferences
Anyway, Meyers' character, Ari Ben-Zion, though eh goes under the name of Hoffman is an undercover Israeli spy whose mission is to help smuggle a chemical weapons specialist - code-named Angel - from Damascus along with his family. In the process, he begins a decidedly unconvincing - and indeed zest-free - romantic relationship with a woman who poses as Kim Johnson, a USA Today journalist.  Olivia Thirlby's fake news hack is, in fact, a rather hammy agent working for the Syrian intelligence service (and, yes, her name is not Kim Johnson.) She may be working against her will, it never becomes entirely clear, she appears to have some kind of Syrian parentage. Let's just say that she is conflicted, but they didn't use words like that back in 1977. Or indeed in 1989.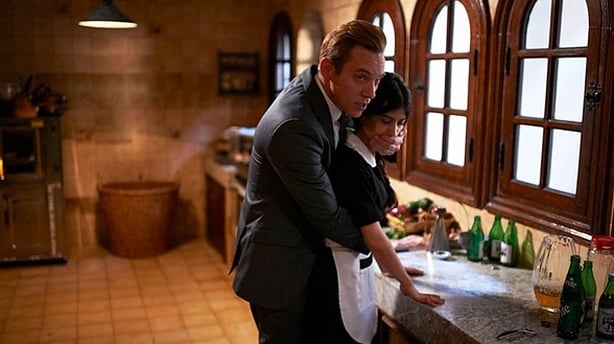 When it limps into some kind of gear after some gratuitous, leaden stuff involving a former Nazi, the movie becomes a game of who is double-crossing who and who knows what about who. Cue throbbing soundtrack, lots of heavy-accented English, leery faces and death-dealing expressions, as the Syrian military and intelligence forces clash about just how to handle Rhys Meyers' mercurial character and the mysterious Angel.
Whiskey sipped in discreet hotel bars, a lavish bedroom, insipid sexual encounters, it is just not bloody and carnal enough. Neil Jordan would have taken the bad novel and made a zinger out of it. The late John Hurt plays Rhys Meyers' Mossad boss, Miki, but it is little more than a desultory cameo.
Och, it will pass an idle, er, 93 minutes, but it is not necessary at all, just not sharp enough.