Johnny Depp gave fans at the Fantastic Beasts: The Crimes of Grindelwald panel at San Diego Comic Con a surprise on Saturday by arriving in character as wizard Gellert Grindelwald and addressing the audience.
The film follows on from Fantastic Beasts and Where to Find Them and sees Eddie Redmayne return as magizoologist Newt Scamander.
Teaming up with franchise newcomer Jude Law, who is bringing a young Albus Dumbledore to life on screen, the pair are tasked with taking Depp's evil Grindelwald down.
Depp skipped the panel discussion, which featured Redmayne, Law and other key cast members, arriving afterwards in character and delighting fans with a speech.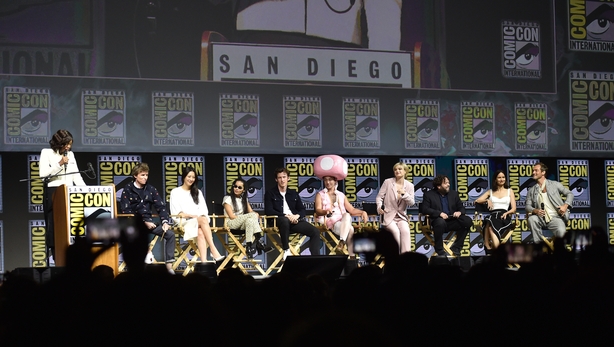 "The great gift of your applause is not for me but for yourselves," Depp said as Grindelwald in an English accent, while brandishing a wand.
"Magic blooms only in rare souls. It is granted to those who live for higher purposes. What a world we would make for all of humanity. We, who live for freedom, for truth — the moment has come to rise up and take our rightful place in the world."
At the end of his address, the lights flickered and the room went dark, with Depp disappearing as the presentation concluded.
A new full length trailer for the film premiered at Comic Con, giving fans a more in-depth look at the action to come after an initial teaser released a few months ago.
The fate of one. The future of all. #FantasticBeasts: The Crimes of Grindelwald arrives in theaters November 16. #MagicInSanDiego #SDCC2018 pic.twitter.com/LjIKVcQROs

— Fantastic Beasts (@FantasticBeasts) July 21, 2018
In the trailer we see a young Scamander at a Defence Against the Dark Arts class in Hogwarts, Grindelwald rallying wizards to step out of the shadows, and Dumbledore seeking Scamander's help.
At the end there is a surprise appearance from alchemist Nicolas Flamel, who Harry Potter fans will remember as the maker of the Philosopher's Stone.
Fantastic Beasts: The Crimes of Grindelwald hits cinemas on November 16.