Here we go. Again. With the Harry Potter well truly dried out after eight films based on seven books, the multi-billion franchise now moves into tangential prequel mode, with the first in a series of five films.
Even more annoying than this endless Hollywood franchising, is the fact that this is a pretty good film that's a visual delight from start to finish. JK Rowling's worked her magic here and no mistake, with what's an impressive first screenplay. The CGI team deserve an Oscar.
Man of more than a few cinematic moments these days, Eddie Redmayne leads the cast as Newt Scamander, a shy and socially awkward wizard, and future author of the book Fantastic Beasts and Where to Find Them, a school textbook mentioned in the Harry Potter books.
The film's set in New York in 1926 - which gets a quite magnificent reimagining here - with Scamander arriving after completing a global expedition to find, save and document an extraordinary array of magical creatures. And put them in his case for safe-keeping.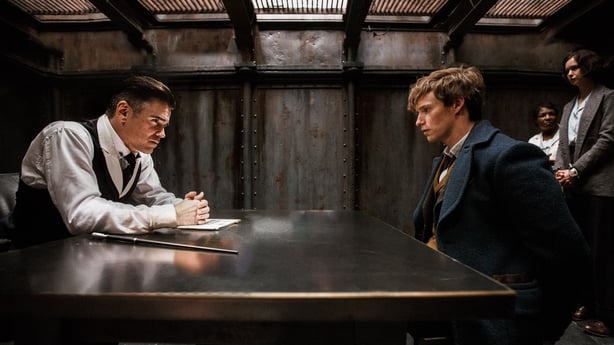 Unfortunately, he bumps into Jacob, a non-magical person desperate to open his own bakery. They end up with each other's identical cases, and several of the exotic animals escape and cause problems for the two, who also get pally with a pair of local witches along the way.
In tandem with all of this, the Magical Congress of the United States of America (MACUSA) is trying to determine what's causing major disruption in Manhattan that could undermine wizards and bring them to the attention of the general public, some of whom want to re-enact Salem.
Throw in a fine supporting cast - with the likes of Colin Farrell as the Director of Magical Security for MACUSA; Samantha Morton as the leader of an extremist group out to expose wizards and witches; and John Voight as a newspaper baron - and Fantastic Beasts adds up to a substantial slice of populist cinema.
Like a lot of people I found the Harry Potter films a bit hit and miss, but this is up there with my favourite, The Prisoner of Azkaban, if not quite as gripping. But it's certainly the best blockbuster I've seen in some time and great fun.
We need your consent to load this YouTube contentWe use YouTube to manage extra content that can set cookies on your device and collect data about your activity. Please review their details and accept them to load the content.Manage Preferences
Check out our interviews with the film's stars Eddie Redmayne, Katherine Waterson, Dan Fogler and Alison Sudol:
We need your consent to load this YouTube contentWe use YouTube to manage extra content that can set cookies on your device and collect data about your activity. Please review their details and accept them to load the content.Manage Preferences
We need your consent to load this YouTube contentWe use YouTube to manage extra content that can set cookies on your device and collect data about your activity. Please review their details and accept them to load the content.Manage Preferences