New albums from Johnny Marr, Aussie newcomers Rolling Blackouts C.F., and Lily Allen and this week's best gigs 
Rolling Blackouts C.F.
Hope Downs
Sub Pop/Ivy League
This urgent and sparkling debut album from the much-tipped Melbourne band Rolling Blackouts C.F. will be manna from heaven for indie fans of a certain age but should also provide succour for anyone hankering after melodic guitar pop with lyrical substance and bite.
The obvious touchstone here is the literate pop of their fellow Australians, The Go-Betweens. It's certainly there in the deadpan vocal delivery, the droll lyrics and those gorgeous chiming guitars. These skewed love songs, full of romantic longing and apocalyptic hangovers ("you hardly look sharp, your guts are in an arc"), are delivered by the triple threat of vocalists/guitars Fran Keaney, Tom Russo, and Joe White, a troika of men who know their way around a perfectly formed pop song.  
We need your consent to load this YouTube contentWe use YouTube to manage extra content that can set cookies on your device and collect data about your activity. Please review their details and accept them to load the content.Manage Preferences
The trio also weave a real feast of interlocking guitars that recall the kinetic energy of Television and the indie jangle of countless C86 bands. Robert Forster of the Go-Betweens would be proud to call songs like An Air Conditioned Man, all surging guitars and spoken word middle eight, his own. Rolling Blackouts also betray their punk and country roots on the twanging Sister's Jeans, a cruising rock song that takes off into a sky scraping riff as it fades out.  
Cappuccino City also has the bemused sangfroid of Forster and we can't think of a better recommendation than that. This incredibly catchy debut should make Rolling Blackouts C.F. your new favourite band. ****
Johnny Marr
Call The Comet
New Voodoo/Warner Bros 
This buoyant and ambitious third solo album from Marr is expansive and trippy 
As Morrissey continues to besmirch his legacy by courting controversy with outlandish statements and by releasing albums consumed with mordant navel gazing, his former foil in The Smiths had kept busy making melodic guitar pop. Call The Comet is Johnny Marr's third album in a solo career that he finally launched five years ago after decades as the world's most in demand sideman and occasional full-time band member with Modest Mouse and The Cribs.
It is a far more experimental and expansive affair than the enjoyable bloke rock of 2013's The Messenger and 2014's Playland and if anything Johnny Marr hasn't sounded this Johnny Marr since his days as the coolest six-stringed cat of the 1980s.
We need your consent to load this Spotify contentWe use Spotify to manage extra content that can set cookies on your device and collect data about your activity. Please review their details and accept them to load the content.Manage Preferences
If those first two solo albums were all about rediscovering the person he was before he was in The Smiths (both albums aimed for the short punchy post punk of The Buzzcocks and Magazine) then the declamatory and urgent sounding Call The Comet has a missionary zeal and some very big concepts.
This is a real feel of cities at night on several of the gleaming and ambitious songs here, not least the almost dubby New Dominions, on which Marr locks into a stream of consciousness lyrical flow. Call The Comet is embellished with the kind of art rock and post punk concepts of early-eighties British rock and it features some of the best playing of Marr's 36-year-career - jangly in places and spiky and attacking in others.
"I've been working on this album for nine months so I'm just coming out of the studio blinking into the daylight . . . " Read our interview with Johnny Marr 
Rise is a sparkling clarion call to action, My Eternal has all the mystery of early Cure meets the strident guitars of late period New Order, and on the album's closing song, A Different Gun, Marr tackles the heartbreaking subject of the terrorist attacks in Nice on Bastille Day in 2016 and Manchester last year with both gravitas and sensitivity.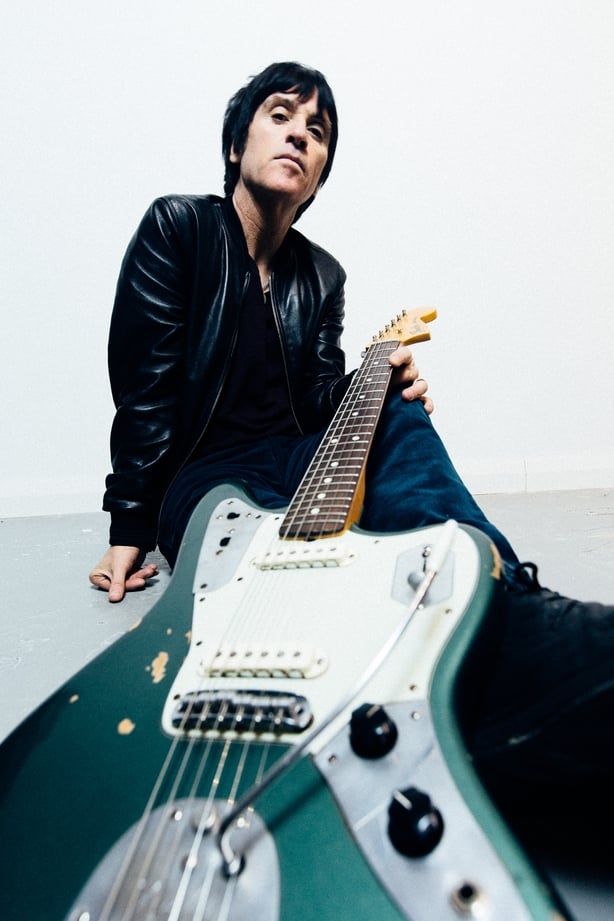 Hi Hello recalls Dancing Barefoot by Patti Smith, which in turn was a major influence on There is a Light That Never Goes Out by The Smiths and if the superb riff and futuristic keyboard sheen on The Tracers move ever forward, the bass and drums have the same anarchic rumble of the intro to The Queen is Dead.
Drenched in reverb and distortion, the nagging and menacing Hey Angel even pulls off the feat of sounding just like one of the mammoth riffs by  Marr's childhood friend Billy Duffy of The Cult, with a frazzled desert rock chorus straight out of Ian Astbury's mouth. 
Day in Day Out even features something as formerly verboten as an exhilarating solo and Marr pulls off the spoken word section of Walk Into The Sea like some Manc shaman and the limber, while the melodic Bug, the most overtly political Marr gets on Call The Comet, features one of his most buoyant and chirpy riffs in years. 
Marr continues to cut an admirable and single-minded figure beside Morrissey's splenetic isolation. It may be an obvious thing to say but this is a guitar album that is unmistakably Johnny Marr. ****
Lily Allen
No Shame
Regal/Parlophone
Lily Allen picks over her divorce, grapples with maternal guilt, and delivers some great kiss-offs on her best album yet
We've always known Lily Allen could make us laugh (Not Fair), make us feel her indignation (Hard Out Here), and even make us laugh and think (her scathing take down of consumerism on The Fear) but can she make us shed a tear?
Her fourth album certainly manages to worry the tear ducts with a fresh set of pop songs that venture into darker territory dealing with her recently-finalised divorce, some good old self-loathing, and at least two tracks about relationships and motherhood that may leave you feeling that you've probably got something in your eye.
No Shame follows the under-performing Sheezus, the more urban-sounding 2014 album that Allen has all but disowned as "a record I made for the record company" and as any random X Factor marionette might say, Allen is on a journey here. No Shame starts with the kind of candy floss pop laced with arsenic of early Allen, slowly descends into real darkness, and emerges with a dopey smile on its face in the end.  
We need your consent to load this Spotify contentWe use Spotify to manage extra content that can set cookies on your device and collect data about your activity. Please review their details and accept them to load the content.Manage Preferences
It's a long journey into the heart of darkness in which she tackles recent personal upheavals such as her divorce and her wilderness years of drink and drugs with her usual blunt honesty, all while finding the time to slap down the tabloid hacks and twitter trolls who can't stand anybody, let alone a woman, being themselves.
However, this is a comeback album loaded with candid vulnerability and it can be powerful stuff. On Lost My Mind, she's flailing after another romantic disappointment ("now I'm stuck in a rut, kicking stones, looking at my phone all night, maybe I've lost my mind?") and on Family Man, she reunites with Mark Ronson for the first time in a decade for a sweeping torch song charting the slow decay of her marriage on which she avers "I don't like most people but I'm scared, not evil."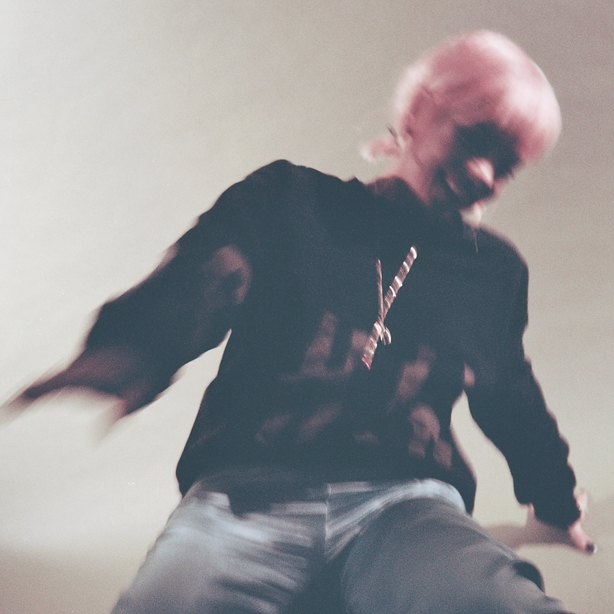 Apples is a sad and delicate recollection of the broken relationship between her and her ex-husband in which she sees parallels with her own parent's divorce ("I guess I'm just like my mummy and daddy") and the quietly devastating Three also hits close to home. It was written from the point of one of her young daughters and Allen battles maternal guilt as she heads off another world tour and leaves her kids at home.
On Everything To Feel Something Allen's underrated voice is drenched in vocoder as she looks back on her wilderness years staring into the abyss ("I don't want to fall in love, I just want someone to walk all over me").
This is a comeback album loaded with candid vulnerability and it can be powerful stuff
The airy dancehall vibes of her debut return on the in-your-face kiss-off of Waste (featuring Lady Chann on a rap that sounds like something from an PG-rated episode of EastEnders), while My One reveals that Allen is still a cunning linguist as she breezily reels off international place names and memories of one-night stands.
Musically, there is some of the souped-up dancehall and reggae and ska of early Allen on No Shame but collaborations with the likes of London "art pop" musician Fryars, Vampire Weekend's Ezra Koenig, and Burna Boy broaden her already electric musical palette. After the beats, loops and samples of Sheezus, this is more of an electro pop album.
So stark honesty, maybe some tears, and plenty of laughs as she pulls herself out of the oxygen tent. If this is a journey, Lily arrives at the end having found her voice, her song writing talent, and, most importantly, herself. No shame there. ****
Gigs of the week
Friday, June 15
The National, Donnybrook Stadium, Dublin
Liam Gallagher, Malahide Castle, Dublin
Taylor Swift, Croke Park, Dublin
CHIC, Nile Rodgers, and Soul II Soul, Ormeau Park, Belfast
Bell X1, Live at the Marquee, Cork
Saturday, June 15
Lankum, Doolin Folk Festival, Hotel Doolin, Clare
Richard Ashcroft, Ormeau Park, Belfast
Flight Of The Conchords, 3Arena, Dublin
The National, Donnybrook Stadium, Dublin
Chic feat Nile Rodgers, Malahide Castle, Dublin
Taylor Swift, Croke Park, Dublin
Sunday, June 17
Future Islands, Donnybrook Stadium, Dublin
Chic feat Nile Rodgers, Live At The Marquee
Tuesday, June 19
Wednesday, June 20
Carlene Carter, Pavilion Theatre, Dublin
Thursday, June 21
Lankum, The Pavilion, Dun Laoghaire, Dublin
Friday, June 22
Lankum, Presentation Centre, Enniscorthy Wexford
Body & Soul Festival, Ballinlough Castle, Clonmellon Co. Westmeath
Music on TV
Friday, June 15
Classic Albums: Paul Simon's Graceland, BBC Four, 12.30am
Saturday, June 16
Elton John - I'm Still Standing Grammy Tribute, RTÉ One, 10.45pm
Later . . . with Jools Holland, BBC Two, 10.45 – Nathaniel Rateliff & The Night Sweats, Nakhane, Goat Girl, Nile Rodgers and Chic, Chas and Dave, Gaz Coombes
The Who Live at the isle of Wight, Sky Arts, 11.00pm
Sunday, June 17
Pearl Jam: Let's Play Two, Sky Arts, 12.50am
Thursday, June 21
Depeche Mode Live in Berlin, Sky Arts, 1.00am
Friday, June 22
Girl in a Band: Tales From the Rock `n' Roll Front Line, 9.00pm
Queens of British Pop, BBC Four, 12.00am
Live: Isle of Wight Festival, Sky Arts, 7.00pm
Ireland's Top 10 albums
2 (last week) 1 (this week) The Greatest Showman - Motion Picture Cast Recording (Atlantic/Warner Music)
New 2 Kids See Ghosts - Kids See Ghosts  (Def Jam)
3 3 Divide - Ed Sheeran (Asylum/Warner Music) 
4 4 Beerbongs & Bentleys - Post Malone (Republic Records/Universal Music)
1 5 Ye - Kanye West (Def Jam/Universal Music)
8 6 Staying At Tamara's - George Ezra (Columbia/Sony Music)
5 7 Speak Your Mind - Anne-Marie (Asylum/Warner Music)
13 8 Reputation - Taylor Swift (EMI/Universal Music)
7 9 Shawn Mendes - Shawn Mendes (EMI/Universal Music)
6 10 Wildness - Snow Patrol (Polydor/Universal Music)
Ireland's Top 10 singles
1 (last week) 1 (this week) One Kiss - Calvin Harris & Dua Lipa (Columbia/Warner Bros/Sony Music3/Warner Music)
2 2 2002 - Anne-Marie (Asylum/Warner Music)
4 3 Solo - Clean Bandit Ft Demi Lovato (Atlantic/Warner Music)
6 4 Back To You - Selena Gomez (Interscope/Universal Music) 
3 5 Nice For What - Drake (Cash Money/Republic Records/Universal Music)
5 6 No Tears Left To Cry - Ariana Grande  Republic Records/Universal Music)   
14 7 Shotgun - George Ezra (Columbia/Sony Music)
8 8 I'll Be There - Jess Glynne (Atlantic/Warner Music)     
7 9 Better Now - Post Malone (Republic Records/Universal Music)  
23 10 Youngblood - 5 Seconds of Summer (Capitol/Universal Music)       
Chart courtesy of IRMA
Alan Corr @corralan