Eurovision singer Ryan O'Shaughnessy, who finished 16th in the Song Contest, has declared that he "couldn't be prouder to be Irish" after the support he received from fans, friends and family in Ireland.
Speaking after Israel was declared the winner of the 63rd Eurovision Song Contest in Lisbon, Portugal, O'Shaughnessy said: "Tonight felt amazing. I felt like I had everyone in Ireland behind me. It was really special for the whole team.
"Hearing from everyone back home, the support, the parties. I couldn't be prouder to be Irish."
Despite entering the final as third favourite to win following O'Shaughnessy's stellar performance in the semi-final, the votes just didn't add up for Team Ireland.
Ireland received a total 136 points – 62 from the public and 74 from the jury vote. Israel were awarded a whopping 529 points (317 public, 212 jury) while Cyprus, who came in second, received 436 (253 public, 183 jury).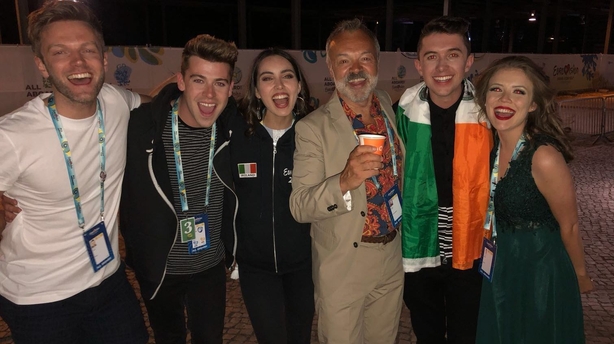 Despite this being Ireland's best performance since Jedward reached eight place in 2011, Michael Kealy, Head of the Irish Eurovision Delegation, thought O'Shaughnessy should have ranked higher. He said: If you ask me they deserved to be further up the board. But that's Eurovision. It is a tough competition.
"Finishing 16th out of 43 countries is very credible considering the level of competition everybody brings to this event.
"It is the toughest music event in the world. It has been brilliant. It has been our best performance in 7 years. "
There was overwhelming support for O'Shaughnessy on social media, with many tweeting that Ireland "deserved better" and thanking the Together singer for a "beautiful song".
Well done to @Ryan_Acoustic for his effort in the @ESCinConcert! After 4 years of not getting to the final and then more points than we've gotten in years, team Ireland has done very well in the Eurovision this year!

— Dave Hurley (@DJMHurley) May 13, 2018
Well Done @Ryan_Acoustic. Lovely song and great performance. You did us proud!! #Eurovision #AllAboard #esc2018 #Ireland

— Siobhán Doran (@siobhanedoran) May 13, 2018
. @PantiBliss Bar goes wild for Ireland's #EuroVision song 🇮🇪🇮🇪🇮🇪🇮🇪 pic.twitter.com/RXJdtYT8EU

— Donnacha Maguire (@DonnachaMaguire) May 13, 2018
Ireland deserved better 🇮🇪 #Eurovision2018 #Eurovision

— Jodie🥀 (@jliwk_) May 12, 2018
Ireland finished 6th on Tuesday night and 16th tonight. It's a real achievement for us. Well done Ryan #irl #eurovision

— Stephanie O'Mahony (@MrsOMahony90) May 12, 2018
And Ireland, you just gave me this wonderful song and all I can say is Thank You. This will remain my 2018 favourite. #Eurovision

— Bernike 🇧🇬🇺🇦🇮🇪🇨🇾🇨🇿🇩🇪 (@BurnoPranks) May 12, 2018
Nothing but respect for MY winner of Eurovision 2018#Ireland #loveislove #together #Eurovision @Ryan_Acoustic pic.twitter.com/d86tGw7pBV

— Kaidi (@kaidi_poobus) May 12, 2018