The Tony Award-winning production Titanic The Musical is making its debut on Irish shores this summer, and returning star Niall Sheehy says the show will leave the audiences wanting to know more about the legendary story.
Based on a book by Peter Stone and with a score by Maury Yeston, Titanic the Musical has had hugely successful runs in the West End and Broadway and will dock in the Bord Gáis Energy Theatre from May 15 to 19.
Wicklow actor Niall Sheehy is reprising his role in the musical, having starred in the West End production as Barrett, a stoker on the ship.
Speaking to RTÉ Entertainment at the show's launch at the Titanic Belfast, Sheehy said he is "immensely proud" to be bringing the production to Ireland.
"There are so many well known shows that people would know by name and with Titanic, you don't know what you're going to get, whether it's something based on the film or about a boat, so the pride of, first of all bringing this show to an Irish audience is amazing, but also the pride as an Irishman to get to portray the characters and present the show," he said.
We need your consent to load this Facebook contentWe use Facebook to manage extra content that can set cookies on your device and collect data about your activity. Please review their details and accept them to load the content.Manage Preferences
Directed by Thom Southerland, who previously directed Angela's Ashes The Musical at Bord Gáis Energy Theatre last year to critical acclaim, Titanic The Musical is based on the stories of some of the passengers aboard the legendary ship.
West End star Sheehy says the musical will leave audiences wanting to know more about one of the most infamous disasters in modern history when the RMS Titanic, on her maiden voyage from Southhampton to New York, collided with an iceberg, resulting in 1517 people losing their lives
"For something that is history it's also a legend in a sense. It feels like a fantastic story but it also so happens that it's true," he said. 
"For me as a performer, I just couldn't stop reading up about this amazing story and I think that's what people will come away from the show, loving the musical and having a great night, but also wanting to know more. It's like, forgive the pun, the tip of the iceberg, there's just so much to read about, so much that we couldn't possibly tell in one evening."
#NewProfilePic Rehearsal shot for @TitanicOnTour. Photo by @ScottRylander pic.twitter.com/UU1mEXCEDU

— Niall Sheehy (@niallsheehy) March 27, 2018
The Irish actor said he's "absolutely over the moon" be be reprising his role as Barrett. At the launch, Sheehy performed a song from the musical which saw him sending a message back to his sweetheart at home. He gave us an insight into his character's poignant storyline.
"I guess he's a budding revolutionary in a sense that he doesn't like the whole cast system that exists on land back home but also what he's finding is that it exists on the ship anyway so there's kind of no escaping your placement in life. He's got this real pride about him and I think that comes across, he's a good soul on board the ship," the actor said.
"He's left his sweetheart at home and he wants to send a message to her and I don't think even he realises what the message will be until he's halfway through.
"In that moment where he's being forced to deliver that message he is just blurting things out and it becomes this beautiful proposal and you suddenly see there's more to him that just this determined, revolutionary character, he's a man who's deeply in love and eager to get home to his, hopefully, soon-to-be fiancée."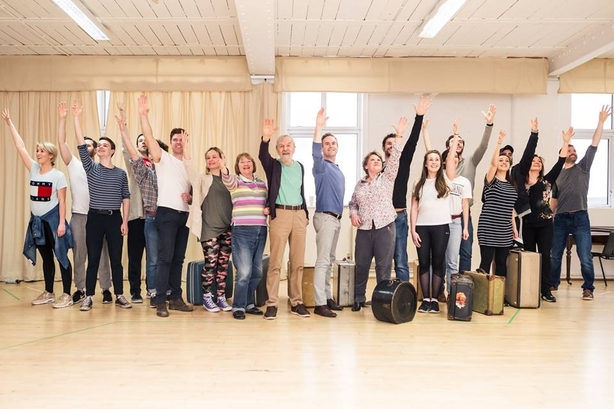 There are 25 actors playing 80 characters in the production, with Sheehy saying it is "the most rewarding experience" as a performer as "it casts a spell over your audience because they root for the characters".
"I also know from my friends and family who came to see the show that the audience forget what's coming. It's a beautifully written book and a beautifully written score and you do just forget what's happening because they're such well constructed characters.
"And of course they're not just characters, they're real people, which is something that takes the eventual finish out of your mind and you find yourself spellbound by this story that's unfolding, and it's a joyous story," he said.
Titanic The Musical runs at the Bord Gáis Energy Theatre from Tuesday May 15 to Saturday May 19, 2018.
Tickets are currently on sale through Ticketmaster. For more information, click here.