Domhnall Gleeson's back on the big screen – and this time he's going up against animated rabbits!
From one-off RTÉ comedy sketch show Your Bad Self to Great Expectations at the Gate Theatre in Dublin, the Harry Potter films to *gulp!* Star Wars, he's enjoyed a varied career path that's been constantly vertical. And he's still only 34.
Now he's the real-life star of Peter Rabbit, a live-action/computer-animated version of the much-loved Beatrix Potter stories, the first-ever cinema adaptation of the children's classic.
In an interview with RTÉ Entertainment's John Byrne, when asked if, when he started out in acting, had he pictured himself locking horns with an animated rabbit?
"Probably closer to that, in my head, than doing The Revenant," he says, referring to the grim, bleak western that represents yet another strand in a varied career.
But initially it was the funny stuff that attracted him to the thespian craft.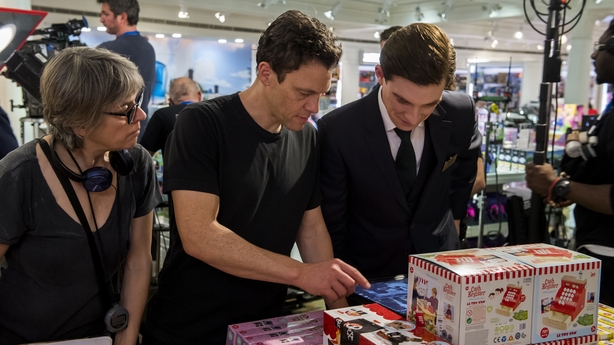 "I guess the very first thing that kind of drew me to acting was the comedic role, in a Martin McDonagh play, and that was all very physical and very silly. It wasn't silly – it was kind of terrifying as well. This was kind of a return to doing that sort of stuff, which I hadn't done...
"I'd done a bit of in The Walworth Farce, in the Olympia in Dublin, but I hadn't done it on film before, so it was kind of brilliant to do that, because they're kind of my favourite films, the big, physical, silly ones."
And his role as Thomas McGregor follows that "physical, silly" tradition. As the animated Peter Rabbit's main adversary, Gleeson spent much of his time running about a vegetable garden and getting himself in and out of fixes with his furry enemy. In reality, the rabbit he was chasing was basically a blue ball on a stick.
"It was really difficult," he admits. "It was hard. And particularly the physical stuff. Like trolling around with it and getting kicked by it. That sort of stuff.
"That was tricky, but I actually really loved working all that stuff out with the stunt coordinators, and being really heavily involved in that side of things. About figuring out how it was going to work. They had to work for me. I had to be the one that sold it.
"I really enjoyed it actually but it was tough at times. There's only so many times that you can pretend that this rabbit's kicking you in the face and blasting you into a wall before you wish that there was somebody else there."