Alannah Beirne, who was a late addition to the line-up of Dancing with the Stars, has become the sixth celebrity be sent home from the dancing competition.
The Britain's Next Top Model finalist and her professional partner Vitali Kozmin went up against Erin McGregor and Ryan McShane in the dreaded dance-off but the judges chose to save Erin and Ryan who go through to next week's quarter finals.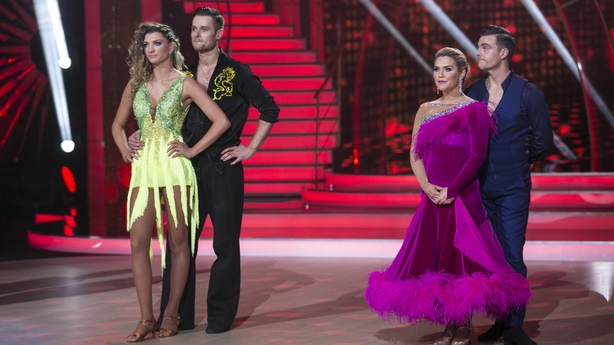 An emotional Alannah said after they were eliminated: "Vitali I want to say a massive, massive thank you... you have been phenomenal...and these guys over here I love every single one of you...
"It's been a roller coaster of emotions but I wouldn't change it for the world, I've had an amazing experience and I'm very grateful."
A final farewell from @AlannahBeirne, what a pleasure it's been to have you on #DTWSIrl season 2!

We'll miss you!! pic.twitter.com/THhJhgvUcE

— RTE One (@RTEOne) March 4, 2018
It was a particularly competitive week on Dancing with the Stars with Jake Carter and Karen Byrne kicking off the show with an insanely upbeat jive. The audience and the judges lapped it up, with Loraine saying it was "really intense", Julian saying it was "a Jaketastic jumping jive, full of power, full of energy" and Brian adding: "boy you can dance". They scored a total of 27 points.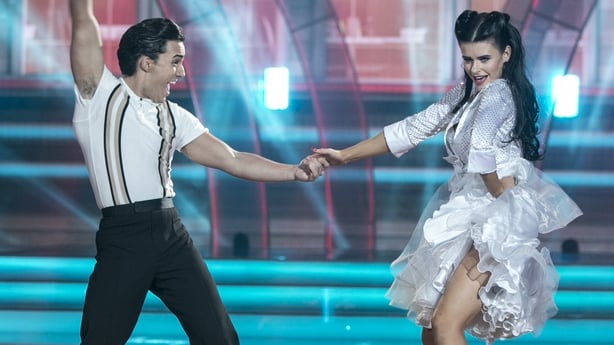 Rob Heffernan and Emily Barker got off to a bit of a shaky start with their slice of contemporary ballroom but they quickly found their feet and delivered a performance that earned them 24 points. Julian commended him for being "back in the race", while Loraine said it was "a beautiful piece of art". She added: "From last week to this, a different person."
Birthday boy @RM_Heffernan playing an absolute blinder despite getting stuck under Emily's dress!#DWTSIrl pic.twitter.com/Bm2NX3e1rX

— RTE One (@RTEOne) March 4, 2018
Model Alannah and Vitali were up next with a saucy samba that delivered plenty of bounce and flair as it bagged them a decent 24 points. Unfortunately it wasn't enough to keep them out of the dance-off when combined with the viewers' votes.
A super, sizzling samba from @AlannahBeirne & Vitali! #DWTSIrl pic.twitter.com/RHB2qmYEyT

— RTE One (@RTEOne) March 4, 2018
Erin McGregor and Ryan McShane brought a very different flavour to the proceedings with a truly beautiful waltz that brought out strong emotions in the judges and audience alike. Julian was moved to tears when giving his feedback, saying it brought back memories about his mum, adding that it was "just perfection".
Judge Julian is moved to tears by @GregorErin & @RYANMCS's 'perfect' routine...#DWTSIrl pic.twitter.com/kjeJfJ704i

— RTE One (@RTEOne) March 4, 2018
Even Brian was full of praise, telling Erin "tonight you have proved you are a fabulous dancer". They earned a near perfect 29 points.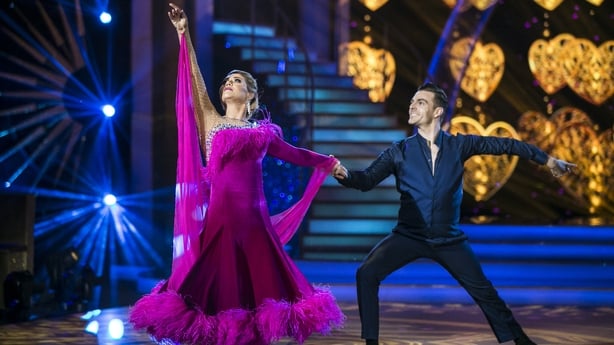 Anna Geary and her pro dancer Kai were up next with a sensual rumba. Although Brian said it was "the best rumba we've seen so far this season" he thought it wasn't Anna's best dance. Julian said it was "pure, sensual and romantic" while Loraine thought she saw a "huge improvement" in her feet and legs. They scored a total of 24 points.
The best rumba so far this season according to judge @Briantredmond!

Well done @AnnaGCork & @KaiWidd!#DWTSIrl pic.twitter.com/4EFhX81GfV

— RTE One (@RTEOne) March 4, 2018
Actress Deirdre O'Kane and her partner John Nolan had a high-octane number with their Charleston and scored themselves 26 points. Loraine commended Deirdre for letting her hair loose, while Julian thought she was "on fire out there!"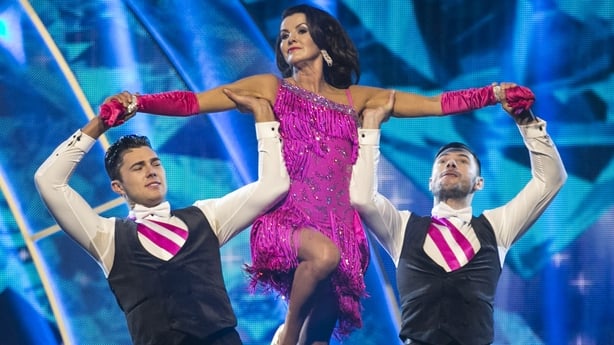 This week there was an extra challenge thrown in for the contestants with a group dance-off. Anna, Erin and Rob, aka the Party Rockers, faced off against Alannah, Deirdre and Jake, the Floor Fillers.
It added an extra layer of complication for the competitors as they had to band together as a team, and they all did magnificently. The Floor Fillers particularly killed it with their routine and earned themselves a top score of 30. Highly entertaining all round.
We have winner!!! Team #FloorFillers have won #TeamWeek with a perfect score of 30! #DWTSIrl pic.twitter.com/Pct4EUfcCs

— RTE One (@RTEOne) March 4, 2018
The remaining six couples will compete in the quarter finals next week, it's gonna be another emotional one we reckon.
Tune in next Sunday, March 11, at 6.30pm on RTÉ One.