Less than a year after the release of his acclaimed album A Kind Revolution, Paul Weller says he has a new record almost ready to go. 
Speaking to RTÉ Entertainment backstage in Dublin's Olympia Theatre on Tuesday night ahead of the second of three sell-out shows at the venue, Weller said, "The album is called True Meanings. It's pretty much done and it will be out in September."
Asked if it was a folk album, he said, "It's got an acoustic guitar on it but if that makes it a folk album, I really don't know. It's just about songs, voice and guitar essentially, and there are some tracks that have been orchestrated, strings and brass.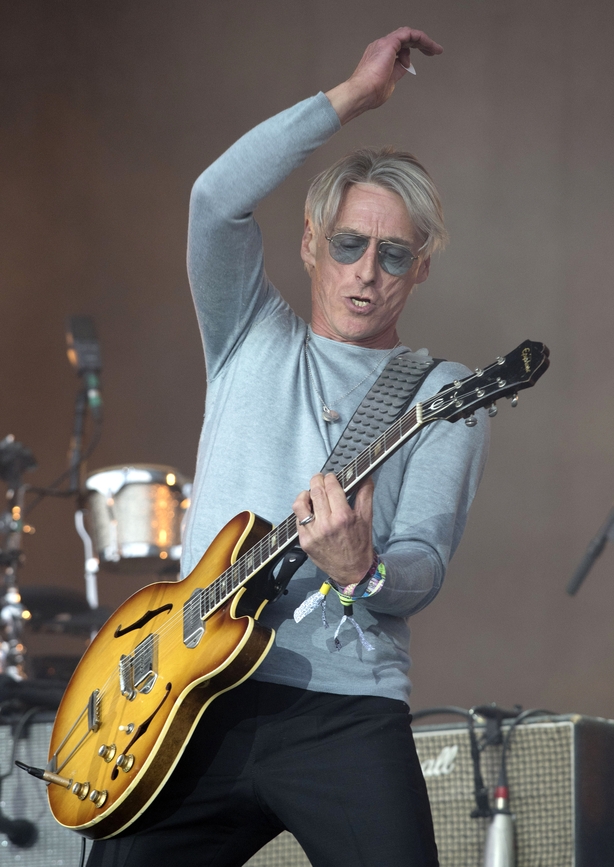 "But yeah, there has been a folk thing in my music. Especially the early Nineties stuff. I've done songs on albums previously that are like this new record but I've never done a whole record like this. I wouldn't like to say it's folk. I've no idea what it is."
Weller, who turns 60 this May, played a two-hour-plus set in the Olympia on Monday night featuring 30 songs from his 40-year back catalogue, including tracks by The Jam, The Style Council and his solo career, which began in 1991.
He has enjoyed a late period purple patch over the last decade with a run of critically acclaimed albums, including 22 Dreams, Saturns Pattern, and 2017's A Kind Revolution.
Weller has described his most recent album as "pro-human" and says he has lost interest in writing the kind of political songs he performed with The Jam and The Style Council and during his involvement with youth political movement Red Wedge in 1987. 
"I do have a particular hatred for the Tory Party, that's for sure. I hate their smugness and the way they just look after their own." - Paul Weller 
"I don't do that now, really," Weller said. "I was more involved in the Eighties at the height of Thatcherism but then I just grew terribly disillusioned with it and it wouldn't be important enough for me to write about now. And if I do write about some form of politics, it would be just what I said 30 years ago.
"It hasn't changed, really - you'd have to change the system for anything to change. Now they're just swapping different faces about. I do have a particular hatred for the Tory Party, that's for sure. I hate their smugness and the way they just look after their own. I think that's quite disgusting and shocking in this day and age.
The legend that is @paulwellerHQ
"What you give is what you get" tonight in #Dublin 👌 pic.twitter.com/qNoeQ8v9oY

— Maria Heather (@MariaHeather) February 13, 2018
"I think if we had any kind of revolution in the world it would have to be born out of kindness and compassion and love, which is probably never going to happen. But one can dream," he added.
"But I was urging that kind of revolution - of the soul, of the spirit, as opposed to one that sheds more blood and kills more people."
Alan Corr @corralan