Black Panther writer-director Ryan Coogler told RTÉ Entertainment that he is nervous and excited to share the film with fans, likening it to giving birth and hoping they'll think it's 'a cute baby'.
Coogler, who previously directed Fruitvale Station and Creed, is at the helm of the latest Marvel film and he described the experience as "the most unique" of his career so far.
"It's an interesting process making movies, and this one has been the most unique amongst the three times that I've made films, even though each time has been very different," Coogler told RTÉ Entertainment.
"But for this one, we literally just finished it so now we're sharing it with people and they're telling us whether they like it or not, so it's almost like as if you're giving birth to a baby and as soon as it comes out the doctor is like 'that's an ugly baby' or 'that's a cute baby' you know, you're kind of like 'wait, what?' So that's kind of how I feel right now."
Watch our interviews with Ryan Coogler and Michael B. Jordan:
We need your consent to load this rte-player contentWe use rte-player to manage extra content that can set cookies on your device and collect data about your activity. Please review their details and accept them to load the content.Manage Preferences
"It's a different process with Marvel because they've gotten to the point where their films are so popular that they've got to watch spoilers and have crazy security," he added.
Coogler called upon his frequent collaborator and close friend Michael B. Jordan to play the villain in the film, a former special ops soldier Erik Killmonger, the antagonist to Chadwick Boseman's Black Panther.
"Mike's just really good at his job and every time I've worked with him, even though we're friends and very close, if he wasn't as good as he is, we could be great friends all day but I wouldn't hire him, you know what I mean?" he said.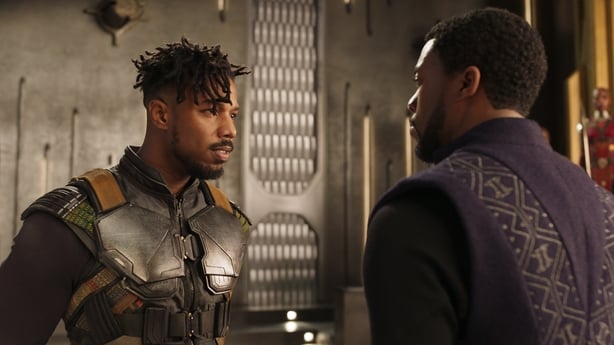 Jordan spoke about wanting to make his character different from the "twirling moustache" type of bad guy, in the hopes the audience could "relate to pieces of his struggle."
"I definitely wanted to bring something to the table that was more than your typical 'I want to blow the world up' twirling moustache kind of antagonist," Jordan told RTÉ Entertainment.
"We really wanted to build a character that was multi-layered and had a back story and history to him that made him who he was and the audience can relate to pieces of his struggle and understand his argument, so yeah, that was definitely something we did on purpose."
Black Panther is in cinemas now.