Feud: Bette and Joan continues its delve into the spat between two Hollywood legends, Animals with Cameras does exactly as the title suggests, while rugby show Clubhouse returns to TV3
Pick of the day
Feud: Bette and Joan, 11.25pm, RTÉ One
Episode two of this superb miniseries starring Susan Sarandon and Jessica Lange as Hollywood rivals Bette Davis and Joan Crawford continues.
Filming has started on What Ever Happened to Baby Jane? Joan and Bette agree on at least one thing - that the very pretty young actress cast as the neighbour will have to go.
Jack Warner is delighted with the daily rushes and encourages director Robert Aldrich to add fuel to the actresses' feud to enhance their on-screen performances.
Before Feud, you can catch the latest episode of Doctor Foster (10.15pm), which sees Simon feeling confident he's beaten Gemma. But now Kate has doubts.
New or Returning Shows
Animals with Cameras, 8.00pm, BBC One
In this groundbreaking new series wildlife cameraman Gordon Buchanan joins forces with scientists to put cameras on animals.
In the Kalahari Desert they put cameras on wild meerkats for the first time, allowing scientists to finally understand what these miniature mammals get up to underground.
Death Row with Trevor McDonald, 9.00pm, TV3
The veteran broadcaster reunites with Ronald Sanford, an inmate who killed two elderly women when he was just 13 years of age.
Clubhouse, 10.00pm, TV3
TV3's rugby show is back, hosted by the dynamic duo of Irish rugby star Donncha O'Callaghan and comedian Mario Rosenstock.
Given the two lads at the helm, you can expect the serious analysis and comment from Donncha while Mario will take a more humorous approach to the goings-on in the oval game.
Gift Wrapped, 7.00pm, 3e
Eamonn Holmes and Ruth Langsford return for a new run of their game show as four new couples battle it out to see who gets to fulfill their wish list.
Ending Tonight
Winterwatch, 9.00pm, BBC Two
Live from their base in the Cotswolds Area of Outstanding Natural Beauty, Chris Packham and Michaela Strachan share the news from the wildlife cameras over the past 24 hours.
For example, Martin Hughes-Games has updates on what has been going on in the bat roost, with the cameras and audio equipment catching some fascinating behaviour, including mating.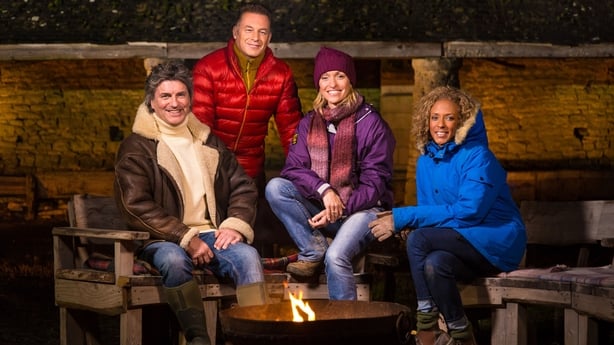 New to Download
Damnation, Netflix
Killian Scott (remember Tommy in Love/Hate?) stars in this US drama that's already been cancelled – but should be worth a look at least.
In a rural Iowa community during the Great Depression of the 1930s, a stranger with a violent past poses as a preacher and rallies the farmers to mount a strike.
Don't Miss
Derry Girls, 10.00pm, Channel 4
It's the 12th of July on Lisa McGee's Foyleside funfest and the Quinn family are rushing to get out of Derry before the Orange Parades start.
They're all packed up and nearly ready to go when - of course - James, Michelle and Clare arrive as unexpected members of the escape party.
Aunt Sarah recently started reading tarot cards and is predicting disaster for this trip - and, for once, she might just be right. The question is only where and how will this disaster come?