James Franco was erased from Vanity Fair's coveted Hollywood cover after he was accused of sexual misconduct.
The 39-year-old actor was photographed by Annie Leibovitz from the special edition, but according to The Hollywood Reporter, Franco was digitally removed from the final picture following the allegations.
A spokesperson for the magazine said: "We made a decision not to include James Franco on the Hollywood cover once we learned of the misconduct allegations against him."
The Disaster Artist actor was accused of sexual misconduct, in a report in the Los Angeles Times, by five women.
He has denied all allegations against him, calling them "not accurate".
The Crown star Claire Foy appears alongside a host of big screen heavyweights including Nicole Kidman, Oprah Winfrey, Reese Witherspoon, Tom Hanks, Robert De Niro and Harrison Ford on the US magazine's annual fold-out cover.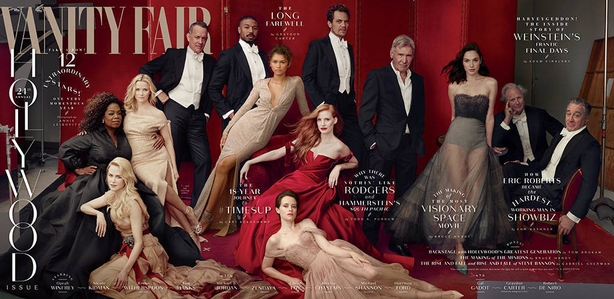 Michael B Jordan, Zendaya, Jessica Chastain, Michael Shannon, Gal Gadot and Vanity Fair's outgoing editor Graydon Carter complete the line-up.
The magazine has come under fire for some major Photoshop errors with Witherspoon appearing to have three legs.
The Big Little Lies star found the humour in the situation and posted a tweet reading: "Well...I guess everybody knows now...I have 3 legs. I hope you can still accept me for who I am."
im tryna figure out how many legs reese witherspoon's got in here, it's been bothering me for the last five minutes pic.twitter.com/u1uQ63sDdd

— space wifey ?? (@leiascaptain) January 25, 2018
In another image, Oprah has a hand on her hip, a hand on her lap, and then a third hand wrapped around Witherspoon's waist.
Oprah has 3 hands in this photo. THREE HANDS. Reese: 3 legs. Oprah 3: hands. pic.twitter.com/l7EtCQc6FP

— Nichole ??? (@tnwhiskeywoman) January 25, 2018
The two appear to be laughing at something Tom Hanks said, and while Oprah's hands are firmly in front of her, four of her fingers are hugging her A Wrinkle in Time co-star's side.