Star Wars: The Last Jedi's director and leading stars have taken to Twitter to voice their mirth at a fan-edit of the latest instalment of the franchise that removes all of the significant female characters and scenes.
An anonymous user uploaded this highly edited version of the movie this week, calling it The Last Jedi: De-Feminized Fanedit.
The self-described "chauvinist cut" clocks in at a mere 46 minutes compared to the 2 hour, 32 minute running time of the real version, with the fan saying he's removed "Girlz Powah (sic)" and "other silly stuff". Ahem.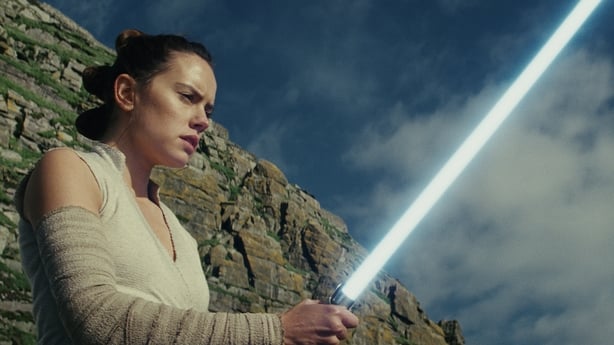 The user boasted that the intro sequence to the film is now "very watchable and actually much cooler without all of Leia's nit-picking" adding that "the whole movie is much more fast-paced now."
However, they went on to regretfully admit that the film now contains "plot holes and continuity errors" due to the extreme edit.
Movie critic Priscilla Page posted a link to a news story about the fan edit on her Twitter along with an extended laugh.
ahhaahahahhahahahahahhahahhahahahahhahhhhhaaaahahahha pic.twitter.com/Uz2JfF8Snf

— priscilla page (@BBW_BFF) January 16, 2018
Director Rian Johnson then gave his two cents, saying she had hit "all the major points" but adding his own drawn-out "hahas".
Priscilla hits all the major points here but I'll just add hahahahahahahahahahahahahahahahahahahahahahahahahahahahahahahahahahahahahahahahahahahahahahahahahahahahahahahahahahahahahahahahahahahahahahahahahahahahahahahahahahahahahahahahahaha https://t.co/f0bKJ9NeUe

— Rian Johnson (@rianjohnson) January 16, 2018
Luke Skywalker legend Mark Hamill then weighed in, tweeting a line-up of crying with laughter emojis.
Agreed. But let me add
🤣🤣🤣🤣🤣🤣🤣🤣🤣🤣🤣🤣🤣🤣🤣🤣🤣🤣🤣🤣🤣🤣🤣🤣🤣🤣🤣🤣🤣🤣🤣🤣🤣🤣🤣🤣🤣🤣🤣🤣🤣🤣🤣🤣🤣🤣🤣🤣🤣🤣🤣🤣🤣🤣🤣🤣🤣🤣🤣🤣🤣🤣🤣🤣🤣🤣🤣🤣🤣🤣🤣🤣🤣🤣🤣🤣🤣🤣🤣🤣🤣🤣🤣🤣🤣🤣🤣🤣🤣🤣🤣🤣🤣🤣🤣🤣🤣🤣🤣🤣🤣🤣🤣🤣🤣🤣🤣🤣🤣🤣🤣🤣🤣🤣- mh https://t.co/H3jacep5sU

— @HamillHimself (@HamillHimself) January 16, 2018
John Boyega, who plays Finn in the franchise, got in on the action, saying they had all made "great points" while adding his own take.
Great points. Hope it's okay to make a final point...
😂😂😂😂😂😂😂😂😂😂😂😂😂😂😂😂😂😂😂😂😂😂😂😂😂😂😂😂😂😂😂😂😂😂😂😂😂😂😂😂😂😂😂😂😂😂😂😂😂😂😂😂😂😂😂😂😂😂😂😂😂😂😂😂😂😂😂😂😂😂😂😂😂😂😂😂😂😂😂😂😂😂😂😂😂😂😂😂😂😂😂 https://t.co/YnXFrjW47r

— John Boyega (@JohnBoyega) January 16, 2018
Read our review of Star Wars: The Last Jedi, complete with it's original cast of characters, here.