Hollywood's biggest television and film stars took a stand against sexual harassment at this year's Golden Globes by wearing black to the event and speaking out on the red carpet and on stage.
The 'blackout' was announced in advance of the ceremony, with stars spreading the word on social media about their intentions to join the movement in a show of solidarity for the Time's Up campaign.
We need your consent to load this rte-player contentWe use rte-player to manage extra content that can set cookies on your device and collect data about your activity. Please review their details and accept them to load the content.Manage Preferences

The campaign saw some of Hollywood's most prominent actresses such as Reese Witherspoon, Cate Blanchett and Meryl Streep team up to fight sexual harassment and inequality in the entertainment industry and beyond.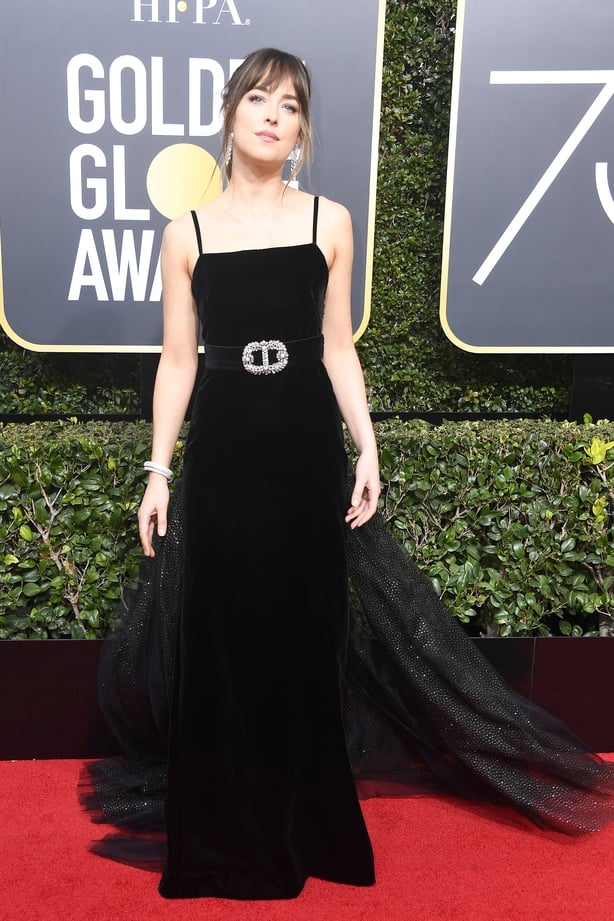 Witherspoon, along with Brie Larson, Kerry Washington, Tracee Ellis Ross, Rashida Jones and Tessa Thompson shared a video to Instagram in the lead up to the Golden Globes red carpet, informing their followers that the campaign had already raised $15 million since its inception earlier this week.
All of the proceeds from the Time's Up campaign are put towards a legal fund to support sexual harassment victims.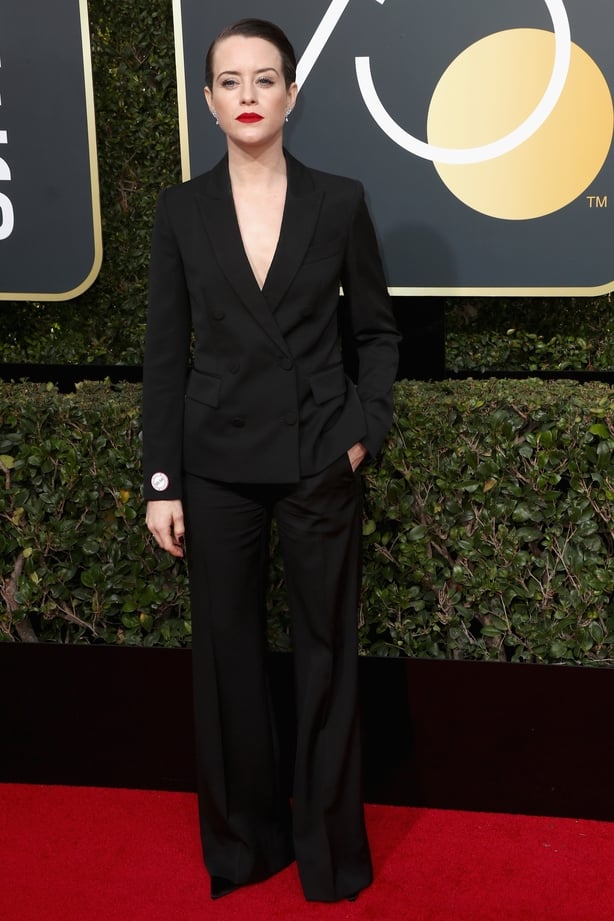 "I feel like this is such an awesome night to celebrate women and all of us coming together with each other and standing in solidarity and saying 'Time is up'," Scandal star Kerry Washington said on the red carpet.
Speaking about her decision to wear black to the Golden Globes, Jessica Chastain said, "We wear black today to draw attention to the Time's Up legal defense fund which provides help to women and men who have suffered workplace sexual harassment and to protect them from the fallout."
Click here for more style from the Golden Globes 
Stepping out on the red carpet, Irish actress Caitriona Balfe was among those wearing all black for the occasion, with London-Irish filmmaker Martin McDonagh showing his support by wearing a Time's Up pin on his lapel.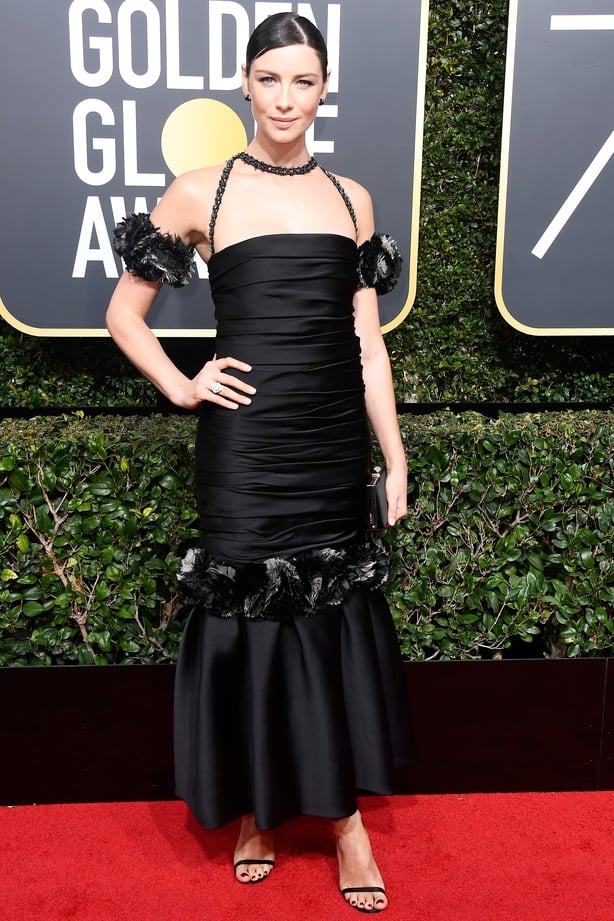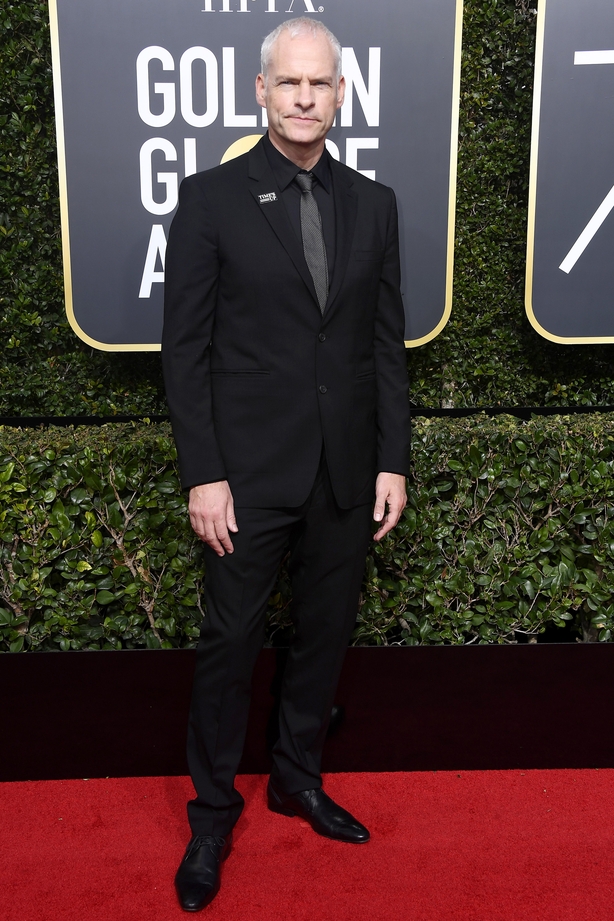 Oscar-winner Meryl Streep was accompanied by activist Ai-jen Poo, the director of the National Domestic Workers Alliance, on the red carpet. She told E!: "I think people are aware now of a power imbalance and that is something that leads to abuse.
"It's led to abuse in our own industry and in the domestic workers' field of work, it's in the military, it's in Congress, it's everywhere and we feel emboldened to stand together in a thick black line."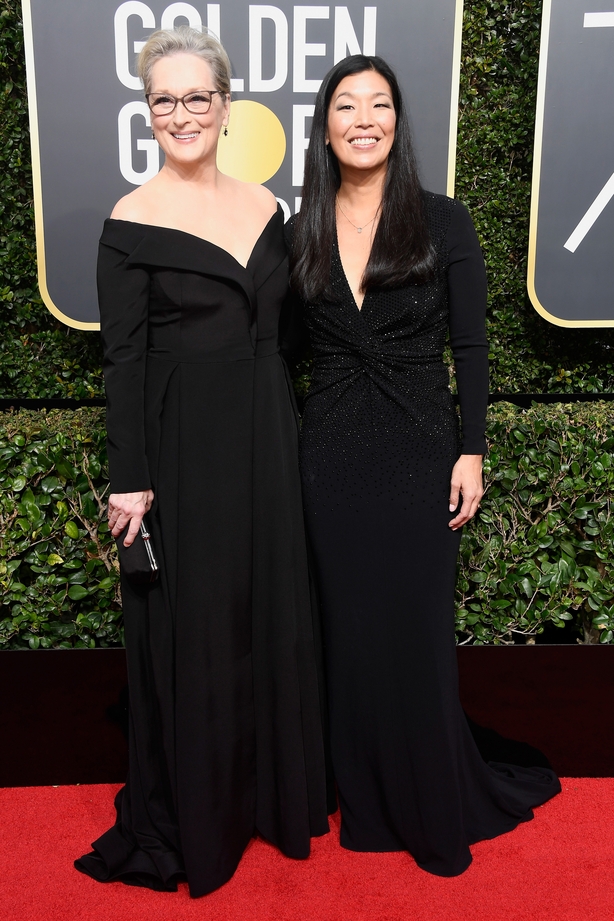 Glow star Alison Brie said she chose to wear black "to stand in solidarity with all the women who have come out about being sexually harassed and abused. I'm so in awe of the bravery it took for the first few to come forward. They are heroes."
Golden Globe nominee @AlisonBrie ("Glow") on why she's wearing black tonight (Watch) #TimesUp #WhyWeWearBlack pic.twitter.com/baEOtF8oOd

— Variety (@Variety) January 7, 2018
Sex And The City actress Sarah Jessica Parker said it is important to talk about sexual discrimination across all industries, and not just in Hollywood, as she arrived at the Golden Globes.
She told E!: "It's been thrilling, it's an enormous show of support tonight and it speaks to the appetite and the climate that exists.
"I know it's affected your network, it's timely, it's exciting. Parity and equality and safe work environments shouldn't be controversial.
"It's important to know it's across industries, not just this industry."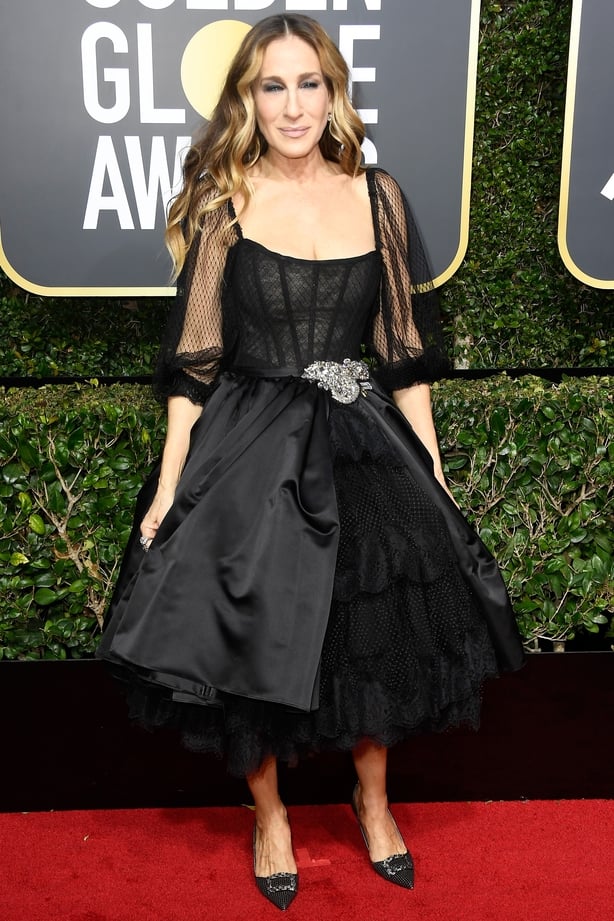 Arriving at the ceremony with Reese Witherspoon and Nicole Kidman, Eva Longoria said: "We are here to honour the women who came out originally, who kicked the door open.
"These women were so brave and we are building upon their message and their work."
Witherspoon added: "We are here to stand up for all women and men who have been silenced by discrimination and abuse."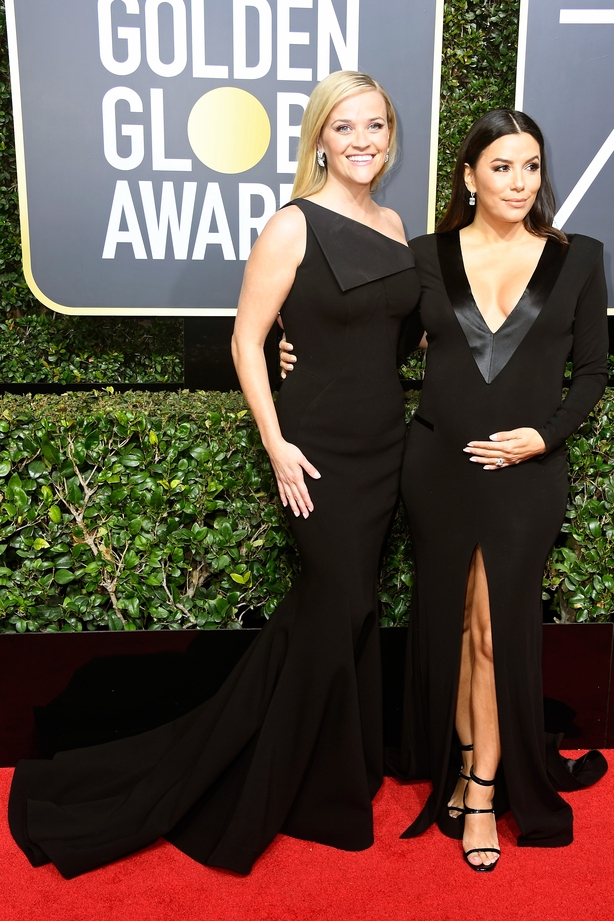 Saoirse Ronan said of her much-lauded film Ladybird: "I just feel like it's one of those films that's come out at just the right time. And I think it's something that everyone sort of needed for quite a while but we didn't realise until we saw it."
She added of the blackout on the red carpet: "Seeing everyone in the one colour feels so united."
While picking up the award for TV Movie/Limited Series Actress for Big Little Lies, an emotional Nicole Kidman said: "This character that I play represents something that is the centre of our conversation right now: abuse. I do believe, and I hope, we can elicit change through the stories we tell and the way we tell them.
"Let's keep the conversation alive. Let's do it. And Keith Urban, when my cheek is against yours, everything melts away, and that is love."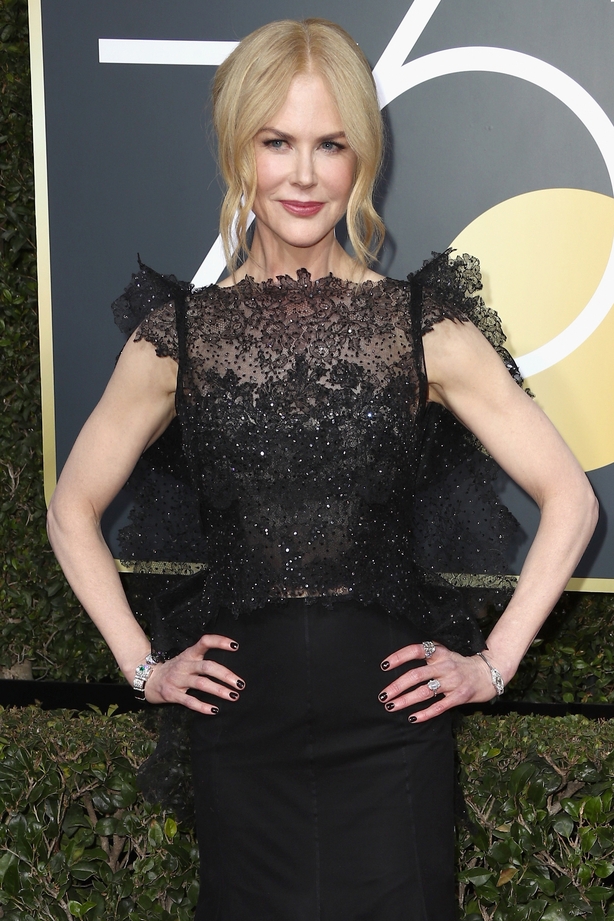 While accepting the Cecil B. DeMille Award, Oprah Winfrey addressed the #MeToo movement.
"What I know for sure is that speaking your truth is the most powerful tool we all have. And I'm especially proud and inspired by all the women who have felt strong enough and empowered enough to speak up and share their personal stories", she said.
"Each of us in this room are celebrated because of the stories that we tell, and this year we became the story. But it's not just a story affecting the entertainment industry; it's one that transcends any culture, geography, race, religion, politics or workplace.
"So I want tonight to express gratitude to all the women who have endured years of abuse and assault because they, like my mother, had children to feed, bills to pay and dreams to pursue."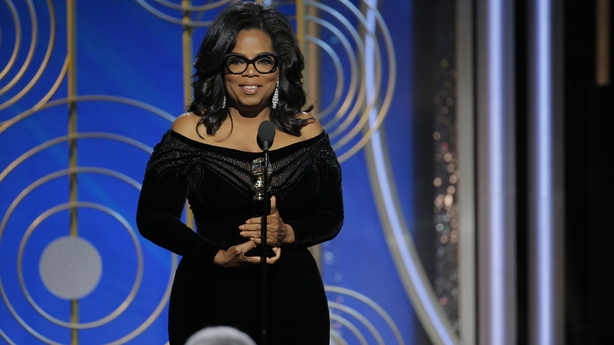 Winfrey said a "new day is on the horizon" where no one will be the victim of sexual harassment and assault.
"When that new day finally dawns it will be because of a lot of magnificent women, many of whom are in this room tonight, and some pretty phenomenal men fighting hard to make sure they become the leaders to take us to the time where nobody has to say 'me too' again," she said, to a standing ovation.
"I want all of the girls watching here now to know, that a new day is on the horizon." @Oprah accepts the 2018 Cecil B. de Mille award. #GoldenGlobes pic.twitter.com/hbquC1GBjm

— Golden Globe Awards (@goldenglobes) January 8, 2018
More Golden Globes: 
Saoirse Ronan and Martin McDonagh win Golden Globes
Big Little Lies wins big at Golden Globes
Oprah Winfrey calls out sexual abusers in powerful Golden Globes speech
Golden Globes: Red Carpet Arrivals
Men in Black: The men who joined the 'black dress' protest
Where did Saoirse Ronan get her Golden Globe dress?
Time's Up: Hollywood paints the red carpet black at Golden Globes