Nick Jonas has revealed which of his Jumanji: Welcome to the Jungle co-stars would be best equipped to survive a real-life jungle adventure. Hint: It's not Kevin Hart.
The singer and actor appears alongside Dwayne 'The Rock' Johnson, Jack Black, Karen Gillan and Hart in the action-adventure comedy, and reckons he's the most outdoorsy of all the cast as he spent a lot of time exploring the beautiful Hawaiian landscape while they were shooting the film.
"On my days off I would escape to some of the random locations on the island and literally be scaling waterfalls. I had friends come out who were not as adventurous as I was and they didn't enjoy the hikes but it was a good time", he said.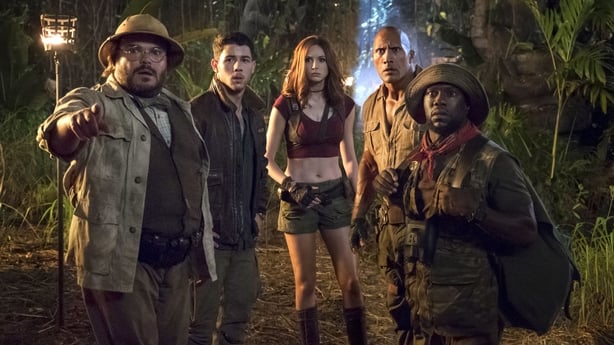 The American star, well known for his fraternal band the Jonas Brothers, spoke to RTÉ Entertainment recently and admitted that he fancies himself as "a bit of an adventurer".
He can't say the same for all of the Jumanji cast, however he thinks wrestler-turned-actor Dwayne Johnson would be the next best person to take on an adventure.
"He seems to be able to handle himself in many situations," Jonas said. "Kevin would absolutely not last an hour and I'd say Karen would do alright but the bugs really liked her, mosquitoes specifically, I don't think she'd be a fan."
Click here to read our review of Jumanji: Welcome to the Jungle.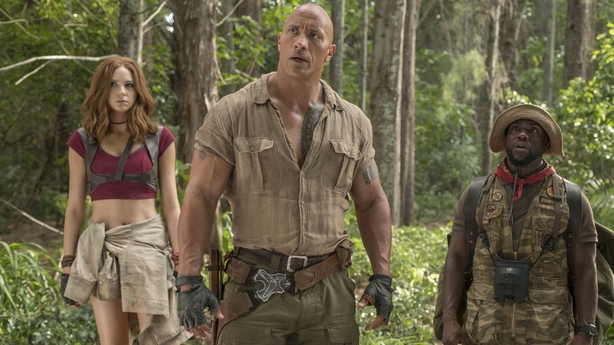 The 25-year-old Texas-born star said he jumped on the project, which is a continuation of the classic 1995 fantasy film starring the late Robin Williams, once he knew who was involved.
"It was an overly-excited 'yes'. I probably answered too soon and then my agent was like 'Wow, wow, hold on!' he said with a laugh.
"But you know, when it's Dwayne Johnson, Kevin Hart, Jack Black and Karen Gillan it's hard to say no, and [it's] a movie that I loved growing up. Once I read the script and the new take on it all and that it's a continuation of the story, I was so excited to be part of it."
Jonas said that the experience of filming with such a funny and experienced cast was a pleasure and that he particularly enjoyed the ad-libbing on set.
"I knew going into it that this group would be funny but it exceeded my expectations. Just a really hilarious group but also I think the action side of this really plays and it was just one of those things where I would look up and look who I was on set with and kind of be blown away by the whole deal. 
"I think being around people that are this detailed with their comedy and this funny naturally you can just pick little things up. And then Jake Kasden, our director, he's directed some of my favourite comedies and had some really great stuff to say. I came out of it having learned a lot. Also just shooting a movie of this scale, it's a big movie, and that comes with a whole eye-opening experience. I just soaked it all up," Jonas said.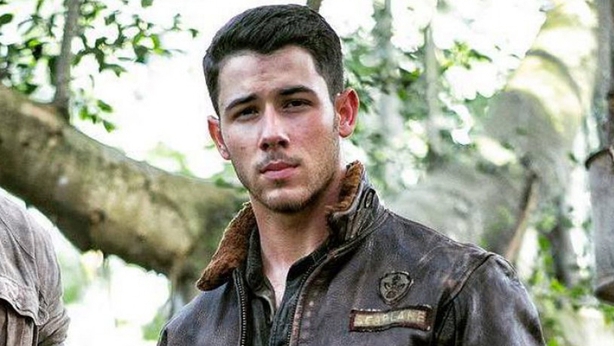 The only negative aspect of the filming he can think of during filming was his costume, which wasn't exactly comfortable in the humid Hawaiian climate.
"The only thing was that during the fitting they had me in all these clothes and they were showing me the inspiration for the character and I was like 'this is badass' and then I didn't think about the fact that we'd be in the hot sun all day in Hawaii, and I was in a leather jacket, so it was a bit of a sweaty experience for me!" he said with a laugh.
Jumanji: Welcome to the Jungle hits cinemas on December 20.
We need your consent to load this YouTube contentWe use YouTube to manage extra content that can set cookies on your device and collect data about your activity. Please review their details and accept them to load the content.Manage Preferences