Dwayne "The Rock" Johnson and Kevin Hart are said to be in talks to star in a reboot of the 1995 film Jumanji.
According to reports by Hollywood insider publication Variety, Sony are moving to re-imagine the classic Robin Williams-starring family adventure, with insiders claiming schedules are currently being worked out with Johnson and Hart, with a deal on the horizon.
In terms of Johnson's schedule, it is thought he may have time to film Jumanji before the third season of his HBO series Ballers goes into production.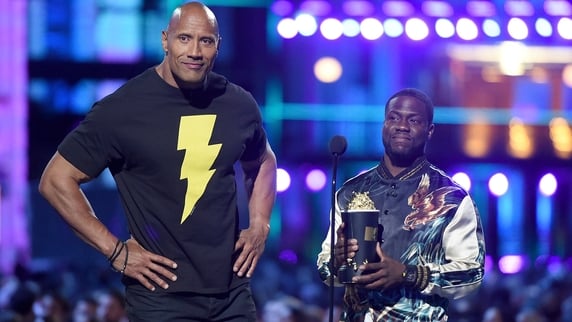 Hart on the other hand is expected to film a remake of 2011's The Intouchables, which also stars Bryan Cranston, this summer, so it is not yet known if there will be a time that suits both actors.
The duo recently co-hosted the MTV Movie Awards to rave reception, and will be seen on the big screen together in action comedy Central Intelligence this summer.
The script for the Jumanji reboot is based on a draft by the writers of the original, Chris McKenna and Erik Sommers. It is slated for release in July, 2017.