Carrie Fisher's daughter Billie Lourd has posted on social media after watching the Star Wars: The Last Jedi that she misses her mother who died this month a year ago.
On Instagram she said how much she missed her with a photograph of the two of them together.
Fisher aged-60 had a heart attack on a flight from London to Los Angeles. Her scenes had already been filmed for Star Wars in which she featured alongside her daughter who played Lieutenant Connix.
Meanwhile, Carrie Fisher's dog, Gary was taken to the cinema for the showing of The Last Jedi and he was sitting on Fisher's former assistant's lap.
Everytime she appeared on screen as Leia his ears perked up.
The late @carrieffisher's dog Gary just watched #TheLastJedi! He sat on Fisher's former assistant's lap during the film. She said his ears perked up every time she was on screen ❤️@starwars @ABC7 pic.twitter.com/2rCCGIi6Al

— Veronica Miracle (@ABC7Veronica) December 15, 2017
Billie now minds Gary.
Elsewhere Billie Lourd's uncle Todd has praised her for her strength in the death of her mother and grandmother in such a short space of time.
He said: ''Billie is 24-years-old. She's dealing with two gigantic losses. These two girls - my girls, my mother and my sister, were big, big personalities [with a] big influence on Billie, myself, many people.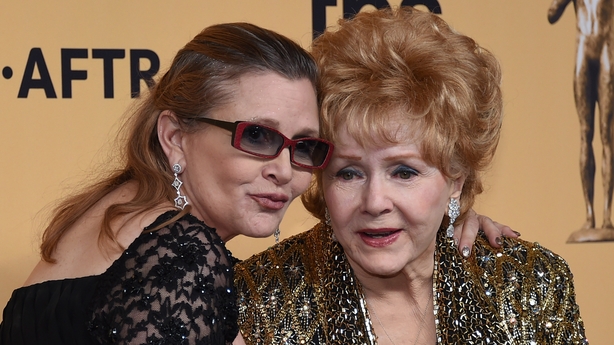 There's a vacuum in the room and she's feeling it and we're all feeling it. It's just that I'm 59 and I have no choice but to step up and put this stuff forward.
'When I was standing in the room the day after my sister died and we're in the hospital and my mother was dying, I mean, I was more heartbroken watching my niece than I was for myself. It was heart-wrenching.
The idea that somebody would have to deal with that kind of a loss back to back, moment to moment - I mean we'd just had this horrible loss and then here you are just a handful of hours later standing in a different hospital in a different room. It was astounding.''
Star Wars: The Last Jedi in its first full day at the box office has made $100.4 million on the first day.
Early estimates so far this weekend indicate from other countries that on Thursday alone that 48 countries had taken in $60m on the first night at the box office.
It is estimated the film this weekend will have earned $425m. It is estimated for the film to break even it will need to make $800m.