Brendan Gleeson has told RTÉ Entertainment that the directing bug has taken hold after going behind the lens for the first time on his new short film, Psychic.
Billed as a "human tale of showmanship, the other world and family", Psychic stars Gleeson opposite sons Domhnall and Brian. It was written by his author son Rory (Rockadoon Shore), with Gleeson's fourth son, Fergus, providing the music.
We need your consent to load this Facebook contentWe use Facebook to manage extra content that can set cookies on your device and collect data about your activity. Please review their details and accept them to load the content.Manage Preferences
It tells the story of a charismatic psychic (Brendan Gleeson) who is forced out of retirement and taken on tour by his two conniving sons (Domhnall and Brian Gleeson)
However, a TV presenter (Ingrid Craigie) is determined to ensure that any hopes for a cult following are short-lived.
"I love being on the floor, I have to say," Gleeson told RTÉ Entertainment of his experience as a director on-set.
"I was in it, and I found myself a bit frustrated, not by the fact that the acting thing was getting in the way so much, but just that the presence behind the camera wasn't there. So you couldn't check -  you couldn't see the thing growing as it was going. I don't think I'd do that to the same extent again by being in it and directing it."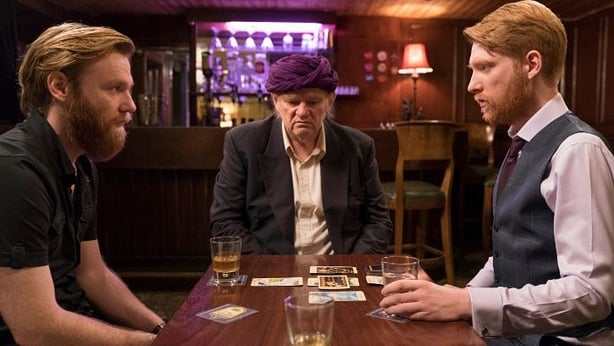 Having worked with most of the biggest directors in modern cinema, including Martin Scorsese and Steven Spielberg, Gleeson said the 'nuts and bolts' of the job appealed to him.
"I loved actually being at the monitor and just figuring stuff out," he continued. "I prepared really, really assiduously for it because you feel an awful lot of responsibility. I mean, most of my family is in it!
"We got backing from the Film Board, we got backing from Sky Arts and people, so there is a lot of responsibility lying on it. But I felt comfortable in the [director's] chair, when I was allowed be in the chair. Going into the edit now is a different thing - to have to see how much I made a bags of it!
"I had a brilliant bunch of people around... It felt very creative, so I kind of enjoyed it I'm afraid! I was prepared if I didn't like it that I wouldn't ever think of it again, but I liked it."
Psychic will premiere on Sky Arts next year.
Gleeson can currently be seen on cinema screens in the family adventure-comedy Paddington 2.
When asked if the bear was the easiest co-star he had ever worked with, he took on a serious expression and replied: "He was challenging. He was a little temperamental. And I don't know, I felt somewhere... He'd lovely manners and everything,  but I'm not sure... Something, I don't know... [Smiling] He was a little trouper!"
We need your consent to load this rte-player contentWe use rte-player to manage extra content that can set cookies on your device and collect data about your activity. Please review their details and accept them to load the content.Manage Preferences