There has been an outpouring of love from viewers for Bryan Dobson after he presented RTÉ News' Six One for the final time.
A "legend", "pure class" and "an absolute pro" are just some of the compliments that have been paid to Bryan Dobson, who signed-off from RTÉ News: Six One for the final time on Wednesday (October 25), on social media. The broadcaster is moving to Morning Ireland on RTÉ Radio One from November 1.
Viewers have taken to social media to share their love and gratitude for Dobson.
Had the pleasure of meeting #Dobbo during my first week in college years ago. A quiet, gentle, unassuming, helpful giant of a man

— Brendan Boylan (@BrendanBoylan) October 25, 2017
Ah jaysus not a dry eye in the homes around Ireland. G'wan Dobbo ye legend! #sixone #dobbo pic.twitter.com/jJn75SZGjf

— Georgina Bowes (@GinaBo) October 25, 2017
Thank you for 21 years of @rtenews @bryansixone See you on the ?? #dobbo pic.twitter.com/vvGM5Qezqj

— Christopher Byrne. (@chris_byrne) October 25, 2017
"Thank you for watching" - I look forward to listening to @bryansixone on @morningireland soon. #Dobbo pic.twitter.com/qVSl0gTeu6

— Micheal Mac Suibhne (@MicMacSuibh) October 25, 2017
On Facebook Orlaith Monks described Dobson as a "class act" while Catriona Hegarty said he would "be missed by the whole country".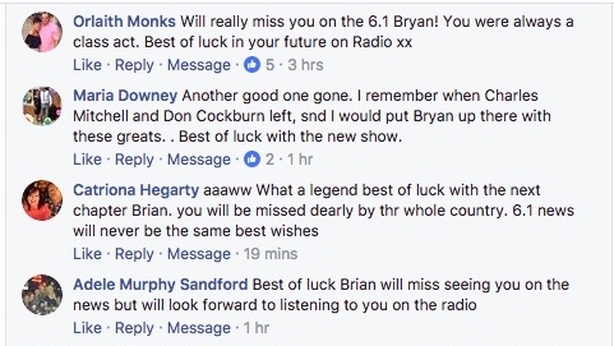 Just as Wednesday's Six-One bulletin was coming to a close Dobson was surprised by his long-time co-presenter Sharon Ní Bheoláin, who introduced a montage of his "best bits".
We need your consent to load this Facebook contentWe use Facebook to manage extra content that can set cookies on your device and collect data about your activity. Please review their details and accept them to load the content.Manage Preferences
The clip featured a glimpse at what goes on behind-the-scenes of the Six One and also showed Dobson reporting on several significant world moments such as Barack Obama's election as the first African-American president of the United States and the 9/11 terrorist attacks.
Dobbo's last Six One News. The gold standard, indeed. A gentleman & a scholar. @rtenews #BryanDobson pic.twitter.com/snXgcWNUMX

— Lynsey Kiely (@lynseykiely) October 25, 2017
Bryan Dobson is finished on RTE news and I cried

— emma ? (@ImATree_) October 25, 2017
The six one news will never be the same without Bryan Dobson, all the best with morning Ireland

— Kyle (@KyleMMcCarthy) October 25, 2017
Hard to imagine Six One without this pair together. Been an institution for as long as I can remember. So long #BryanDobson https://t.co/uBrNRUWyGt

— Paul O' Sullivan (@_paulosullivan) October 25, 2017
Closer to home the montage showed Dobson reporting on President Michael D. Higgins' state visit to the United Kingdom and asking our politicians some tough questions.
After the compilation aired, Dobson said: "I'm completely taken by surprise. Firstly Sharon, thank you for your very kind words and [it's been] wonderful working with you… and everybody who's been on the programme now and over the years.
Sharon Ní Bheoláin pays tribute to "behemoth of broadcasting" Bryan Dobson as he moves to @morningireland More: https://t.co/j554wS8fDm pic.twitter.com/q8DUTSNI9F

— RTÉ News (@rtenews) October 25, 2017
An emotional farewell to @bryansixone from Sharon Ní Bheolain on @rtenews with some lovely memorable clips. Good Luck on @morningireland

— Cathy Brady (@CeeBee8) October 25, 2017
Sharon Ní Bheoláin saying goodbye to Bryan Dobson on the Six One was traumatising! ??????

— AIan (@AIan_J_M) October 25, 2017
He added: "It's been a blast, really has been fantastic. I'm looking forward to pastures new so I'll be on the radio on Morning Ireland from Wednesday of next week. So, as they say, I hate to go, but I'm afraid I have to leave.
"So thank you, and good night."
"I'll see you tomorrow," said Ní Bheoláin to Six-One viewers as the credits started to roll.
Bryan Dobson takes up his post on RTÉ Radio One's Morning Ireland on Wednesday, Nov 1.