Colin Farrell has said he is horrified by the allegations of sexual assault and harassment made against film producer Harvey Weinstein and hopes the scandal will lead to change in the entertainment industry.
The actor was speaking at the gala premiere of his new film, The Killing of a Sacred Deer, at the London Film Festival.
"It's horrific, it's just mad," Farrell told The Press Association when asked about the scandal.
"I'm just watching it unfold and then tearing myself away from it and realising the horribleness of it all and the wrongdoing, fundamentally, around the whole thing and just wish healing for everyone and that changes are made."
"I hope anyone who was hurt that they have healing," Farrell added. "It's just atrocious, really."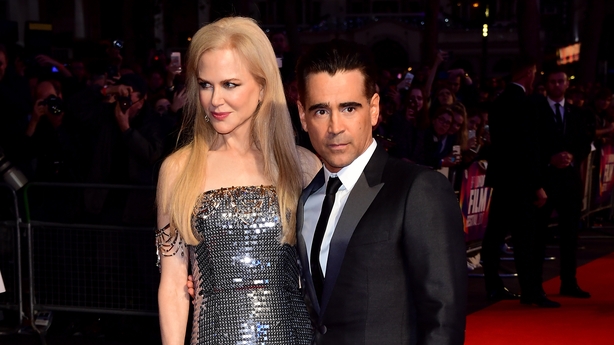 Farrell was joined at the London premiere by his co-star, Nicole Kidman, who earlier this week spoke out as the scandal unfolded. Kidman previously worked with Harvey Weinstein on films including Lion, Cold Mountain and The Others.
"As I've stated before publicly, I support and applaud all women and these women who speak out against any abuse and misuse of power - be it domestic violence or sexual harassment in the workforce," Kidman said in a statement, which did not name Harvey Weinstein directly.
"We need to eradicate this behaviour."
On Thursday night, director Quentin Tarantino broke his silence on the scandal that has engulfed his longtime producer Weinstein.
In a post on his friend Amber Tamblyn's Twitter page, a "stunned and heartbroken" Tarantino said he needed "a few more days to process my pain, emotions, anger and memory" before speaking publicly. 
From Quentin Tarantino: pic.twitter.com/jv0VQNrI91

— Amber Tamblyn (@ambertamblyn) October 13, 2017
Meanwhile, women across the world are boycotting Twitter for 24 hours to make a stand against "women's voices being silenced".
The protest comes after actress Rose McGowan - who has been vocal in speaking out against shamed producer Harvey Weinstein - had her Twitter account temporarily suspended.
She told her followers on Instagram: "Twitter has suspended me. There are powerful forces at work. Be my voice. #Rosearmy."
Within hours, the hashtag #WomenBoycottTwitter began to gain momentum and was soon trending on the social media platform.
Women - and men - vowed to stay silent and not post on the site for a whole day as a form of protest.
Celebrities announced they would be joining the action, including Chrissy Teigen and Anna Paquin.
The protest began at midnight and was to last for the duration of Friday October 13.