Following her recent appearance on The Late Late Show, Hillary Clinton will be a guest on The Graham Norton Show later his month, joining a line-up that includes comedian Jack Whitehall, Jeff Goldblum and Gerard Butler. 
The US Presidential candidate for the Democratic Party and former US Secretary of State will take to Norton's sofa on October 20 as part of her book tour for What Happened, her account of last year's US Presidential election, which she lost to Donald Trump.
Jeff Goldblum and Gerard Butler, and comedian Jack Whitehall will also appear on that episode.
Kate Winslet and Idris Elba, who are promoting their new movie The Mountain Between Us, and Chris Rock and Liam Gallagher will appear on Norton's show this Friday.
Also set to appear on the show in the coming weeks are Niall Horan, Jane Fonda, Breaking Bad's Bryan Cranston, Matt Lucas, Nicole Kidman and Colin Farrell.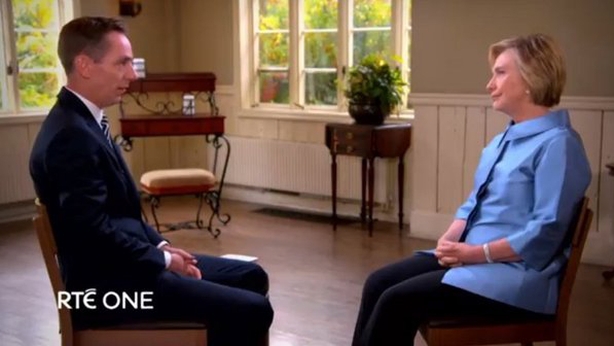 In an interview filmed near her home in Chappaqua, New York, Clinton appeared on The Late Late Show last Friday and spoke to host Ryan Tubridy about her defeat by Trump and her concerns about the political stalemate in Northern Ireland.
The Graham Norton Show airs on Fridays at 10.35pm on BBC One.