Domhnall Gleeson has said he aspires to be like his dad Brendan Gleeson and has revealed that he is always nervous about showing him his work as he cares so much about what he thinks.
"You'd be nervous showing something to my dad," Star Wars actor Domhnall told the RTÉ Guide.
"He's such a great actor! I'd be thinking, 'I really hope he likes it' because his opinion means a lot to me as an actor and as my dad. By the same token, Dad is equally proud of my two brothers who aren't actors.
"We're all trying to be good people and lead good lives and that's what's important to him."
"My dad will always be a man I aspire to be, and he'll always have the career that I aspire to have." he added.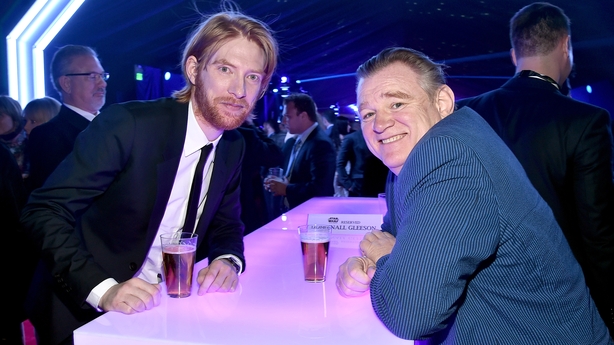 Domhnall can next be seen in Goodbye Christopher Robin as Winnie the Pooh creator A.A. Milne, which has been generating Oscar buzz for the Irish star.
Speaking about the strong Irish contingent of actors working in Hollywood today, Gleeson said, "You don't get more or less work because you're Irish now.
"Once you can do the doesn't matter where you're from, though getting the visa sometimes be tough. I'm proud to look around and think I'm from the same pond as Lenny (Abrahamson) and my dad and my brother (Brian Gleeson) and Saoirse (Ronan) and Cillian (Murphy) and Michael (Fassbender).
"You want to work with great actors and it's amazing that there are so many great Irish actors around at the moment. That's absolutely brilliant."
Goodbye Christopher Robin is in cinemas on Friday, September 29.