Goodbye Christopher Robin brings to life the story of British author AA Milne and his most famous creation, Winnie-the-Pooh, in a handsomely shot but ultimately rather bland and stuffy biopic.
Domhnall Gleeson is buttoned-up and stiff as the acclaimed author and playwright who is struggling to fit back into London's high society after fighting in World War I. He spouts fervent anti-war diatribes at champagne-fuelled parties, much to the bemusement of his peers, and suffers from PTSD, which is triggered variously by bright lights and loud noises.
A simpler life beckons in the form of relocation to the countryside - a move which is met with reluctance and a deep sense of displeasure from his frivolous, fun-loving and fabulously dressed wife Daphne (Margot Robbie).
They welcome a third family member, son Christopher Robin (Will Tilston), who they affectionately nickname Billy Moon, and quickly engage the help of a kindly nanny, Olive (Kelly Macdonald), to essentially raise their son singlehandedly.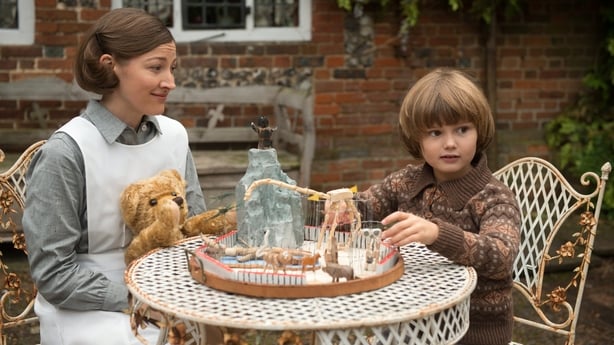 Milne attempts to write an anti-war book in his quiet country pile but is not making much headway - something that Daphne uses as an excuse to temporarily abandon her family and return to the bright lights of the city. The writer is further put out when Olive has to leave their home to tend to her ailing mother. Thus father and son are left alone and rudderless, with Milne's unfamiliarity with the nitty gritty of minding a child played up to comic effect.
However, Milne's initial awkwardness thaws out as father and son spend more time together exploring the gorgeously sun-dappled forests and countryside surrounding them. During these precious weeks together, Christopher and his growing collection of stuffed animals spark inspiration and Winnie-the-Pooh is born.
Whereas once the Milnes had a hands-off, "seen but not heard" approach to parenting, the unprecedented success of Winnie-the-Pooh prompts a new tactic as they begin to ruthlessly exploit their young son, filling his days with endless press interviews and meet-and-greets with the fans. Gleeson's Milne appears somewhat unenthusiastic and befuddled by the turn of events, while Robbie's increasingly unsympathetic Daphne has no qualms about putting their son under the unforgiving glare of the spotlight.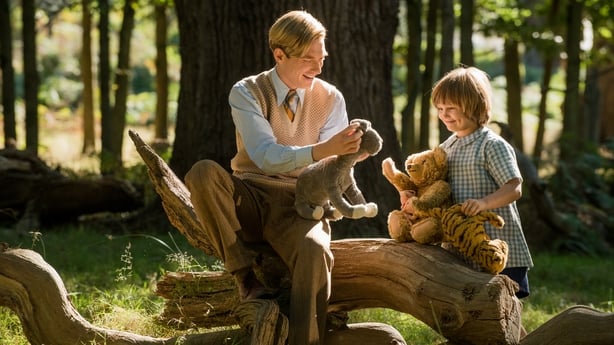 While the Winnie-the-Pooh books brought joy and comfort to post-war England and countries all over the world, Christopher's misery ratcheted up the more well known he became. Director Simon Curtis ably represents the rabid nature of celebrity and how this sudden, uninvited rise to fame plagued the boy's life.
Will Tilston steals the show here as the young Christopher in his debut film role, portraying his childlike curiosity, mischievousness and innate empathy with ease. His scenes with Gleeson provide the emotional core of the film and are the most enjoyable to watch. Conversely, Robbie is wasted in a largely thankless role that gives no context for Daphne's seeming heartlessness.
While it looks enchanting, with a lush soundtrack to match, Goodbye Christopher Robin ultimately fails to get under the skin of these characters. You may be reaching for your tissues as the closing credits near, but it feels manipulative, which detracts from the emotional payoff.
We need your consent to load this YouTube contentWe use YouTube to manage extra content that can set cookies on your device and collect data about your activity. Please review their details and accept them to load the content.Manage Preferences