Bono has teased the upcoming U2 album saying "a lot of the songs are kind of letters" to his wife and children, his fans, and America.
U2 will release their fourteenth studio album, Songs of Experience, on December 1 and frontman Bono has said that it includes songs that are like letters to his wife Ali Hewson and their children.
"I know U2 go into every album like it's their last one, but even more this time I wanted the people around me that I loved to know exactly how I felt," Bono told Rolling Stone magazine.
"So a lot of the songs are kind of letters, letters to Ali, letters to my sons and daughters, actually our sons and daughters."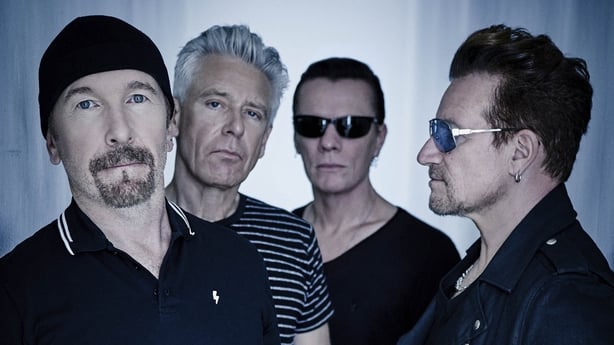 Aside from letters to his family members, the album will also include a letter to their fans, and one to America, part of which featured on Kendrick Lamar's latest album DAMN. on the track XXX.
There's a song called The Showman which is a letter to our audience, it's kind of about performers and how you shouldn't trust them too much. It's about me, haha. There's a funny line, well, I think it's funny anyway, 'I lie for a living, I love to let on but you make it true when you sing along'," he said.
"There's a letter to America called American Soul, Kendrick Lamar used a bit of this for XXX on his album. And one that I didn't realise until too late that I was writing to myself, It's The Little Things Give You Away."
U2 recently continued their time-honoured tradition of premiering new music on RTÉ 2fm, unveiling the first single from Songs of Experience, You're the Best Thing About Me, on the Nicky Byrne Show with Jenny Greene, where it was introduced by longtime U2 confidant Dave Fanning.
We need your consent to load this YouTube contentWe use YouTube to manage extra content that can set cookies on your device and collect data about your activity. Please review their details and accept them to load the content.Manage Preferences
"This is obviously about what is the best 'thing' about Bono, no question about it, which is his wife," said Fanning.
Powered by a Rolling Stones-like riff, the upbeat song finds Bono describing himself as "the kind of trouble you enjoy" while warning that "the best things are easy to destroy".
You're the Best Thing About Me's premiere followed the release of a live performance video for The Blackout, a dark, throbbing politically-charged track, which harks back to U2's crusading days of the mid-1980s.
We need your consent to load this Facebook contentWe use Facebook to manage extra content that can set cookies on your device and collect data about your activity. Please review their details and accept them to load the content.Manage Preferences