The new TV comedy series of hit Irish movie The Young Offenders begins filming in Cork on Tuesday and will follow the further adventures of teen tearaways Conor and Jock as they navigate those awkward adolescent years.
The TV show, which was commissioned by BBC Comedy and is being made in association with RTÉ, will run for six half-hour episodes on both RTÉ2 and on digital channel BBC Three.
It sees Alex Murphy and Chris Walley reprising their roles from the feature film, which took in €1.3 million at the Irish box office since its release last year. The Cork cocaine caper followed the adventures of two deluded teenagers as they embark on a road trip in an attempt to 'liberate' a bale of Class A drugs from a crime scene.
Written, directed and executive produced by award-winning filmmaker Peter Foott, who made the original feature, the series will film for eight weeks at locations across Cork city and county.
Speaking to RTÉ Entertainment in May, Foott described the TV series as "almost like a prequel" to the movie, adding that doesn't pick up where the big screen adventure left off, but - unusually - starts at the same point as the movie.
"The way that the stories are told they're all interwoven through the six episodes so it's kind of like one journey."
Producer Martina Niland, who worked on acclaimed Irish films Once and Sing Street, is producing the series and it is expected that it will be broadcast early in 2018.
Also back for the TV show are Conor's long-suffering mother Mairead MacSweeney, played by Hilary Rose; Dominic McHale as exasperated Garda Sergeant Healy; Shane Casey as local "fun-loving" thug Billy Murphy; and PJ Gallagher featuring in a new role, Principal Walsh.
Cork newcomers Jennifer Barry and Demi Issac Oviawe will also join the cast of the new series.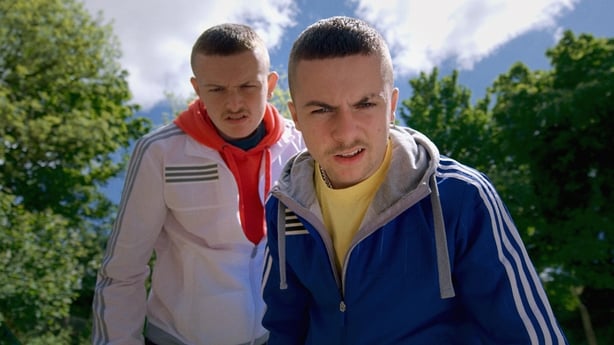 Speaking ahead of filming, Foott commented: "After spending many months writing the scripts and getting the whole team together to rehearse over the last few weeks, it's a real thrill to start filming today with these fantastic actors and crew.
"The way that the stories are told they're all interwoven through the six episodes so it's kind of like one journey." - director Peter Foott
"We'll be bringing new adventures and stories for the well-known characters, and some new ones, to life in the TV show. The reaction to the scripts has been really positive, and we want to live up to the original spirit of the film.
"I think we have all the right elements, so we're all excited to get out there and start filming today on this new phase of The Young Offenders journey. We've picked some fantastic locations in Cork, so we're looking forward to knuckling down and working hard on filming, which I'm sure will be great fun too!"