Harry Styles, who makes his feature film debut in Christopher Nolan's historical epic Dunkirk, says he felt "very emotional" when watching the film back.
Speaking to RTÉ Entertainment Styles said that although it was an intense experience watching the suspenseful action thriller on the big screen, he didn't feel like he was reliving the film shoot.
"I felt super removed from the filming when I watched it," he said. "It didn't really take me back to doing it. I found it very emotional to watch, I felt like I was really with the characters. I felt scared when they were scared."
"I felt scared when they were scared." @Harry_Styles tells us he felt "very emotional" when watching @dunkirkmovie #HarryStyles #Dunkirk pic.twitter.com/VahCVgYjDY

— Entertainment on RTÉ (@RTE_Ents) July 14, 2017
The One Direction star-turned-solo singer-songwriter plays young solider Alex in Nolan's retelling of the evacuation of hundreds of thousands of Allied soldiers from Dunkirk beach during the early stages of World War II.
He appears alongside an excellent ensemble cast which includes young actors including Love/Hate's Barry Keoghan, Fionn Whitehead, Tom Glynn-Carney and Jack Lowden alongside veteran film stars Mark Rylance, Tom Hardy and Cillian Murphy.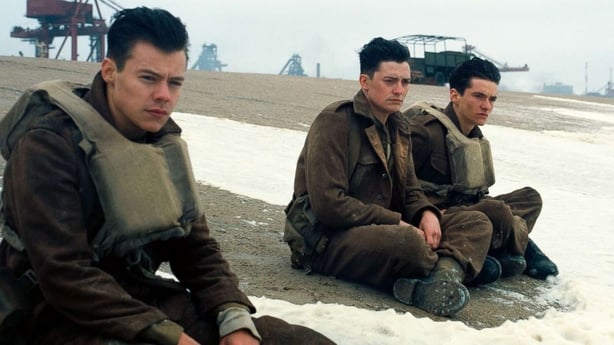 There was a frenzy in the press and on social media over Nolan casting Styles in his first film role, but the 23-year-old singer-turned-actor said he didn't let the pressure get to him.
"I think that in terms of nerves about that, I feel like working with someone like Chris, you put so much trust into him obviously, because of who he is as a filmmaker, so I personally felt as protected as I could have possibly felt doing a job for the first time," he said.
"Everyone knew what this film was about and everyone wanted to do their little part to tell this very important story and I think that was the main focus during the shooting."
Lead actor Fionn Whitehead, who is also making his film debut, agreed, saying: "The way he's [Nolan] done it it means that the focus is never on one performance, it's always on the piece as a whole.
"So even when we watch it, when you see yourself come up [on screen] and I at least personally cringe a bit, but you're not solely focused on your performance because it's about the thing as a whole."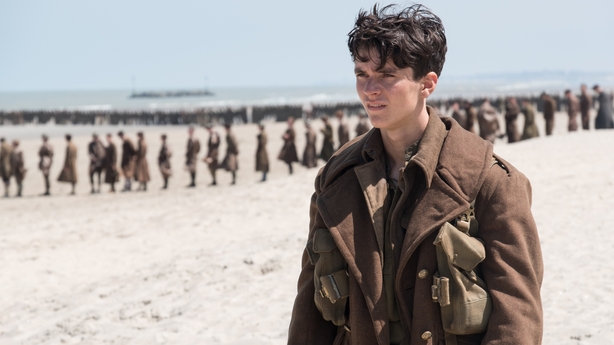 Whitehead added that working with the acclaimed director of Interstellar, Inception and The Dark Knight Trilogy was an "amazing experience".
"It was crazy the way that Chris works, he creates incredible sets and is a very particular kind of director", he said. "He really has his own vision about what he wants to create and puts that into play. It was an amazing experience to do.
"The first time I walked out and saw the set and everything you were talking about I was very overwhelmed. You normalise it in your head after a while when you're around it every day you somehow manage to take it in as if it's any everyday occurrence and it's only on reflection watching the film back you're like 'That was insane. Those sets were amazing and ridiculous'."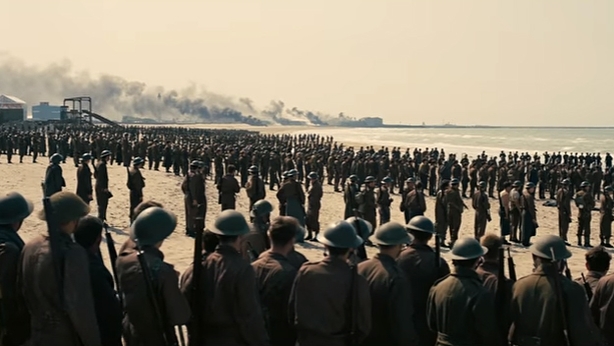 The intensity of the shoot, some of which took place on the actual Dunkirk beach, meant the actors were exhausted by the end of each day.
"I slept most of the time when we were done", Style said. "It was a very intense shoot", Fionn agreed. "I think everyone was pretty tired when it got to the end of the day."
However, the multi-generational cast gelled well during the shooting.
"We all got on really well. Couldn't have asked for better people to be involved in it really, everyone was so down to earth and normal and nice", Whitehead added.
We need your consent to load this YouTube contentWe use YouTube to manage extra content that can set cookies on your device and collect data about your activity. Please review their details and accept them to load the content.Manage Preferences
Dunkirk, Cert 12A, is in Irish cinemas from Friday July 21.