Canadian Prime Minister Justin Trudeau is in Ireland with his family for an official visit, and his presence on Irish soil is prompting some amusing reactions.
The Canadian leader, along with his wife Sophie Gregoire-Trudeau and their young son Hadrien, touched down in Dublin on Monday, where they were greeted by the Canadian ambassador Kevin Vickers.
Wheels up this morning - Ireland, Scotland and Hamburg for the G20 summit. pic.twitter.com/pTUrsKR9OI

— Justin Trudeau (@JustinTrudeau) July 3, 2017
Prime Minister Trudeau and Ms. Grégoire Trudeau are greeted by Canadian ambassador @KVickers in Dublin, Ireland. pic.twitter.com/hWaH6ywvWy

— CanadianPM (@CanadianPM) July 3, 2017
News of the politician's arrival in Ireland left some commentators all hot and bothered, with one observer describing the nation's reaction as "spun giddy."
Singer-songwriter James Vincent McMorrow joked that Dublin is feeling "25% dreamier today".
Justin Trudeau has landed in Ireland. pic.twitter.com/w8XLcHsMfW

— Louise Hodgson (@LouHodg) July 3, 2017
#JustinTrudeau ???? is in Ireland and we're spun giddy. Here he is with openly thrilled Taoiseach #LeoVaradkar! Leo 'I wore the best socks'?? pic.twitter.com/S037NG8RfR

— Paul Dunphy Esquire (@pauldunphy) July 4, 2017
i was wondering why Dublin felt 25% dreamier today... turns out @JustinTrudeau is in town.

— JamesVincentMcMorrow (@jamesvmcmorrow) July 3, 2017
"In other news, in a surprise but understandable move the entire population of Ireland has married Canadian president Justin Trudeau."

— Simon Fathers (@adiospantaloons) July 3, 2017
Justin Trudeau arrives in Ireland and a thirsty nation laps it up pic.twitter.com/VIXEP4BOic

— Antonio Stanchev (@antonio_s_t) July 4, 2017
His suit ?????????????? #TotallyBesotted #JustinTrudeau ????????

— Paul Dunphy Esquire (@pauldunphy) July 4, 2017
For the day that's in it #JustinTrudeau #ceadmilefailte pic.twitter.com/9VYiEkqdFP

— AK Walsh (@aoife_eefa) July 4, 2017
The prime minister was welcomed by Taoiseach Leo Varadkar and much attention was drawn to Varadkar's choice of socks.
Real pleasure to welcome @JustinTrudeau and his wife Sophie to Dublin pic.twitter.com/AQ4qOKg9AP

— Leo Varadkar (@campaignforleo) July 4, 2017
Trudeau, who is famed for his fondness for novelty socks, was well and truly out-socked by Varadkar, who donned a pair of Canadian-themed, maple-leaf-adorned socks for their meeting at Farmleigh House.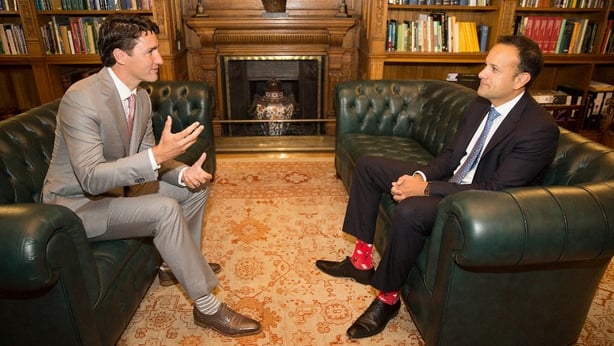 Later, Trudeau looked delighted as Varadkar presented him with a personalised Irish rugby jersey and a matching pair of socks.
Taoiseach Leo Varadkar presents Justin Trudeau with a personalised Irish rugby jersey and a pair of socks pic.twitter.com/I5m8FslKd0

— RTÉ News (@rtenews) July 4, 2017
There was also time for some running:

There was also time for some running:
The sun came out just in time for a quick chance to see more of this beautiful part of Dublin on foot... nice pace @campaignforleo. pic.twitter.com/qQFoMxbJac

— Justin Trudeau (@JustinTrudeau) July 4, 2017