Jeremy Clarkson has admitted that he thought Grand Tour co-host Richard Hammond had died in his horror crash in Switzerland at the weekend. 
Hammond was filming for the Amazon Prime series in an electric supercar when it crashed and burst into flames. The presenter had climbed out before the blaze began and sustained a broken leg in the crash.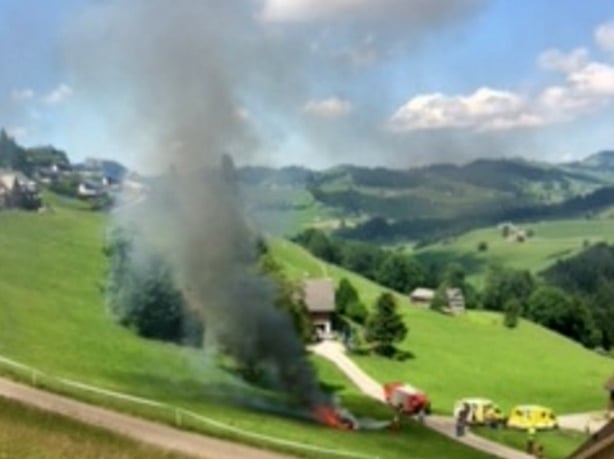 Writing on 'the social network for petrolheads' Drivetribe, Clarkson said: "I don't know what went wrong. Hopefully, when he comes out of surgery and is feeling up to it, he will be able to tell us.
"What I do know is that I genuinely thought he was dead."
"Video exclusive: I'm not dead" https://t.co/8oyeBCkprv via @drivetribes

— Richard Hammond (@RichardHammond) June 11, 2017
Having finished his own filming for the day, Clarkson arrived at the crash site and initially thought a driver other than Hammond was involved.
"I arrived maybe 30 seconds later and leaped out to see an inferno raging, maybe a quarter of a mile away, at the bottom of a hill," he recounted.
"It was obvious from the skid marks what had happened. He'd lost it somehow on the final bend after the finishing line and had plummeted down one bank onto a road lower down the hill, which had caused his car to flip.
"The big question was: had he managed to get out. No-one knew."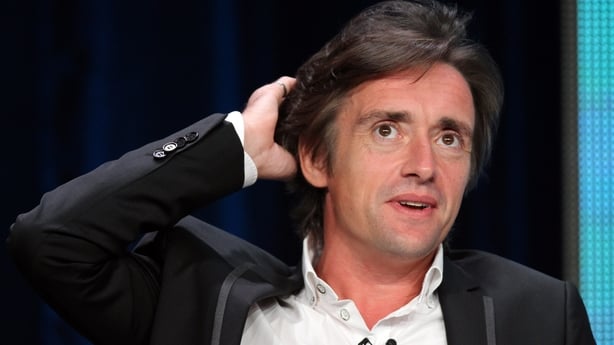 As it dawned on Clarkson that Hammond was the driver, he said he felt a "coldness" and his "knees turning to jelly". 
"I was joined at this point by James [May, co-host] who'd arrived on the scene just before me in his Honda NSX," Clarkson continued. 
"He was in a right old state, his arms waving frantically, his eyes wide. 'Hammond's in there,' he was screaming."
"Then came news from a nearby marshal that he wasn't," Clarkson added. "That he'd got out before the fire started. And that 'his body' - that's what they said - was behind a screen at the bottom of the hill.
"I could see the screen. I could see the paramedics behind it. I couldn't see Hammond. I didn't want to see him. Not after a crash that big."
It was the biggest crash I've ever seen and the most frightening but incredibly, and thankfully, Richard seems to be mostly OK.

— Jeremy Clarkson (@JeremyClarkson) June 10, 2017
The show's security advisor then ran down the hill and established that Hammond had escaped the crash relatively unscathed. 
Describing Hammond as a "lucky sod", Clarkson said the injured star would share details when he "feels up to it".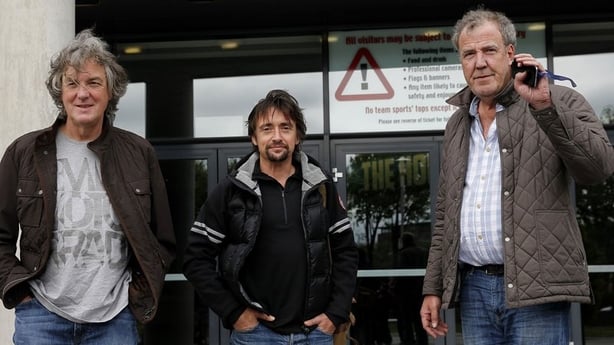 The crash comes 11 years after Hammond suffered life-threatening head injuries following a high-speed crash as he filmed for BBC's Top Gear in 2006.
The presenter was in a coma for two weeks following the 288mph accident, but made a full recovery.
In March this year, Hammond assured fans he was fine after falling off a motorbike "many times" while filming in Mozambique for The Grand Tour.
"I've checked and i'm not dead" https://t.co/5qejFDuPCP via @drivetribes

— Richard Hammond (@RichardHammond) March 20, 2017
In a recorded message from his hospital bed in Switzerland after his latest brush with death, Hammond said he would receive a "Swiss Army knee" from surgeons.
Along with paying tribute to the medical team, he also thanked co-host May "who smuggled a bottle of gin in for me last night".
"And, most importantly, sorry to my wife Mindy and my daughters, Izzy and Willow," Hammond continued as May held up a book titled The Idiot Brain to the camera.