Charlie Murphy, who won the Best Supporting Actress award at this year's IFTAs for her role in UK drama Happy Valley, has said that people escape their daily frustrations in the worlds of film, theatre and TV.
Speaking to RTÉ Entertainment at Saturday night's IFTA Awards, the former Love/Hate star said, "I think out of angst flourishes art so I think there's lots of things to say and there is a lot of frustration in people's daily lives and where can you escape to? Only the world of film and theatre and television - and that's where the storytellers are flourishing right now."
.#IFTA winner @CharlieBMurphy tells us why she thinks great art comes from great adversity @IFTA pic.twitter.com/CqxQafP5vh

— Entertainment on RTÉ (@RTE_Ents) April 9, 2017
Murphy (28), who was born in Enniscorthy, first broke through in RTÉ crime drama Love/Hate and has gone on to star in movies such as Philomena, To Walk Invisible, The Bronte Sisters, and '71.
As well as her award-winning role in Happy Valley, she has also appeared in RTÉ 1916 drama Rebellion, and Peaky Blinders, for which her co-star Cillian Murphy also picked up a best acting IFTA.
.#IFTA winner @CharlieBMurphy says she's had a lucky run playing "Yorkshire girls" in shows like #HappyValley @IFTA pic.twitter.com/WGdJOvEpIH

— Entertainment on RTÉ (@RTE_Ents) April 9, 2017
Murphy also said that she is very happy to be enjoying success with both Irish and UK film and TV productions.
"I've been very fortunate to have had a break in the UK a couple of years ago playing Yorkshire girls, haha, and that has continued to happen," she said.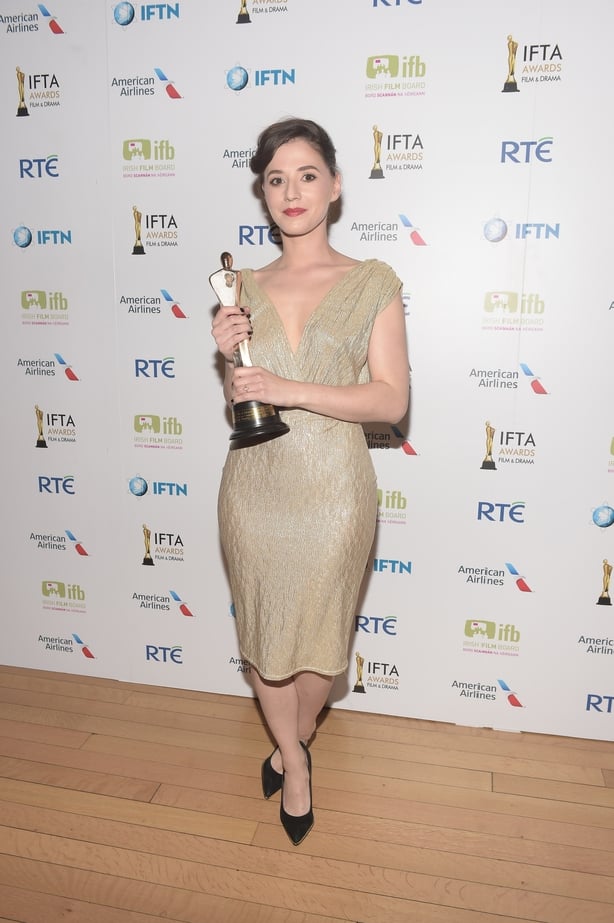 "I'm not complaining about that. I've been very lucky with the scripts that I've gotten. It's all about chasing the good story and I've been very blessed to have worked with amazing writers and directors and I'm just very happy to be working in London and in Ireland."
You can watch highlights from this year's IFTAs on 10.15pm this Tuesday on RTÉ One.