La La Land producer Jordan Horowitz, who displayed a remarkable amount of level-headedness at the 2017 Oscars when he took to the mic to correct the Best Picture error, has now spoken about that "surreal moment".
Confusion reigned supreme on stage at the ceremony when presenters Warren Beatty and Faye Dunaway announced La La Land had won Best Picture, after reading from the wrong envelope, when Moonlight was the actual winner.
It was the musical's producer Horowitz who stepped in to reveal the mistake, saying: "Guys, guys, I'm sorry. No. There's a mistake. Moonlight, you guys won best picture. This is not a joke."
We need your consent to load this YouTube contentWe use YouTube to manage extra content that can set cookies on your device and collect data about your activity. Please review their details and accept them to load the content.Manage Preferences
Speaking to Good Morning America, Horowitz said of the experience: "There was a lot of confusion on stage, and at a certain point it was clear that the wrong envelope had been given.
"Then they kind of showed us the best picture envelope, and it said Moonlight, and that's when I sort of jumped to the mic and made sure everybody knew what was going on.
It was like this slow, steady realisation that something wasn't right. It needed to be corrected, so we jumped in and did it
Horowitz explained why he held up the card showing Moonlight to be the winner: "I think people needed clarity at that moment.
"I wanted to make sure that the right thing was done, because, you know, at that point it was not about me. It was about making sure that Moonlight got the recognition it really deserves," adding that he wanted the crew, who are his friends, to have "their moment".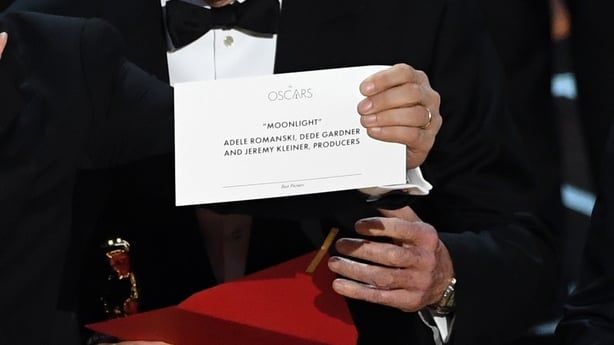 Moonlight's director Barry Jenkins took to Twitter the day after the ceremony to voice his thanks for Horowitz's actions, offering "much respect to that dude".
Jordan Horowitz. Wow. I'm slipping slowly into reflection, perspective. Much respect to that dude

— Barry Jenkins (@BandryBarry) February 27, 2017

Brian Cullinan, a partner with accountancy firm PricewaterhouseCooper, has been blamed for the biggest gaffe in Oscars history, after his firm disclosed he personally handed Warren Beatty the wrong Best Picture envelope.
An investigation is also underway after it appears he may have become distracted when posting images to social media backstage.
The firm responsible for counting the Academy Awards ballots, issued an apology for the mistake and said that "Once the error occurred, protocols for correcting it were not followed through quickly enough by Mr Cullinan or his partner".