Matt Damon has jokingly blamed Jimmy Kimmel for the mix-up in the announcement of the Best Picture winner at this year's Oscars saying "that's what they get for hiring Jimmy."
At Sunday night's ceremony history was made as La La Land was announced as the winner of Best Picture instead of the actual winner, Moonlight.
The mistake occurred as presenters Faye Dunaway and Warren Beatty were given the wrong envelope before going on stage.
Keeping his hilarious, long-running feud with Kimmel alive, Damon pointed the finger at the host saying producers "got what they paid for."
"I was the one person who wasn't surprised that it all got screwed up," Damon told Entertainment Tonight.
"That's what they get for hiring Jimmy. You know, they got what they paid for."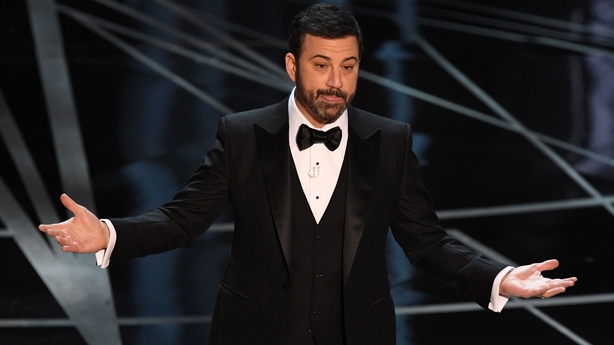 Kimmel couldn't resist but taking a few digs at Damon during the ceremony, beginning with his opening monologue.
"Tonight, in spirit of healing and bringing people together, I would like to bury the hatchet with someone I've had issues with. Matt Damon," Kimmel told the audience.
"I've known Matt for a long time now. I've known Matt so long, when I first met Matt, I was the fat one, ok? And we've had problems. He's a selfish person. Those of you who have worked with him know this."
Dead man walking the red carpet. #Oscars pic.twitter.com/j2KaUkdHTX

— Jimmy Kimmel (@jimmykimmel) February 27, 2017
He then went on to poke fun at Damon for passing up the chance to star in Manchester By The Sea to make The Great Wall. Damon's role then went to Casey Affleck who won Best Actor on Sunday night for his performance.
Oscars 2017: See all the red carpet action
"Matt did something very unselfish and I want to commend him for it," Kimmel continued. "He handed an Oscar-calibre role over to his childhood friend and made a Chinese ponytail movie instead. And that movie went on to lose $80million. Smooth move, dumb a**. See? It's so easy to reach out and heal."
Later in the show Kimmel took another few pops at Damon, including a whole segment making fun of his performance in We Bought A Zoo, which is well worth the watch.