One of TV and cinema's most recognisable character actors, Nick Offerman first made his mark as Ron Swanson in the hit TV series, Parks and Recreation. Since then he has been a regular face on TV (Fargo, Gravity Falls), and on the big screen (The Founder, The Kings of Summer).
In 2014's The Lego Movie, Nick provided the voice of MetalBeard the pirate, a role he reprises for the movie's sequel which opens here this week. Married to fellow actor Megan Mullally (Karen in Will & Grace), with whom he performs live comedy tours, the actor, writer and comedian is also an accomplished woodworker.
Indeed, he is beavering away in his workshop in East LA when I call him to talk about his latest venture with animated plastic bricks.
Michael Doherty: Good to talk with you, Nick. Straight off the bat, how do you channel your inner Metal Beard?
Nick Offerman: Well, perhaps the greatest joy about working with Phil Lord and Christopher Miller [director & producers of The Lego Movie 2: The Second Part] is that you know you're in for a day of pure, unadulterated, childish playtime. We had a lot of fun working on 21 Jump Street (2012) and when they got me into the studio for The Lego Movie (2014), we said, let's figure out what this guy MetalBeard sounds like.
I went through a repertoire of voices and we settled on this high-pitched, quasi-Irish pirate!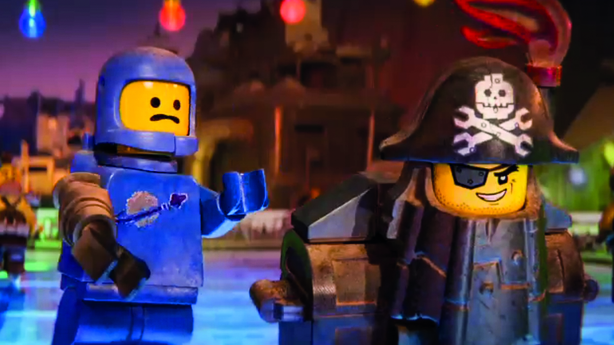 The Lego Movie was a huge success but the idea of animated toy brick figures sounded like a bizarre concept for a movie. Did you have any doubts beforehand?
I agree with you, it definitely sent up a few different red flags for me. In Hollywood when a project comes across that has such clear corporate ties, 'Hey, it's the Coca Cola movie', it sounds like a real turd, but I had confidence in Chris and Phil.
They sat me down in their office and said, 'We're doing this Lego movie, now hear us out', as I was rising from my chair! They pitched me the story and I ended up in tears because I was so tickled that they were managing to put across such an anti-establishment message. I said, guys, let me play in your tree house.
So was it the kids or the big kids who responded so well to the message of the first movie?
Well, I'm 48 and I grew up in a farm family in the '70s and '80s, yet I still managed to take on board a pretty healthy menu of cartoons and that expanded in college with the advent of cable channels and the arrival of The Simpsons.
I feel this demographic is pretty well attuned to cartoon entertainment, and the most canny of creators make fare that is palatable to young children while having humour that appeals to adults. That's the secret to the success of The Lego Movie: it delivers on all these fronts.
When a character is as beloved as Ron Swanson, often people don't want to see you doing something else.
Does that create pressure on this sequel to deliver the goods?
Sure, that's always the case when you're working on Act Two after Act One has brought the house down. It feels to me that's it's similar to the Deadpool films where you have a surprising and irreverent approach whose success has to be factored into the next time at the plate.
I'm going to go with a cricketing analogy here, but you need to step up to the crease and hit a century for your second innings. I believe I've heard that said across the Pond!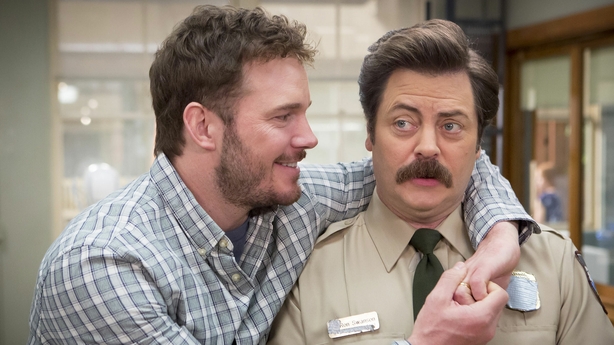 With the way things are in the world, I'm guessing we need all the irreverence we can get…
That's certainly the case. Those of us that are free-thinking, open-minded artists have certainly found ourselves challenged by the realisation that there is a large percentage of the population that isn't quite as open-minded or forward- thinking as those of us making Lego cartoons. It provides a welcome challenge. How can we continue to help humanity evolve and understand that everyone deserves a hug equally while gently appealing to those who perhaps don't want to hug certain people as much as others?
It sounds like you're able to provide your own input into how MetalBeard will look and sound?
Absolutely. I come from straight theatre and I would say this is no Harold Pinter play! In fact, we're seldom encouraged to take pauses at all. It's an intense collaboration at every turn. Sometimes, there are lines that are just too wordy or too lugubrious to successfully deliver when you're standing at the microphone. At other times, an idea will just come to me.
For example, I have more maritime knowledge than most Hollywood comedy writers and that comes in handy sometimes.
Looking back on the arc of your career, Nick, how long did it take for casting directors to not see you as Ron Swanson?
That's an interesting question. When you say that you come from Chicago, people generally assume it means the Chicago comedy pipeline of Second City that churned out many improv and sketch comedians for Saturday Night Live.
I never set foot in any of those comedy places. I just did plays in legitimate theatres where we would perform everything from Shakespeare to Pinter to Joe Orton to Neil Simon comedies. So I have in my toolbox the ability to be broadly funny or desperately tragic or anything in between.
Yet when I got to Hollywood in my late 20s, I was only being cast in hour-long dramas such as NYPD Blue or ER, where I was being seen as the serious actor from Chicago. In my 30s, I worked on The George Lopez Show and also had a show on Comedy Central, so casting directors would say, 'I didn't know you could do comedy'.
After doing Parks and Rec, everything in my career was flipped and people are now saying, 'I didn't know you had dramatic chops'. Luckily, I continue to get offered dramatic roles and funny stuff. When a character is as beloved as Ron Swanson, often people don't want to see you doing something else, so the fact that I continue to get work on all fronts makes me very grateful.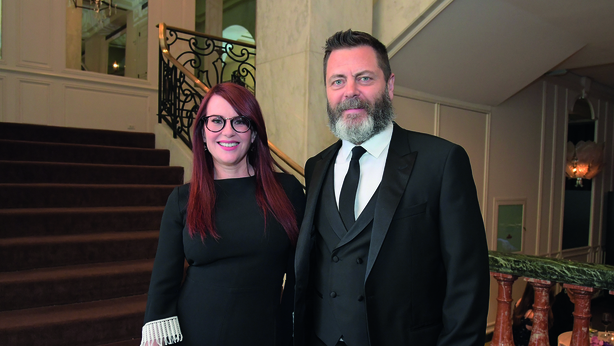 With that in mind, this must be a very good time to be a jobbing actor, with so many opportunities, not just in cinema, but on Netflix, HBO, Hulu, Amazon Prime, etc…
I think that is the reality. When HBO hit the ground running with The Larry Sanders Show and The Sopranos, suddenly it became OK for the good writers to go to cable and what has now become the streaming channels. Where there used to be a bifurcation between TV and cinema, suddenly there's this gray area.
Over my time in Hollywood, say the last 20 years, we've seen a lot of the greatest writing popping up on Amazon or FX. People are writing what are effectively eight-hour movies and calling them a series. I'm enjoying the benefits of that right now because I'm in a show Alex Garland is doing for FX called Devs, which we will see later this year. So I'm on Cloud 9 that this gray area exists!
You have been to Ireland before but I know you are planning to travel to Galway to research the Mullally branch of the family…
Yes, we have that tour planned out. Megan and I did a tour in Dublin before but you never get a chance to really look around when you're working and just going from venue to venue.
It's a dream of ours that Megan and I will take a slow tour of Ireland where we get to take our time to see places and just do the shows over the weekend. We look forward to getting our feet under the Mullally table.
So what is next for you?
I really enjoy collaborating. On Parks and Rec, I got to direct and I also got to write an episode. I also have produced a lot of independent films and I'm now producing some of the TV I'm working on, such as a crafting show, Making It, for NBC. I don't really aspire to direct, but if we get a group of people together on a project and I'm the most grizzled veteran, I'll step up to the plate.
With my acting work, my books, touring as a humourist and my woodshop, where I'm sitting right now making a batch of ukuleles, I'm spinning a lot of plates at the moment!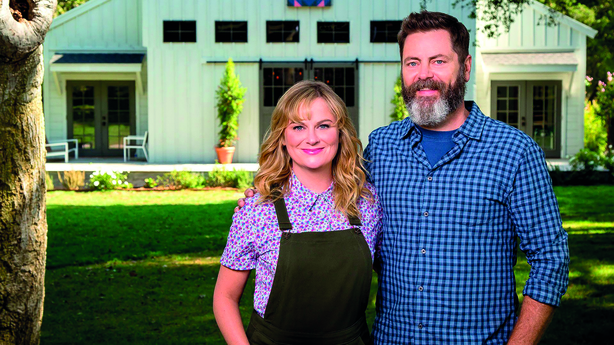 Finally, is one of those spinning plates the rumoured Parks and Recreation reunion, as Amy Poehler has hinted at in recent interviews?
It's entirely out of my hands. All of us involved would jump on board if there was another opportunity to do it. The creators of Parks and Recreation had the integrity to wrap the show up when they felt that the story was coming to a close, rather than milk all the dollars out of it.
It's going to require them to come up with an idea for a great Parks and Rec project that wouldn't just be a money grab. If they come up with another slice of delicious human nature, all of us will come running and I will dust off my moustache!
The Lego Movie 2: The Second Part opens nationwide on February 8