Michael Doherty chats to actress Saoirse-Monica Jackson about the impact of Derry Girls, life in lockdown and the advent of season three.
When Derry Girls first aired on Channel 4 in January 2018, few imagined the impact it would have on the cultural zeitgeist. Penned by Lisa McGee, whose previous TV credits include Raw and London Irish, the storyline, humour and fine ensemble cast resulted in the show becoming a huge hit on both sides of the Irish Sea. And now, courtesy of Netflix, Derry Girls is a success on both sides of the Atlantic. The role of Erin Josephine Quinn has led to acclaim, awards and a place on many rising star lists for Saoirse-Monica Jackson, herself a native of the Maiden City and now coping with lockdown life in London.
Could you ever have anticipated that Derry Girls would make such an impression?
I don't think I could have ever expected the magnitude of the show's success and how well it would resonate around the world. Reading Lisa's warm and wonderful script for the first time, I knew that it would resonate with Irish people, but it has been a phenomenon in England and over in the States, too. I remember being in New York last year and I just could not believe the reaction as I was getting, walking around. The family bond in Derry Girls is clearly a universal thing; as are selfish teenagers! It's funny hearing English people call themselves Derry Girls; it's like being a Spice Girl!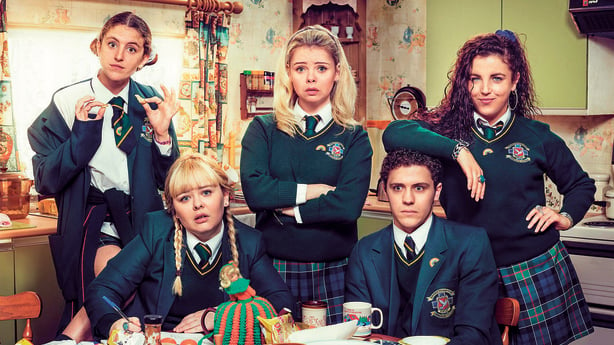 When you first saw those scripts, what did you like about Erin?
I remember the first scene that I read for Erin was the scene where her dog died and she's looking to stay off school. I remember how dramatic Erin was about the whole scenario and how she was using it to her advantage. It was definitely something I could hone in on. As a teenager, she has that fear of her mum and a fear of authority but she will still challenge them. It is exciting to have the opportunity to play that sort of dramatic teenager who has no airs and graces about her. You can read everything on her face, even when she's lying. She's a joy to play.
At what point did you realise that the public was starting to notice you?
I remember when the show first aired, I was doing a play in the West End [The Ferryman]. The next day, I got the Tube into town and these two men in suits, in their 50s, got on at Leicester Square. They said they were watching the show the night before and asked me for a photo! That was the moment it really hit me but it was bizarre for it not to be young girls but middle-aged men! I realised then that the show might have an audience beyond what we had expected.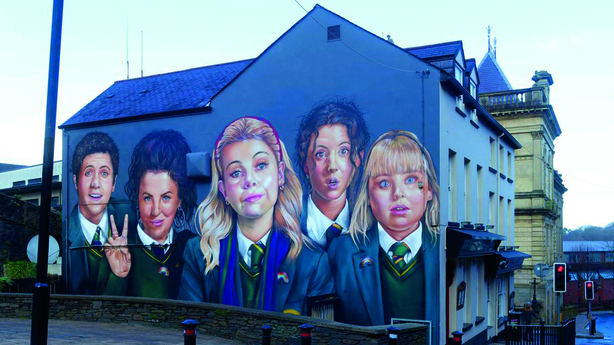 And how did it feel to become part of a massive mural on a Derry wall?
I'm still in shock every time I go home and I see it. It blows me away every time and I'm mortified to walk nearby in case people think I'm walking by on purpose! It's a really positive mural and everybody in the town is quite happy that it's there.
As a show, Derry Girls has won many gongs, but how did it feel for you personally to recently win the much-coveted RTS award for Best Comedy Performance?
I mean, honestly, when I was nominated with Phoebe [Waller Bridge] and all those amazing talents, I never expected to win. I was just so humbled to be in the same category as the rest of those women. To win was incredible and as a young Irish woman in a comedy, I was just so touched. I'm aware that I'm privileged to be part of a great show where the writing is fantastic, but to get recognised for my performance . . . I don't have words. I mean I still can't sort of believe it happened because I was in my living room and we didn't get to go to the ceremony!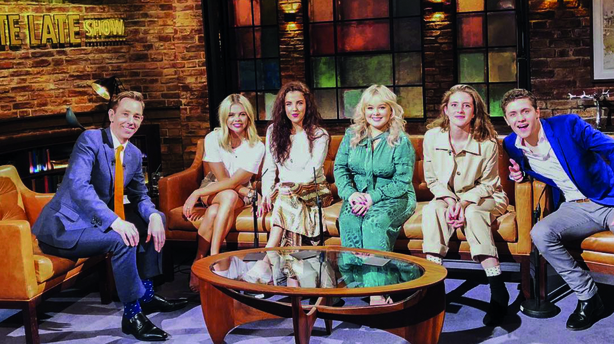 You've mentioned that you can't wait to get back to work with your fellow Derry Girls. Where is the season three production right now?
We actually should be filming that right now. I know that Lisa has all the scripts ready but obviously she would never trust any of us with that information! I'm sure when it's safe enough for us to get back to work, we'll all be bursting to get started again. And I'm also really excited to be able to get home.
Will there be more pressure on you guys doing season three, given that the bar has been raised so high?
This is going to sound terrible, but lucky for me, it's not really my pressure! Obviously we're handed these amazing, dynamic and well-rounded scripts. We always have full faith and we probably put pressure on Lisa because we hold her in such high regard. She has never failed to deliver something exceptional. Obviously when I get those scripts, it's a case of doing the very best that I can. There is a certain pressure in being an actor in Derry Girls because if you don't plant a line, it's completely down to you, because that line is always perfect. But that pressure you're talking about is really on Lisa, not on us!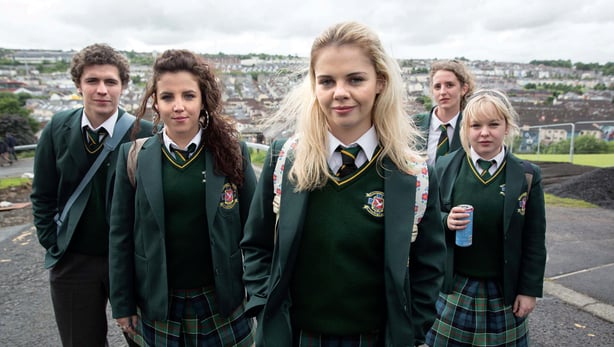 So do you have any input into Erin's lines or are they all fully formed in Lisa's script?
Well, a lot of my lines are reaction-based or they involve driving the scenario forward, so on set, myself and Lisa and Mike [Lennox, director] will have lots of discussions about the five different ways that I could deliver those lines and work out what is the funniest way to deliver them. So it's really all about preparing for that, levelling out the story where Erin is really heightened and either angry or upset, and then finding those levels throughout the episode. As for the actual structure of the lines, they are fully formed. There's no leeway, because there's no need for any.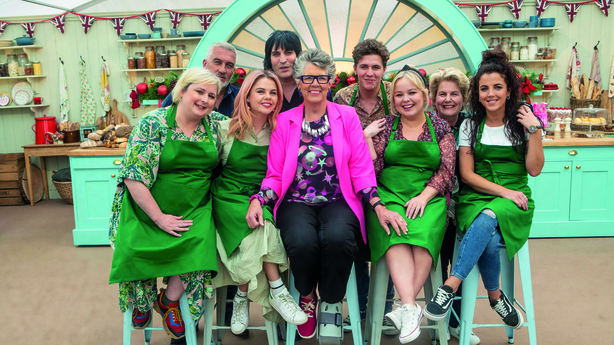 Final question, Saoirse: as a festive Bake Off winner, are you using this lockdown to create any epicurean delights from your repertoire?
Hahaha! Everybody said to me after I won Bake Off that I should continue baking and 'if you can read, you can bake', etc. The way I think about it is different. You know when an amateur throws a bulls-eye straight and they can never do it again? Well, that's me with baking! I want to remain an undefeated champion. I started 2020 with a bang by winning Bake Off and I don't trust myself to not mess that up. I have been enjoying a lot of baked delights, but they have all been made by other people!