Luminoso, Brian Farrell's delightful album of solo guitar performances lures the listener in with tracks that are sufficiently distinct each from the other, a bunch of styles and approaches which showcase Brian Farrell's amazing virtuosity. Manuel Ponce's charming Estrelita is followed by Agustin Barrios' Julia Florida, then Cuban composer Leo Brouwer's plaintive Un Dia de Noviembre, Farrell's own composition, McBeth (dedicated to Madeline McCann) and Benjamin Dwyer's Canción para Ella. On it goes, a wealth of sensitively-recorded music and an album that you will listen to its end assuredly.
Something of a prodigy, by the age of four, the Mexican-born Ponce (1882-1948) was already studying piano and his work also features on the Sevilla album, of which more anon. Agustín Barrios Mangoré's La Catedral was inspired by the composer's visit to the Cathedral of San José in Montevideo, capital of Uruguay.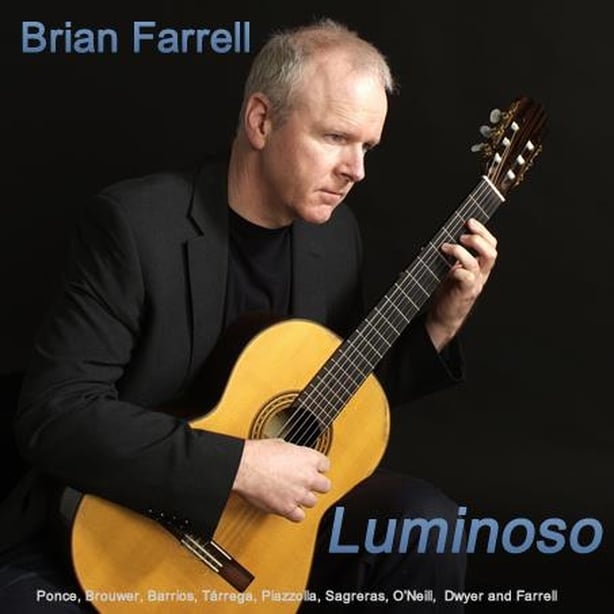 Its first movement, Preludio Saudade has a plaintive feel, its air of subdued sadness apparently relating to financial and marital problems in the life of the Paraguyan composer whose dates were 1885-1944. Julio Salvador Sagreras' El Colibri (The Hummingbird) follows, full of joy and vitality, but with a peculiar darkness too. It's a tremendous, visionary piece and a highlight surely on what is an album of riches. Can that be topped? Along comes Astor Piazzola's Milonga del Angel, five minutes of rapture in Farrell's expert hands.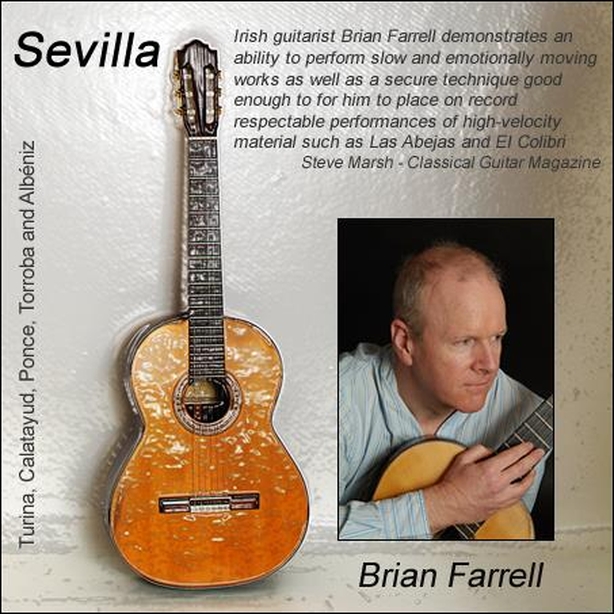 Francesco Tárrega (1852-1909) is largely credited as the founder of modern classical guitar technique. His Recurdos del Alhambra (Memories of the Alhambra) is his best-known composition and arguably the best known Spanish guitar piece the world over. Farrell serves it exceedingly well and it is followed by his own iridescent, sun-lit title track, Luminoso, a winning piece, shimmering beauty.
The Sevilla album, which runs to approximately 45 minutes, opens with Joaquin Turina's Homenaje a Tárrega, which features knowing musical nods to the work of the composer Turina (1882-1949) was born and studied in Sevilla and during his time in France was friends with Maurice Ravel and Claude Debussy.
Bartolomé Calatayud's Suite Antigua is given a spry treatment. Calatayud hailed from the island of Mallorca, and was taught by the aforementioned Francesco Tárrega. Manuel M Ponce's Sonatina Meridional opens almost dourly but graduates into a bitter-sweet asperity, ranging in its moods through neo-classical, neo-romantic and impressionism. We are clearly not in the city of Sevilla – to refer to the album's title – in the course of the first two movements. Yet by the third, Fiesta, we certainly could be standing, or better still,dancing by the banks of the Guadalquivir.
Federico Moreno Torroba's Suite Castellana begins with the haunting Fandangillo, followed by the wistful Arada and to complete the three movements, the elegant, charming Danza. The music of Torroba (1981-1982) is followed by excerpts from Isaac Albéniz's Suite Española, on which three cities are saluted, Sevilla, Granada and Cádiz. These two albums comprise wonderful selections, intrerpreted with admirable skill and imagination by the Dublin guitarist. www.brianfarrell.eu