As part of RTÉ Young People's Who's Your Heroine project, we asked young people across Ireland to nominate the women who inspire them...
The response was so overwhelming that in addition to commissioning a series of six original animations, we partnered with NCAD to create additional illustrations showcasing some of the many incredible women nominated by children, to be projected onto the GPO, Dublin, as part of the Herstory Illuminations Festival.
Read one of the illuminating essays below...
---
Brenda The Brave
Nominated by Kenya Dempsey (on behalf of Fionn Barry)
I am nominating on behalf of five-year-old Fionn his mother Brenda, AKA Brenda The Brave.
Fionn's name means warrior and that he is. I now speak for Fionn, who is nonverbal and was born with a life-limiting condition.
My name is Fionn Barry or Fionnbarra. My name means warrior. I AM a warrior. My Mum's name is Brenda and some people call her Brenda The Brave. When I was born the doctors told my Mum I was very sick and I might not get to stay on Planet Earth with my Mum and Dad for very long. I lived at the hospital for 2 years. My Mum lived there too. Mums get sick, too. My Mum has Lupus. Sometimes we are both very sick at the same time. But Mum always cares for me. Even when she's sick. The doctors thought I would have left Planet Earth before I was three years old, but guess what. My Mum is a warrior just like me. She never gave up. She chatted to lots of different doctors and therapists who wanted to help us. One time, I stayed awake for 9 days. I had lots of pains and couldn't sleep. Only a hero could stay awake with me for that long. MY Mum did. She set up a website called Fight for Fionn and organised lots of fundraisers. She was on the TV and the radio. She even got an award for being so brave and helping me so much.
We need your consent to load this Instagram contentWe use Instagram to manage extra content that can set cookies on your device and collect data about your activity. Please review their details and accept them to load the content.Manage Preferences
You won't believe it when I tell you now I'm five years old. And I'm still on Planet Earth. I had a big party in August to celebrate. I'm learning to roll on my playmat and I can stand with help and I'm not always in pain anymore. My Mum found people to help me. People come from all over Ireland to visist me and help me learn new things. I have a really cool stander that's helping me learn to stand, and I'm getting a new wheelchair next week with Batman wheels.
Some nights, I have nurses come and mind me at night, so my Mum and Dad can sleep. My Mum found those nurses. I started in my new school this month. It's soooooo cool. I made carrot cake last week. And we had school assembly and everyone welcomed me and clapped for me. I love my teacher and my new friends. I get to go swimming too. Mum found this school for me. She took me to Lahinch Beach last week. She buried my feet in the sand. I will never forget that, my first time sitting on the sand.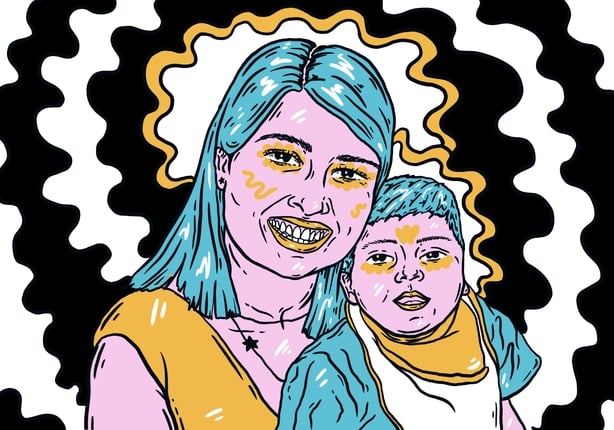 I don't know how long I will be on Planet Earth, but I'm so happy my Mum found all the special people who help me stay longer.
My name is Fionn. My hero is my Mum.
Read more of the Herstory Illuminated essays here.
RTÉ has partnered with the Broadcasting Authority of Ireland, Herstory, EPIC The Irish Emigration Museum, and Underground Films to bring the stories of Ireland's greatest female trailblazers to Irish screens - find out more here.