There is a touch of Albert Camus and existentialist gloom about Alfred Hayes' wistful, candid tale of despair, desire and manipulation played out in late 1960s New York.
 A cloud of melancholia hovers over Asher, the hapless narrator of this 178-page novel, which was originally published in 1968. The protagonist returns to New York where he spent his youth and is dismayed at change, old buildings gone, new buildings gone up, old characters no longer to be found. Live long enough and any of us will know the disappointment of which he speaks, the corollary of You Can't Go Home Again, that Thomas Wolfe novel of 1940, whose title seems to be much better known nowadays as adage than the novel itself.
Asher - and what a brilliant choice of surname, we never learn his first name - doesn't have a home in New York anymore, anyway, and checks into a hotel. He is 51, there is no mother or father to speak of, no siblings are mentioned.
He is wholly alone, in terms of family, except for an elderly aunt who thinks he is a successful screenwriter and has made loads of money. There was a time in his life when indeed Asher had lots of money, but his career has stalled indefinitely and Hollywood life has ended ignominiously. His two marriages are finished, he fled the second one after catching his wife in an act of infidelity with her tennis coach.
He recalls how he turned on all the lights in the house in a final gesture, a blaze of defiance, leaving no explanatory note. He did not howl, as we learn on the opening page, he kept a certain composure, and we are reminded of that fortitude once again, late in the novel. The story then is about trying to hold on to dignity, without losing it, as it were, without a great Edvard Munch scream at the injustice of it all, life, love and the whole damn thing.
In New York, Asher begins to socialise with his aforementioned aunt's grandson, Michael. Michael is an aspiring writer, or bad poet, more realistically, who ostensibly visits his distant relative to gain wisdom from the so-called successful exemplar of the craft, which in fact Asher is no longer.
The older man does not warm to Michael, and, either because of the sense of humiliation after their frosty encounter, or if not, for other reasons, the young man is led to fool Asher with lies and bogus hard-luck stories. He does this in partnership with Aurora, who appears to be his girlfriend.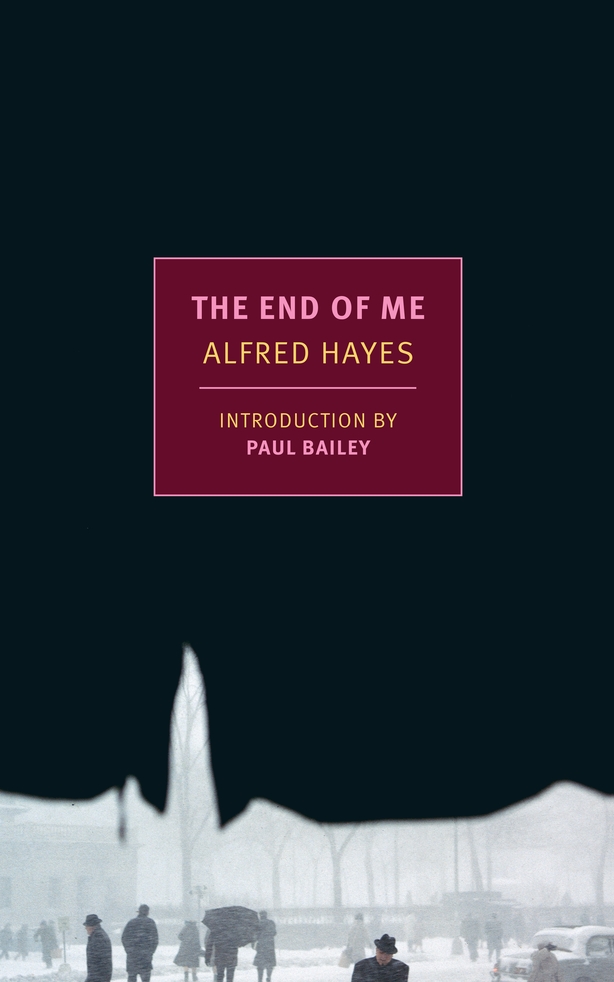 The con job and its various untruths involve money and seduction, but in the nihilistic situation conjured by Hayes, money is not the motive. A certain anti-capitalist impetus, rather, appears to be at work - The End of Me was written at the height of hippiedom whose radical re-examining of values appears to be part of the theme.
The End of Me seems reasonably close in some of its elements to Hayes's own life. The author was born in England into a Jewish family, the son of a barber and trained violinist. The family moved to New York when Hayes was three years of age. As a young man, Hayes worked as a reporter in on the New York American and the Daily Mirror. There appears to be something of the skilled, if jaundiced hack about some of the hard-bitten lines, or perhaps it is a noir quality learned from some of the great American crime writers, maybe Raymond Chandler.
I somehow kept marrying women, who for some reason or another, preferred not to, or could not, conceive children. Towards the conclusion, we learn: I wasn't any of the things I thought I'd been. I was merely money. 
Hayes was stationed in Italy during the Second World War and later worked on the story development and scripts of Italian neo-realist films, includingt Roberto Rosselini's Paisan (1946) and Vittorio De Sica's classic, Bicycle Thieves (1948). He also wrote Joe Hill, which was later set to melody and recorded by Luke Kelly and Joan Baez. He wrote screenplays for successful films in Hollywood, one of his novels became the basis for Act of Love, which starred Kirk Douglas. He also wrote the screenplay for Fritz Lang's Human Desire.
At the cold heart of The End of Me is an earthy, hard gem of eroticism brilliantly placed, which also radiates what is in a certain sense an updated riff on F Scott Fitzgerald disillusionment, executed with real style.