Room Little Darker is a series of short stories born from the electrifying imagination of June Caldwell. Born, raised and educate Ireland June has gifted her would-be-readers with tangible tales that excite, rouse, move and tickle their funny bone (and I would most certainly recommend the tickle).
Twelve audacious short stories can be found tightly bound within it's brightly coloured cover pages, ready to burst forth with the energy of Caldwell's writing. Told nearly always in the first person, her narrators and her subject matter range across all ages, classes of society and gender; grouping together a unique set of tales of the unexpected.

Readers can choose from a plethora of stories, for example; the experience of an unborn foetus in the womb and its relationship with its mother, a young woman looking for sexual excitement and deviousness in a world of S&M, a junkie searching desperately for his next hit or even the story of a grown man living in a tree. 
Caldwell's stories are all about perspective and the ways in which perspective can inexplicably affect a person's understanding of their own reality. A man living with his best friend in a tree, who also just happens to be the tree, does not necessarily read as unbelievable. Neither does a futuristic Ireland where pleasure 'Boybots' exist as a means of curbing sexual predators urges, such are Caldwell's skills as a storyteller.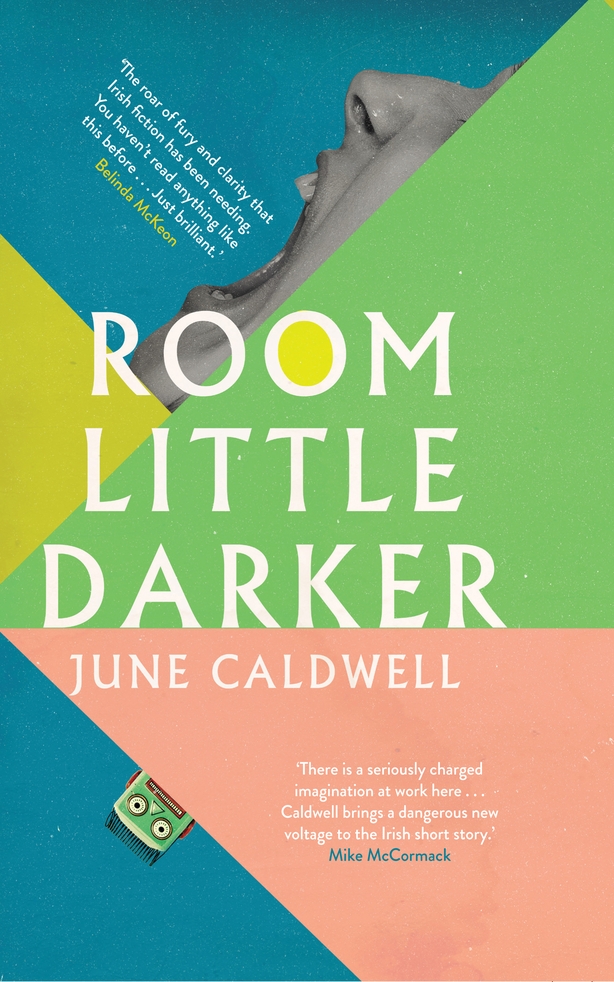 Nonetheless no matter the seemingly bizarre subject matter of these short stories they still stem from very concrete and current issues which are rooted in contemporary Ireland. The eight amendment, mental health, drug and sexual awareness, domestic and psychological abuse, cancer, contraception and even Trump are all touched upon in Caldwell's quirky and concise snapshots of life.
Unlike anything you may have read before, Caldwell's writing is a breath of fresh air. One may read these tales as dark or harrowing and disturbing, which perhaps in parts they are, but at the same time they are hilariously funny and clever, deceptively zany but artfully and carefully cultivated. Akin to Irish films and screenplays such as Adam and Paul, Spin the bottle or even British screen wright Martin Mc Donagh's In Bruges, they all carry that same unsettling buzz and black humour.
If I was say only two things about Caldwell's collection it would be that firstly; they are not for the faint hearted and secondly that absolutely everybody must read them.  You need not take anything profound from them if you do not wish- just see what happens when you probe your brains borders with the scope of the realities and lives of Caldwell's characters.
Grace Keane
About the author
June Caldwell worked for many years as a journalist and now writes fiction. Her story 'SOMAT' was published in the award-winning anthology The Long Gaze Back, edited by Sinéad Gleeson and was chosen as a 'favourite' by The Sunday Times. She is a prizewinner of the Moth International Short Story Prize and has been shortlisted for many others, including the Calvino Prize in Fabulist Fiction, the Colm Toíbín International Short Story Award, the Lorian Hemingway Prize, and the Sunday Business Post/Penguin Ireland Short Story Prize. She has an MA in Creative Writing from Queen's University Belfast, and lives in Dublin.