Anna Joyce takes a deeper dive into the latest episode of RTÉ's essential new podcast series, which revisits the Irish arms crisis of 1970 - listen to GunPlot: The Invasion above.
In 1998 Clinton had the Lewinsky affair, in 1972 Nixon had Watergate, but before these political scandals rocked the White House, Irish Minister Neil Blaney had the 1970 arms crisis.
If you're unfamiliar with Mr. Blaney then fear not for episode two of GunPlot an original podcast from RTE's Documentary On One will unravel his once near cult-like status and role in Ireland's biggest political calamity: the 1970 Arms Crisis.
The episode has everything from a Clint Eastwood-like standoff, to rumblings of a political coup and sobering memories from children of the troubles. After all there is a reason why people still bicker about this event 50 years later….
Although I could stop and explain the nuts and bolts of the Arms Crisis instead I'll borrow a few words from Documentary maker Nicoline Greer "In 1970, a group of men, including Irish Government ministers and a member of the Irish Army were arrested on charges of conspiring to illegally import arms…" Add in a sprinkling of spies, a dash of fake news, and some political upheaval and you've got the Arms Crisis.
If you're chomping at the bit for more on this phenomenal tale then there is only one solution: drop everything and stream episode one of GunPlot. Then repeat with episode two above.
But if you're a repeat customer trying to unpack this historical labyrinth skim your eyes over this brief synopsis of episode two to get yourself up to date.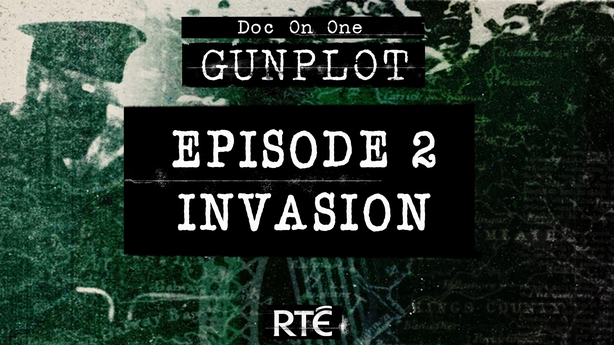 The Boss Man
Although not a name often uttered in 2021 Neil Blaney was one of Ireland's most influential politicians - a former Minister for Agriculture & Fisheries with a strong presence, republican agenda, and eyes on the Taoiseach's crown. A man whose father had been sentenced to death, for being possession of arms and ammunition…..
In the 1960's Paul Sacks, a former political science student trekked from California to Donegal to research "Blaney's constituency machine". He said that if an unflattering word about Mr. Blaney was uttered in a pub a hush would fall on the room. "There was a certain amount of intimidation and there was no basis for it but people did not want to break ranks with the Boss."
However, Eamonn Blaney his son offers a more intimate portrait of this polarizing figure. "He was well capable of putting on a good show. He could play his audience and he had a lot to say."
An Early Bird And The Impact Of Words
The first episode of GunPlot concluded with Taoiseach, Jack Lynch's seminal speech, and his elusive closing statement - "the Irish government can no longer stand by" - for people like Blaney the meaning behind this was abundantly clear. "I want our people, all those who are not here tonight from the six counties, to know and appreciate perhaps as never before that we here on his side of the border, that we do care about them".
But not everyone in his cabinet agreed with Mr. Blaney's approach.
The story or rather the podcast goes that Mr. Blaney received a call during the Bogside conflict in Derry (for reference hit replay on episode one) on August 12th. The caller implored the Irish government to protect the people of the North. But when Blaney sent word to Taoiseach Jack Lynch he was nowhere to be found. Mr. Lynch had a rule: no business before 5 am. I'm sure everybody working from home can relate.
However, despite his need for some shut-eye after the battle of the Bogside the Taoiseach's popularity soared. Northern Catholics took his speech as a sign of solidarity, a symbol that Ireland would protect them against protestant forces and the British Government.
But for those on the other side of the barricade, the Taoiseach's words were loaded. Gregory Campbell, a former protestant Apprentice Boy, said it was "incendiary, that was throwing the proverbial petrol on the flames".
A Trip To The Border
After the Taoiseach's address, the Irish Army was sent to the border to offer medical effort, except it wasn't a medical effort ….. which begs the question what was it?
When the unit of Sean O'Sullivan reached Donegal not everyone swallowed the "humanitarian mission" line - "We met one local. He was standing in the side of a village, we pulled up and were looking for directions and he said 'I know where you're going', meaning we were going in over the border."
Although he was not the minister for defense Neil Blaney told a reporter in Derry that if the Irish Army invaded the North the United Nations would step in to assist - but that would demand soldiers like Sean to ignite conflict in the North. Unsurprisingly, Irish soldiers were not too eager to breach the border
A Question Of Resources
The British Government took the plunge and sent troops to settle the Bogside conflict. On the streets catholics chanted "we want the Irish army here." But there was a hitch "the Irish Army was poorly-resourced and ill-prepared" and instead of high-class machinery, they had military hand-me-downs, discarded by other regiments.
"Oh, we had about six tanks at the time. There were two Churchill and four Comets. They were very old, they were made for the Sahara desert I think and the British army and they never were used". It doesn't take a geographer to know the streets of Derry are somewhat different to the conditions of the Sahara.
A Child Of The Troubles
In the aftermath of Taoiseach Jack Lynch's speech, protestants unleashed a reign of terror in catholic neighbourhoods. Robin Livingstone was nine years old the night his childhood home was set ablaze. He wrote about his memories of that night years later - "They started to kick at the front door. Then a petrol bomb came through the front window. My daddy and my brothers started to pile furniture against the front door. Then my daddy ran back and said everybody out …….. He started shouting at them to let the women and kids through. The police just laughed and said F**k off you Fenian bastard."
The podcast makes crystal the terror felt by this catholic youth as he watched his world dissipate without "the foggiest idea about what was going on". That same night seven people were killed in Belfast; five were catholic and two protestants. All of them had been shot.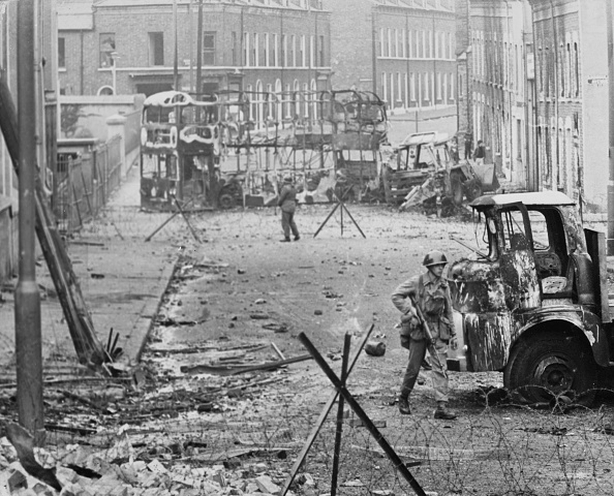 What Captain Kelly Did Next
If you listened to episode one, you are already well acquainted with Captain Kelly, if not then turn back now and hit play. We left Captain Kelly as he departed Belfast, but on his trip home he took a detour and went to the Office of the Irish Army Intelligence. He relayed to Colonel Michael Hefferon what he had witnessed in the North, and was given orders to make the North his primary focus.
During his observations, Captain Kelly documented a phenomenon know as "house-swapping". In essence, when a catholic found themselves living in a protestants area (or vice versa) they would swap homes and move to an area with people of the same faith. But when people refused to abide by this covenant they were burnt out or intimidated out. And so thousands of Northern catholics fled across the border pleading with the Irish Government to send help.
The People's Defence Committee
Captain Kelly knew he needed on the ground information in the North, therefore he sought out members of local defense committees. The committees were made up of residents from Northern neighborhoods under siege. They organized medical help, food, supplies, and of course weapons. It was early days and so weapons usually consisted of bottles and petrol.
To understand these people, Captain Kelly needed to find out what they wanted, which locals made abundantly clear: "We have nothing up there. We have sticks and stones. What man can defend his wife and family with sticks and stones. It's arms we want. Arms we want". By now Northern catholics knew the Irish Army weren't coming to protect them nor the United Nations and therefore the people of Northern Ireland decided to protect themselves.
In The Arms Of The IRA
As desperation grew among people in the North they looked towards a non-goverment body: the IRA. The episode features an interview with Belfast IRA man John Kelly. On the other side of the border farmers sent shotguns and hunters rifles, to the Northern call for arms. The authorities largely ignored these dealings and at times even assisted.
In a cinematic scene, a collective of men including a member of the IRA goes in search of "old guns". Suddenly they are approached at the border by a Garda detective. The IRA man cradles a machine gun and locks eyes with the detective. But before he can reach the vehicle the IRA man speaks "We have weapons." And then, showing him the machine gun, he said, "I will blow the head off your shoulders".
If you think that sounds intense you should listen above to find out what happens next….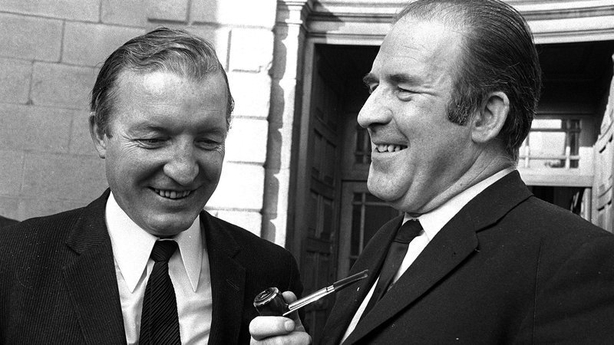 A Delegation, A Subcommittee, And Mr. Haughey
Despite occasional arms donations Northern catholics still didn't have a proper flow of arms. And so a delegation traveled to Captain Kelly's home in Terenure, Dublin to seek his counsel. But Captain Kelly told them if they wanted arms they had to speak to the Irish government directly. But at this point in our tale, the Irish government was in quite a pickle.
They had decided not to invade the North and instead established a sub-committee fronted by the star of this episode minister Neil Blaney. The sub-committee was given £100,000 "for the relief of distress in the North," which is equal to €1.5 million by 2021 standards.
The sub-committee had a handful of members one of which was a man known as Charles Haughey, but the gang soon hit a bump in the road. Mr. Blaney and Mr. Haughey never turned up to the first committee meeting and they didn't reschedule. But the two missing links did meet again minus the government tagalongs. "And they were left with £100,000 and they were the only ones to decide what to do with it." I wonder what they did next?
If you too are pining for answers then pick up an electronic device and start streaming GunPlot to find out...
New episodes of GunPlot are available weekly - catch up here.