In 1983, industrial unrest and factory closures dominate the news. Jobs are lost when Ranks closes. Dunlops leave Cork after 48 years. 680 workers lose their jobs. The public mood is gloomy.
The new government dishes the dirt on the old one. Fianna Fail ministers were involved in 'bugging' conversations and in 'tapping' journalists' phones. The scandal brings a series of resignations but Charles Haughey survives as party leader.
Ballymany Stud Farm, Co. Kildare: the champion racehorse 'Shergar' is kidnapped. Despite a nationwide search, 'Shergar' is never found.
After the kidnap of businessman Don Tidey, a soldier and Garda officer are killed in a shootout. Don Tidey is rescued unharmed.
We need your consent to load this rte-player contentWe use rte-player to manage extra content that can set cookies on your device and collect data about your activity. Please review their details and accept them to load the content.Manage Preferences
Don Tidey kidnapped - RTÉ News reports on 25 November 1983 (via RTÉ Archives)
RTÉ screens the first episode of a new series, Glenroe. Starring Mick Lally and Joe Lynch as Dinny and Miley Byrne, it takes up where Bracken left off.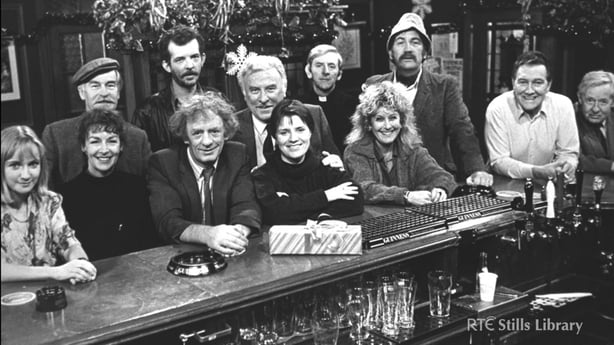 World Athletics Championships, 14 August 1983: Eamonn Coghlan wins the 5000m final.
The US pursues a 'get tough' policy in Central America. In Nicaragua, the US backs the right-wing 'Contra' rebels against the ruling 'Sandinista' government.
Grenada, 27 October 1983. After the murder of Premier Maurice Bishop, American troops invade the island. The US claims that Cuba was planning a military base there.
A constitutional amendment on abortion provokes fierce debate. Critics say the amendment's wording is sectarian. Anti-abortion campaigners say the new law is necessary. The campaign is divisive and sometimes bitter. The amendment is carried by 841,233 votes to 416,136.
The Divorce Action Group launches a campaign for constitutional change in Ireland.
Nuclear arms talks are deadlocked. President Reagan unveils his 'Star Wars' plan to create a defensive 'missile shield' in the sky. The Campaign for Nuclear Disarmament gets underway. The women of Greenham Common in England fail to stop the delivery of Cruise missiles.
All-Ireland Football Final: Dublin and Galway battle it out. A 12-man Dublin team beats 14-man Galway.
1983 - The Playlist:
Paul Young - Love Of The Common People
Eurythmics - Sweet Dreams
Christy Moore - Don't Forget Your Shovel
David Bowie - Modern Love
Bananarama - Cruel Summer
Van Morrison - Cry For Home
Michael Jackson - Beat It
New Order - Blue Monday
Phil Lynott: Old Town
Howard Jones - New Song
Paddy Reilly - Fields Of Athenry
Elton John - I Guess That's Why They Call It The Blues