Intersections in science and philosophy, religious and political cogitations, literary and poetic examinations - in There are Places in the World Where Rules are Less Important Than Kindness Carlo Rovelli embraces a wide array of subjects
Ranging from Archimedes to Adolf Hitler's Mein Kampf, this collection of reflections are drawn from writings by from across the last ten years. Some function as wonderful snippets of insight, others miss the mark for tantalising wit and charm or, at worst, they appear fatuous.
We need your consent to load this YouTube contentWe use YouTube to manage extra content that can set cookies on your device and collect data about your activity. Please review their details and accept them to load the content.Manage Preferences
Italian theoretical physicist Carlo Rovelli is one of the most widely known authors of popular science to date. His best-known work, Seven Brief Lessons on Physics, was originally published in Italian in 2014, and with the release of There are Places in the World Where Rules are Less Important Than Kindness, Rovelli continues to bridge the gap, fusing his scientific knowledge with his appreciation for the arts and culture.
In this collection of articles - originally published in Italian and in foreign newspapers - he integrates and argues between the sciences (physics, biology, neuroscience, etc) but also has consideration for literature, philosophy, and sociology. The pieces have their seeds in personal experiences, or are based on careful research, and they are also inspired by the biographies of illustrious thinkers. Rovelli believes that science and the humanities are complementary areas of knowledge and interprets them with a fine degree of nuance and proficiency.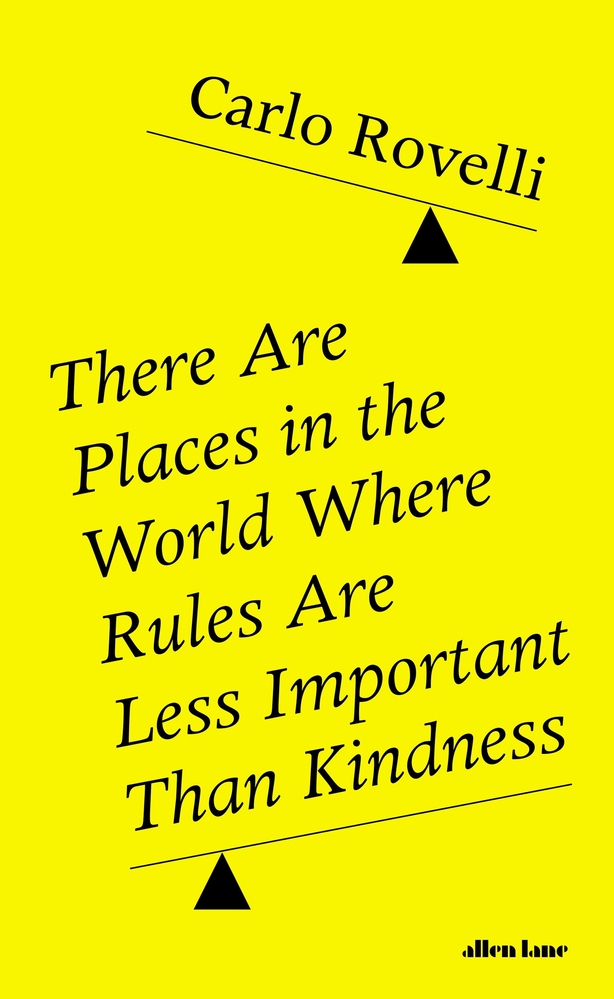 The book is reminiscent of an extensive discussion with a sharp-witted uncle, or the type of wizened, erudite gent you might meet at a pub on a random evening. Jumping between different forms of delivery such as reflections and anecdotes, the range of topics and forms of discourse are striking. 
However, depending on the article one might read, the execution and depth tend to fluctuate quite a bit. The structure is rather loose, with no chronological or thematic framework for the most part.
There are many stand-out readings in the collection. Dante, Einstein, and the Three-Sphere is an incisive and enlightening look at the link between Dante Alighieri's Paradiso and Albert Einstein's three-sphere hypothesis in 1917.
Likewise, The Mind of an Octopus, Newton the Alchemist and Rovelli's three-part discussion on black holes are all fascinating and comprehensive reads, which are mercifully free of cumbersome jargon. Which Science is Closer to Faith? sees Rovelli explore the work of the acclaimed priest, mathematician, astronomer, and physicist Georges Lemaître with precision and coherence.
In contrast to this, there are several flawed articles in the collection that could have been remedied by including an expanded notes section/chapter or just omitting some articles altogether. Nothing of significance would have been lost.
Rovelli's political and moral sensibilities as a liberal humanist add a pleasing, soulful aspect to his articles, but some of his  platitudes suggest naive idealism and political disingenuousness. 
He states bluntly that collaboration is better than conflict, social inequality is bad, and war should be avoided. In Four Questions for Politics he guilelessly asserts that the current dangers of war, the environment, economic inequality, and the presence of nuclear arms can only be solved with politics.
There are a few other disappointing chapters scattered throughout the book, one of them detailing Rovelli's experience in Africa, which is a broad, drab and (at times) condescending commentary that fails to offer anything of value. It is in effect only another account of an affluent white man's patronising perspective. 
Rovelli argues that "knowledge is the result of a continuous development of [a] dense web of exchanges" and he urges that we should compare, exchange ideas, learn from one another and build from differences, that we should mix things together, not keep them separate.
Yet he doesn't afford this opportunity to traditional medicine, and in the article Traditional Medicine and UNESCO he lambasts UNESCO and traditional medicine despite the campaign to have it recognised in the list of Cultural Patrimony of Humanity.
Views on traditional medicine aside, there can be benefits to mingling and learning from both elements of traditional and contemporary medicine. Rovelli refuses to acknowledge the value of Tibetan medicine, most likely an emotional response following the death of a close friend who chose traditional South American treatment. Other disappointing pieces include Dear Baby Jesus, Dramatic Echoes of Ancient War and Why I am an Atheist.
Regardless of its flaws, the collection is a meticulous celebration of human accomplishment and an expansive meditation on thinking without restraint.
Adam Matthews
Read an extract from There are Places in the World Where Rules are Less Important Than Kindness here