In times when intolerance and animosity reign over society; when strife persists and intensifies like a rolling stone along a steep surface, how does one react and manage as one's way of life is upended, and one's countrymen disregard you as something foreign and inhuman? Paranoia, claustrophobia and abandonment become one's new reality. These are the experiences of Ulrich Alexander Boschwitz's strikingly intimate story of a man whose once peaceful life is robbed of, not only him but the Jewish denizens of Germany.
Born into an affluent family in 1915, Boschwitz was one of the many German Jews who felt no connection to Judaism or its culture until they were branded and persecuted by the Nazi regime. The book was written shortly after Kristallnacht (The Night of Broken Glass) in November 1938.
Following the horrors and savagery of this event, he worked tirelessly on The Passenger to capture the tensions and fears in a fictionalised account that bordered testimonial. He and his mother were subsequently arrested in June 1940 and then kept in the Isle of Man internment camp like many other German Jewish refugees.
Boschwitz spent the next two years of his life in Australian internment camps until he was released in 1942. Along with nearly 400 passengers, he embarked on the MV Abosso back to England. It was torpedoed in October 1942 by a German U-boat. Boschwitz died at the age of 27, along with the 362 other passengers. It is believed that a revised version of The Passenger and the manuscript for another novel perished with him.
The Passenger tells the story of a German-Jewish businessman, Otto Silbermann, on the run from the Gestapo in Nazi-Germany, which becomes a bed of hostility to him. Boschwitz describes the course in a gripping, gloomy and authentic manner and pulls the reader into a vortex of fear, distrust and Uncertainty.
One of the book's many accomplishments is its ability to presciently weave a bone. Kafkaesque in its style, Boschwitz work is a staunch critique and portrayal of sectarianism and persecution similar to his contemporary Lion Feuchtwanger or the late Hans Keilson. His work manages to embody a strong sense of urgency and cares not to romanticise its protagonist or his actions.
Amidst the bedlam and brutality of Kristallnacht, Silbermann escapes German stormtroopers who break into his home. He takes train after train attempting to flee Germany whilst facing the dangers of condemnation or arrest and likewise terrified that his Jewish identity will be discovered despite his Aryan appearance.
There is a simple authenticity to the book's characters, and – despite the book's length and pace at which events unfold – we are presented with a wide and dense view of the bygone German era and the quotidian life of its inhabitants. Initially, our protagonist, Otto Silbermann, is not even a likeable fellow, but as the proverbial noose tightens around him, the more one hopes, trembles and worries with and about him.
Silbermann's alarmed scramble from station to station and the suffocating atmosphere of paranoia ooze from the corners of the book's pages. Through inner monologues, Silbermann begins to question the prevailing attitudes, ideologies and even his own identity.
From the onset of the book, he is established as an upright man of poise character. But as the narrative progresses, that gradually begins to slip as his confidence and prudency erode, and fear becomes a lurking, ubiquitous presence. As trust becomes a scarce commodity, the man's once will falter as his means of escape continue to be shut.
It is not surprising then that Silbermann gradually seems to be losing his mind and collapses under the pressure of the Nazis. It was precisely this process of giving in and the loss of one's personality or identity, which one experienced emotionally more or less on behalf of so many persecuted people of the Third Reich in the spirit.
The modest writing style makes it nicely digestible and easy to get into the narrative allowing for the reader to be whisked back in time. Language and characters are very much in line with the times, which is particularly noticeable in the dialogues, but also makes the content more tangible.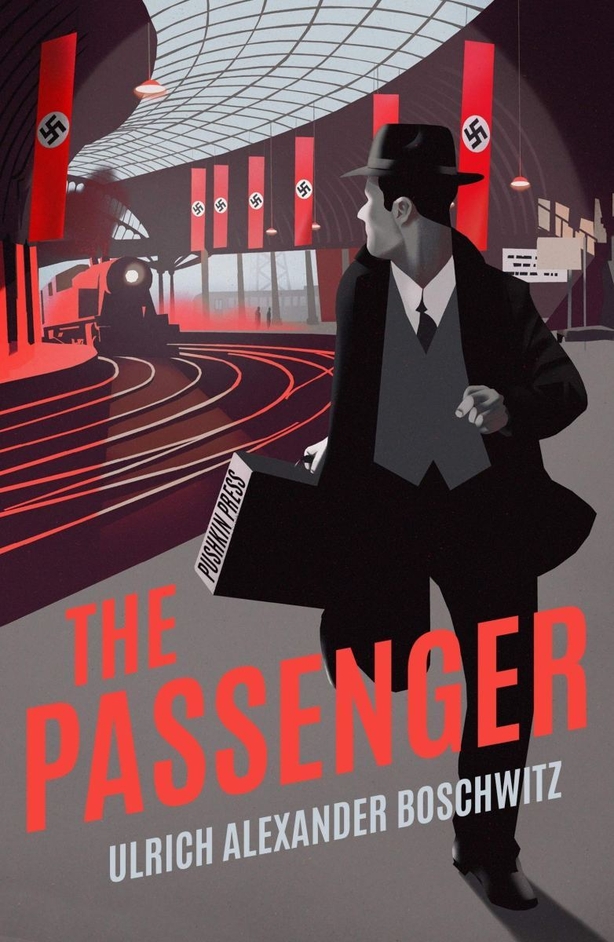 Many of the passages, fragments and sentences continue to endure in relevancy in today's climate. The long-dead Boschwitz reaches into our present era in this existential exploration of the self, apathy, and moral decay. It is a book that gets under your skin and takes you away with the historical content and unique tone.
While often thrilling and exciting, The Passenger is a sobering and grievous read punctuated by a poignantly tragic ending. Ulrich Alexander Boschwitz, who had been murdered by the Nazis, is set to become a bestseller decades after his book, centred on surviving under the regime, was rediscovered by publishers. This book is a timely eye-opener and certainly worth one's attention and admiration.