Hilary Fannin's first novel is not a conventional love story, but rather a story about love as perceived through the harsh lens of reality. Its intensity may appeal to fans of Normal People, suggests Béibhinn Breathnach.
Beginning in London in 1995,The Weight of Love follows the story of Ruth and Robin. Robin's overt feelings for the young Irish girl Ruth are not visibly reciprocated and she is rather drawn to Joseph, Robin's more alluring friend.
Despite Joseph's sway over Ruth in 1995, it is quickly established that Robin was eventually victorious in securing her heart as, twenty-three years on, Ruth is his wife. The novel unfolds between 1995 and 2018, telling the arduous tale of their relationship.
This may be Fannin's first novel, but her work is not that of a novice. Her extensive experience in theatre and journalism shines through in a story which is carefully-constructed and emotionally rich. The narrative is non-linear, effortlessly moving between the past and present-day, refracted through the memories of her characters.
Multiple points of view are employed, truly immersing the reader in over two decades of these characters' lives. However, this style of narration does not make this a slower-paced read. The novel is constantly moving forward, even while it explores the past, each memory compounding the isolation and disillusionment of the
characters in the present day. Fannin's ability to navigate a complex narrative of woven perspectives, times and locations, must be commended as the intricate story never confuses.
However, the characters in this novel are frankly unlikable. They can be selfish, spineless, detached,
and heartless. They are not even particularly unusual, with perhaps the exception of Joseph.
It is unlikely that any reader would desire to be friends which such people on seeing into their minds and their histories, but that does not mean one would object to observing their lives and feeling a certain degree of empathy towards them.
Their confinement within their monotonous existences results in characters who are frustrated and unhappy. Fannin creates characters who feel real, who are weighed down by their responsibilities, their pasts, and even by their love for others. Through their rather ordinary lives, Fannin questions what it means to be comfortable in your own life, and what it means to be happy.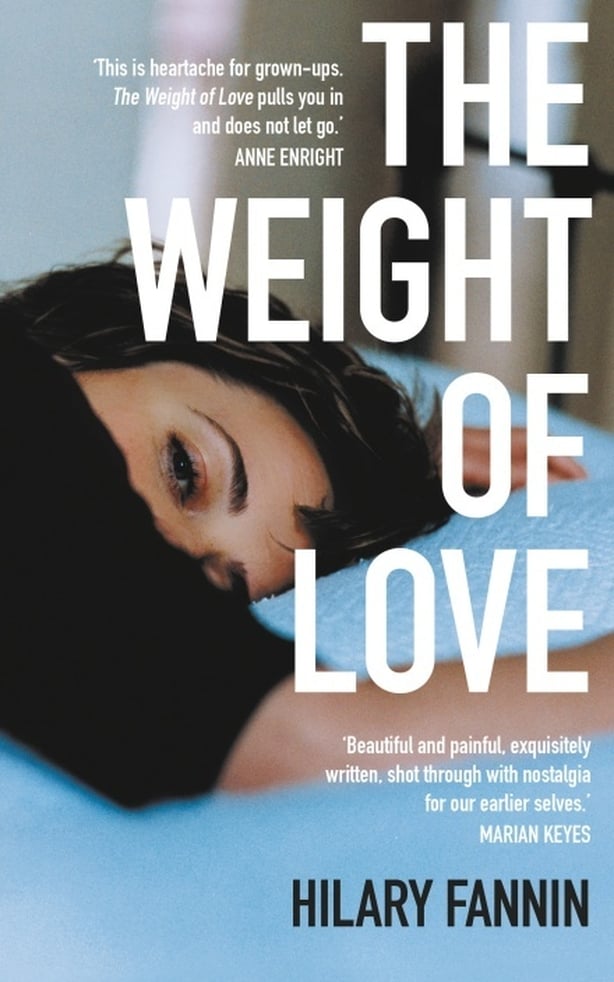 The Weight of Love also explores freedom. Is freedom leaving a strained marriage? Is freedom finding anonymity in a bustling city? In this novel, freedom is the control of your destiny. Fatalism frequently underpins the inaction, or poor decisions of the characters, resulting in figures who float along and accept their disenchantment.
References to astrology emphasise this theme of powerlessness, with the star sign of a lover taken to account for a failed romance. Personal history is deemed to be formative for future actions and traits. The novel shows how a person can be moulded by circumstances, but that this does not allow individuals to employ their past to justify their present behaviour.
To believe in one's own agency is to regain freedom. The relationships between the characters in this novel allow for an interrogation of love. From sexual love, to unrequited love to maternal love, Fannin's tale is a study in the various forms of love.
There is a distinct lack of father figures. Whether distant or smothering, cruel or doting, matriarchal figures loom large in The Weight of Love as daughters and sons remain devoted and indebted to the women who raised them, no matter the toll it takes. 
Fannin's writing style is direct in description and dialogue, but her attention to the smaller details will resonate with a reader. Many simple, yet clever sentences are effective and avoid slowing the pace of the novel. Additionally, little moments hold great significance, proving Fannin's ability to make the ordinary important. The self-consciousness and discontent of one character, Helen, are epitomised by the purchase of a vibrant yellow skirt for which she keeps her receipt.
Her desire to revolt against a life with which she is dissatisfied is not a wish which is easy to act on. Her uncertain attempt to be bold, even in the act of wearing something different to her normal navy trousers, is one small moment which will likely speak to the reader. The Weight of Love is not a lighthearted novel. It can be heavy and bleak, but it is also poignant and raw.
For those searching for an emotional story, perhaps after the similarly intense TV dramatisation of Sally Rooney's novel Normal People, The Weight of Love might be the next must-read.