American academic Deirdre Bair won global acclaim for her biographies of the writers Samuel Beckett (1906-1989) and Simone de Beauvoir (1908-1986). In this memoir, she recalls those heady years in Paris as she charted the lives her illustrious subjects.
'The world knew very little about Samuel Beckett when I began to write about him.' Deirdre Bair's bald declaration halfway through her 347-page memoir marks the real start of the Beckett book. In the summer of 1974, she went about writing the biography of the famously private, but not necessarily reclusive writer. She worked by a canny instinct: 'When it came to methodology, I had none. I was intent on simply allowing the written life to unfold exactly as Beckett had lived – and was living his own.'
Prior to the writing, there were the years of painstaking research, meeting friends and acquaintances, people like Dr Geoffrey Thompson who played chess with Beckett and ultimately persuaded him to go into psychoanalysis. There had been an exchange of letters between the writer and Beckett himself between January and May 1973 and they met later that year in Paris. During the course of that conversation, Bair recalls, Beckett had smoked one of his usual cheroots and talked about his distaste for the actor Albert Finney.
We need your consent to load this YouTube contentWe use YouTube to manage extra content that can set cookies on your device and collect data about your activity. Please review their details and accept them to load the content.Manage Preferences
Finney had recently played the eponymous Krapp in Krapp's Last Tape. Beckett told Bair that "Finney was the worst Krapp I ever had".  Bair writes: 'I tried hard to stifle a giggle and was almost choking to hold back laughter when he realised his double entendre. He gave a little shrug and colored slightly - certain topics actually made him blush. "Oh well," he said as he laughed, too, and we moved on to other subjects."
Her account of ferreting around Dublin in search of tidbits concerning Beckett's escapades, sexual, romantic, or otherwise is particularly fascinating. In the course of that Irish sojourn, the American biographer became good friends with Seamus and Marie Heaney. She sampled poitín and stayed at Buswell's Hotel.
'I had to buy far too many drinks far too late into the night for assorted Dublin characters... and many of them hinted at how much more they could tell me if I would just leave their hands where they put them on my knees, or, if in one or two of the most egregious cases, if I might want to invite them for a private drink in my room.' These were 'exhausting evenings,' she recalls, 'trying to move out of the reach of one after another drunken Irish poet, actor, playwright, journalist, or professor.'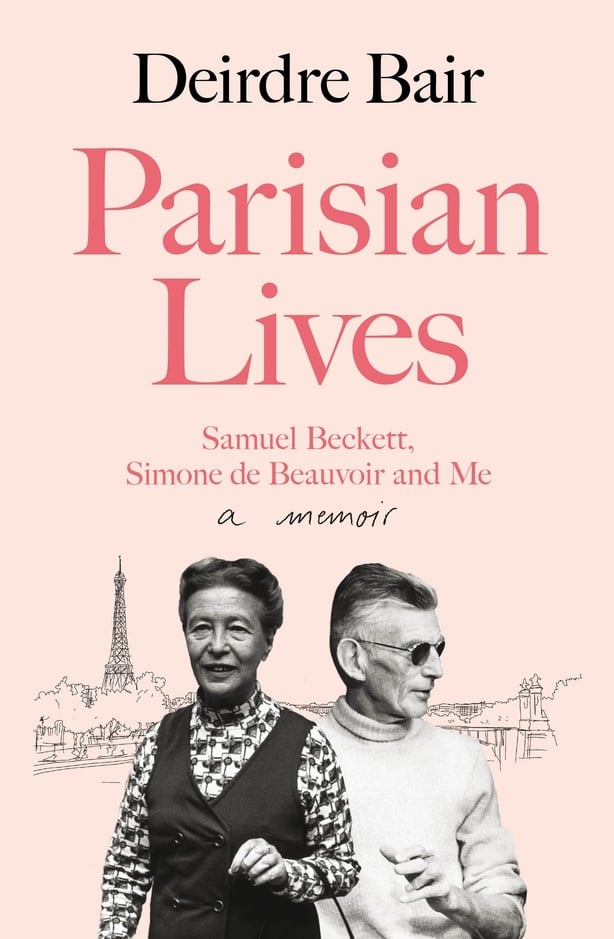 A particular complication arose for Bair in Paris when she discovered that Beckett and her next subject, Simone de Beauvoir, effectively despised each other, while living in effect on the same street. Her relationship with the French feminist and author of The Second Sex lasted seven years, with interviews conducted over five years. The pattern she had applied to the execution of the Beckett biography could not be used again to depict the formidable doyenne of the Left Bank and sometime lover of Jean-Paul Sartre.
However, Samuel Beckett: A Biography, which was finally published in 1978 won a National Book Award. The wind was at her back in some shape or form thereafter and Bair persisted in her relationship with the daunting de Beauvoir. The resultant book, Simone de Beauvoir: A Biography appeared in 1990. It was chosen as a Best Book of the Year in the New York Times and was a finalist for the Los Angeles Times Book Prize.
In her introduction, Bair talks about the stock answers she has readied for people when they ask her about meeting both Beckett and de Beauvoir. " 'They were remarkable people,' I say. 'Truly extraordinary. Great privilege to have known them.'
That pat answer rarely does the job, and the memoirist gets the inevitable follow-up: 'what were they really like?' That one is never easy to answer, she remarks. Nevertheless, she has a great shot at it here, in what is the inside story of her explorations more than four decades ago. Through felicity with language and Deirdre Bair's ability to tell a story and a lively anecdote, we get the picture(s).