Travel writer, sailor and anthropologist Philip Marsden tacks along Ireland's western shore en route to the so-called Summer Isles, off Scotland's Western coast, in what is a curate's egg of a book.
Marsden, who is in his late fifties, is a seasoned traveller who has written books about his time in Ethiopia, Russia and Armenia. His acclaimed work, Rising Ground, published in 2014, is an affectionate, erudite homage to his adopted Cornwall where he now lives with his wife and children.
Midway through the Irish leg of his journey to Scotland, the author travels back, presumably on a flight, to check in on matters at home. That is interesting in itself, and not something one could imagine seasoned travel veterans such as Paul Theroux or Colin Thubron bothering - or even being able to do easily - from their billets in what would typically be far-flung locations.
So home is the pull as well, as the destination for Marsden, and that is nice. The voyager has a questing spirit of curiosity about most everything he encounters, is interested in the writings and autobiography of W B Yeats, the Fianna cycle of stories, the Children of Lir and every folk tale relating to the islands he visits or passes on his wooden sloop. He attended an Irish course in Connemara sometime prior to his sea journey, and this is indeed an admirable commitment.
Much of the book is about the delight in sailing, but it also covers the business of dealing with foul weather and high waves. Marsden has known both the exhilaration and the danger - 'rocks' in a word - and he watches the clouds anxiously if their undersides look like 'crumpled bedding', as he phrases it. The reader who is a sea-faring man or woman will love the book for such material, replete with unexplained technical terms.
One recurring problem is that the author's encounters with other folks in Dingle, on Clare Island, Inishbofin, Aran and a number of other islands is that the people he meet seem pale shadows.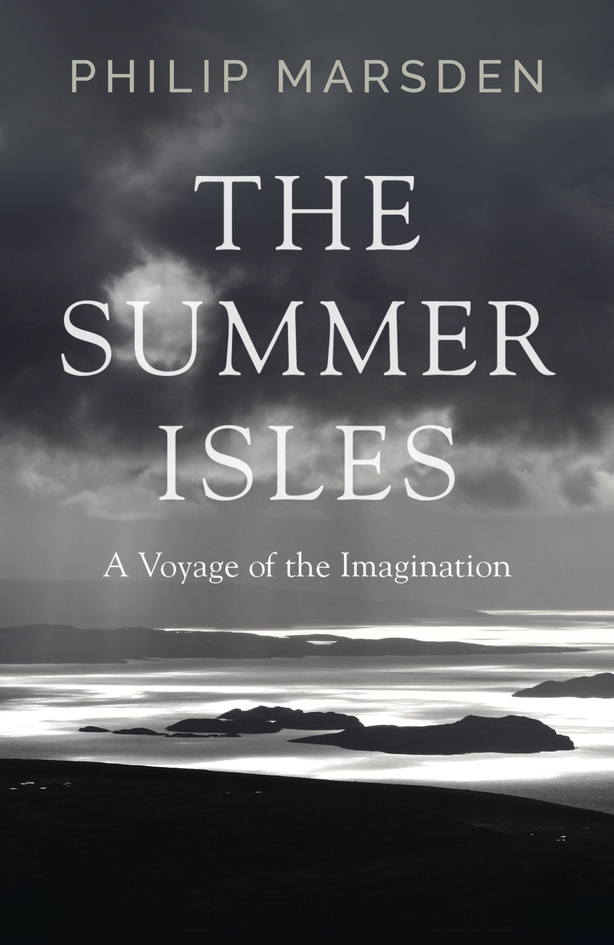 In prose terms, these people often do not materialise on the page or otherwise their glimpses just do not seem that interesting. In a pub on one of the western islands, someone starts to sing Bright Blue Rose and there is a brief argument as to whether Jimmy MacCarthy or Christy Moore wrote the song. Marsden, as a stranger presumably, finds this noteworthy, but it is desultory padding as far as your reviewer is concerned.
He goes up to a high place with a group of people who are lighting a fire on Inishturk, and their aim is to attract the attention of those lighting a similar beacon on Achill. He wonders if it is some kind of ceremonial custom, but is breezily assured, in what is designed as a punchline to the story, that it was the fulfilling of an idea someone had posted on Facebook. This lightweight anecdote is dismaying really in its bland contemporaneity, and only confirms how ubiquitous social media is, hardly a discovery.
This is a tactical problem no doubt for travel writers. One sets out on a journey and hopes to meet marvellous individuals, but one may be underwhelmed. Yet one must write the book and have strangers come into it. Nevertheless, Marsden's encounter with An tAthair Pádraig Ó Fiannachta, also gone from us in the years since, is perhaps the most memorable encounter among the Irish people met. The scholar priest compares memories of Armenia with the author and recalls a tough boyhood and the vignette is well described.
Even the very mode of conversing conducted by some of the people he meets seems suspect. The speech of Dingle poet Danny Sheehy, who tragically died in a drowning incident not long afterwards, is rendered in an unfamiliar phrasing. Is this how the bi-lingual poet spoke verbatim? One has one's doubts, and the same question hovers over a few other such conversations.
Twice in the book, the author uses a phonetic approximation, 'yer', as in, 'how are yer?' That one word 'yer' really grates, it is not a faithful rendition of any Irish usage that this reviewer can discern. Try saying it to yourself, it doesn't work. This of course is a minor caveat, but sometimes it's the minor caveats that stick. The Scottish sequences may prove of more interest to a certain kind of seasoned Irish reader, such as this one. Indeed, your reviewer's days on our western islands are memorable but they are long past. Perhaps too they are coloured by nostalgia for a time before Facebook, Instagram, Twitter and so forth.
Marsden, because of his professional training, knows far more about Celtic mythology, anthropology and the Celtic way of seeing the world, than most of us, and for this he must be commended. He is fascinated by the cult of the pig or the boar in Irish stories and he is intrigued that some of the islands he visits bear the names of animals - Inishbofin translates as 'island of the white cow' and Inishturk means 'island of the boar.'
In sum, The Summer Isles is a curate's egg of a book, which largely succeeds in its bold attempt to delineate traits and features from the Celtic realm. However, in this reader's humble opinion, the book fails to deliver much by way of interest from our present time. Then again, maybe the present isn't all that interesting in the context of such a work, whose gaze, aside from looking at the sea ahead, is thematically fixed on the past. Philip Marsden can do nothing about a dull present, in fairness.