We're delighted to present Extra Mural by Janet Moran, commissioned by RTÉ Radio 1's Miscellany50, and featured in the new anthology Miscellany50: Fifty Years Of Sunday Miscellany (New Island) - listen to Janet performing Extra Mural above, and read it below:
---
2010 was mostly, not great for me. Being an unemployed actor can feel like a particularly useless thing to be and by September of that year, I was broke, alone and living in, a cold, small flat with little to do. I've always
been interested in history and in fact, immersing myself in history books about particular periods has often been the thing that has got me through hard times before. I forget how, but I learned that one could study
humanities in Trinity as an "extra mural student". This meant that while I did not have to hand up essays or take exams, I could attend lectures twice a week. It would give me a reason to get up on those days and
perhaps feel not quite as bootless as I had been feeling. It could become my "job". I decided to take the course "Europe after 1870".
With "first day of school" nerves and new notebook in hand, I sidled through the arts block, bluffing the air of a constituent. Sitting at the back of the lecture hall, I could see a lot of computer screens open on Facebook, screens that didn't necessarily change once the lecture began. Just like in American movies, we seemed to have segregated ourselves from the start. The middle section was made up of the "just left schoolers', the front rows seemed to be made up of mature students, or "noddies" as they were known due to their enthusiasm. And the back rows contained us, the "Extra Muralers". We were exclusively made up of what seemed to be retired women, unemployed me, and Joe.
Right from the first lecture, I wanted to be his friend. He was charismatic, with a kind face and a Slovakian accent unsullied by many years in his adopted home. For the second lecture, I maneuvered myself into the seat beside him and afterwards we had a good chat about what we'd just learned. After the third, we decided to go for coffee. He told me that he had come because his daughter had bought him the course as a gift following the death of his wife. I told him about me not having much purpose at the time and feeling a bit lost.
He said " I will bring you luck. I bring people luck".
-"Really?"
-"Naturally".
And so, twice weekly coffees became twice weekly lunches. And history lectures became history lunches. Obscure little pearls of knowledge became mine. Like the fact that Goebbels had been a champagne
salesman in France before the war. Or that while fighting against the Nazis in Ukraine, a Moscow symphony orchestra had come to play for Joe's regiment, and become trapped and so stayed and played every night for them for weeks, in the forest. First hand experience of the Austro Hungarian empire. Details of dancing lessons in Slovakia in the twenties. The escape from Prague following an international Table Tennis incident, involving Tito. Life as a refugee in Switzerland. The chance meeting with a man who owned a garage in Dublin that led Joe and his family, to seek refuge in Cabra instead of Australia. Australia's loss. Coaching the Irish table tennis team. Translating for Jack Charlton in Europe.
-"Really?"
-"Naturally"
All these lives and I was barely managing to fill one.
But now I had my guide through the 20th century.
The lunches became trips to Glencree to pick blueberries, events at the Slovakian Embassy, plays at the Dublin Theatre Festival, where once, Joe mistook an immersive piece and began berating an actor who he felt was being rude to another actor. Never a bystander.
Walking from Trinity to Yo sushi each time for our lunch was like hanging out with a rock star. We'd be stopped every few feet by someone who loved him and wanted to share a few quick words. The waiters and waitresses in every cafe we went to who would sit with us. The homeless people he never passed. You see, people genuinely light up around him. The vivacity and vividness with which he lives his life is infectious. The undimmed curiosity and vitality.
When the course came to an end, the following Spring, Joe gave the final lecture, as the second term had covered 1918 to the present day. The span of his life.
We decided to study The Enlightenment the following year, the Industrial Revolution another year but then as I got busier with work and as I met my partner and had my son, I skived off from our studies. But I'd learned an abundance. How to be grateful, how to persevere, how to live. And sitting at his 100th birthday party recently, among his family and an eclectic bunch of friends, it landed on me again.
-"You know, you really did bring me luck"
-"Naturally"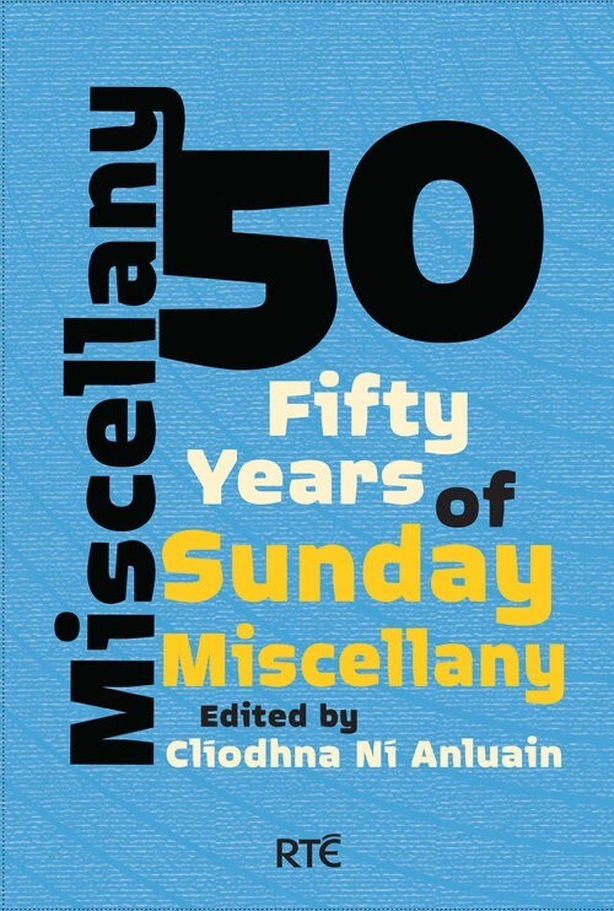 Janet Moran is one of 55 contributors to Miscellany50: Fifty Years Of Sunday Miscellany edited by Clíodhna Ní Anluain and published by New Island. Sunday Miscellany, Sundays 9.10 - 10am - listen back here.