Miscellany50 began as an idea to celebrate the fiftieth year of RTÉ Radio 1's Sunday Miscellany. Its focus remains the same as it has for over half a century: to broadcast new short essays and poetry, with music and song interspersing the spoken contributions. The result was Miscellany50, the festival, and subsequently, a new anthology published by New Island Books.
Miscellany50 became a sort of artist-in-residence at the Project Arts Centre in Dublin for a sell-out weekend of concerts at the end of 2018. The writing anthologised here was read there for the first time. Danielle McLaughlin, Rosaleen McDonagh, Éilis Ní Dhuibhne, Doireann NíGhríofa, Sinéad Gleeson, Nuala O'Connor, Melatu Uche Okorie, John Connell, Stephen James Smith, Cyril Kelly, Brian Leyden, Joseph O'Connor, Kevin Barry, Anne Marie Kennedy, Louis de Paor, Janet Moran and Robert Higgins are among those who contribute.
Paul Howard, Liz Nugent, Christie Moore, Dorothy Cross, Rita Ann Higgins and Michael Harding – all who have contributed to the programme at different times - salute the enterprise when they describe how Sunday Miscellany plays out for so many, every Sunday morning.
As I wrote my introduction, I had beside me the nine previous Sunday Miscellany anthologies edited variously by presenter and producer Ronnie Walshe, writer and editor Marie Heaney, and myself. The volumes serve as testimonies to the Sunday Miscellany phenomenon, described in an introduction to one of these anthologies as 'honouring the essence of its first broadcast when it went out on air in 1968, promoted in the RTÉ Guide as part of a brand-new strand of programming designed to have "greater listener involvement" and "appeal to listeners of all ages".'
Hear an excerpt from Mia Gallagher's essay 12A, which refers to 1979
Hear an excerpt from Sinéad Gleeson's essay The Origami of Girlhood, which refers to the year 1992
Fifty new essays and poems were commissioned by Aoife Nic Chormaic, arts and music producer as well as presenter of RTÉ Radio's The Rolling Wave, and Sarah Binchy, Sunday Miscellany's current producer, and myself. Writers were given one of fifty years since 1968 as their starting point.
Hear an excerpt from Kevin Barry's essay An Exile in Liverpool, which refers to the year 2004
Hear an excerpt from Kevin Barry's essay An Exile in Liverpool, which refers to the year 2004
We commissioned five essays to set the scene to each new decade in the lifetime of the programme.
John Bowman (1968–77) establishes Sunday Miscellany's beginnings against the backdrop of the adrenaline-fuelled birth of Irish television, which by the end of the 1960s led to the shaping of radio into the media form it is today.
Mary O'Malley (1978–87) casts the distant but clear eye of an emigrant. She read in letters about the visit of Pope John Paul II and the volatile tensions of contemporary politics; when the hunger strikes made international news; and when Ronald Reagan came to town. And as the so-called brain drain of the middle classes took off, people began to sit up and notice that the country was once more hemorrhaging from mass emigration At the same time she recalls there was lobbying for peace and divorce and social justice – not, at the time, subjects discussed on Sunday Miscellany.
Joseph O'Connor (1988–97) also spent years abroad, reminding us how common a feature the boat was between Holyhead and Dún Laoghaire. He supposes everyone has their own London 'made of images and memories as much as places', and how coming and going between Ireland and London created a disjointedness, a sense of belonging in neither one place nor another. But with the election of Mary Robinson, the gradual changes that were afoot became tangible and, as he puts it, 'impossible things were happening'. They would lead to the Good Friday Agreement and a new hopefulness, which also brought him back home for good.
Colin Murphy (1998–2007) graduated from college into the Celtic Tiger. The boom was booming. People were coming home. His account of movement through the decade was fuelled by a personal quest rather than out of economic necessity. He went 'the other way' – to Spain, Angola, South Africa. Rather than being a judgement on the general possibilities of new-found wealth, Murphy's essay is a reminder that amidst public expectations to conform, our interior world requires space to breathe. In time, love brought Murphy back to Ireland; becoming a parent made his house a home.
Hear an excerpt from Colin Murphy's contribution, which sets the scene for the decade 1998-2007
Lisa McInerney (2008–2017) picks up on the cusp of when the crash happened, when she started 'writing short, sarcastic pieces online about the state of the place'. Hers is the most immediately familiar content, being so close to the present with 'redundancies and pay cuts' and being 'too broke to emigrate, and too sure of what was coming to try to head it off'. Aptly, in the context of Sunday Miscellany, McInerney goes on to reflect on how the current writing boom may be propelled by our constantly changing landscape, circumstances and environment; how so much, from water charges and the right to a home, to equality and migration, has been contested in the past decade.
Mirroring the regular Sunday Miscellany way of gathering material for the weekly radio programme, some of the Miscellany50 writing was selected from an open submission call. The rest was commissioned, from both long-time contributors to the programme as well as writers new to the enterprise. There are contributions in Irish (with specially translated versions for this book into English by their authors) and contributions in English, as has also been the case with Sunday Miscellany since 1968.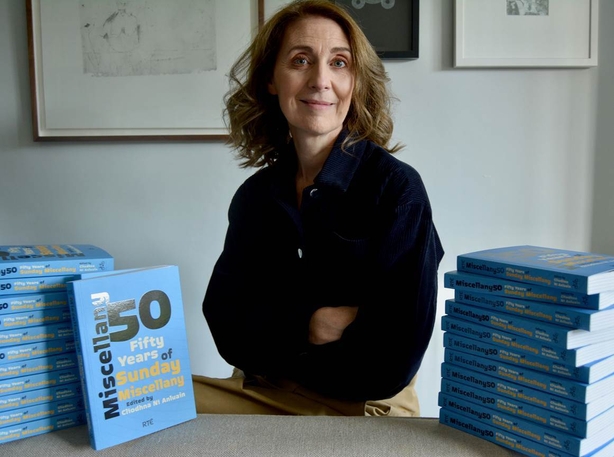 What is exhilarating, but obvious when you think about it – and as Gemma Tipton comments in her essay Jubilee Year, relating to 1977 – is that 'there are always more than two sides to everything', and more than two ways of seeing and experiencing things. The ordinary, the particular to each of us, elevated through the transaction that happens between the imagination of an open, curious writer and an engaged listener – and now, reader.
As another anthology is published, Sunday Miscellany's signature tune, the inimitable brassy sound of Samuel Scheidt's Galliard Battaglia, continues to introduce the programme every Sunday morning. Saluting fifty years, this book is dedicated to all its contributors, makers, and most importantly Sunday Miscellany's past, present and future listeners, who ultimately ensure the show goes on.
Miscellany50: Fifty Years of Sunday Miscellany, edited by Clíodhna Ní Anluain is published by New Island - find out more here. Sunday Miscellany is broadcast every Sunday morning on RTÉ Radio 1 at 9.10 am - listen back here.
Pictures: Paul McCarthy